Mystic Story, a company that owns many famous Korean actresses, including Go Min Si, this talented young actress rose rapidly thanks to the role of Myung Hee in the movie The Witch: Part 1 The Subversion. In 2018, she participated in the film directed by Kim Je Young in the movie Cheese in the trap.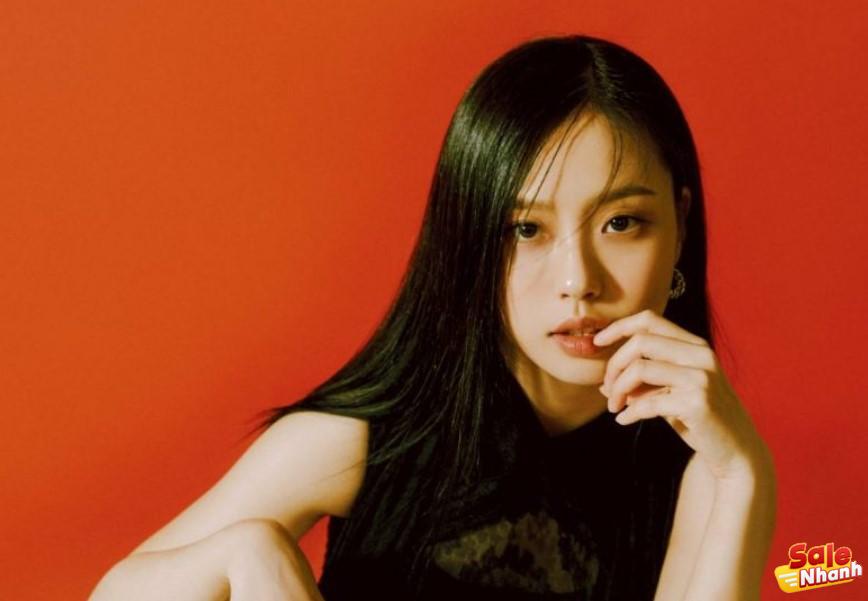 Go Min Si is actually not a new face in the Korean film industry. She often gets small roles in popular dramas that air on Korean television. In recent years, she has begun to attract the attention of directors to become the main actress in dramas. Well, this time Salenhanh.com will share some of the dramas that are part of her career journey.
Youth Of May
Release year 2021
Genre Drama , History , Romance
Production Story Hunter Production
Director Song Min Yeop
Cast Lee Do Hyun Go Min Si Lee Sang -Yi Geum Sae Rok
From start to finish, it feels like Go Min Si and Lee Doh Hyun haven't been given a chance to feel happy by Lee Kang, the narrator of the drama Youth Of May. The two main characters who are at the heart of this story are always in a difficult and confusing situation.
The setting in the movie Youth Of May is in Gwangju in 1980. Go Min Si appears as Kim Myung Hee, a nurse at a hospital in Gwangju. He is the predecessor of two brothers. His younger brother is 12 years old and dreams of becoming a professional runner.
Kim Myung Hee's life is far from prosperous. From a young age, he was forced by circumstances to be independent. The discordant family also requires him not to depend on anyone to pursue his goals.
When he was young, he had to shoulder the role of raising his little sister and also to pay for his own life and school.
He has a dream to continue his studies to Germany to improve his welfare and run away from his family. Before that happens, however, he meets Hwang Hee Tae (Lee Do Hyun), who is later known to be paired by Hee Tae's father with Lee Soo Ryeon (Keum Sae Rok), his friend.
The love journey between Myung Hee and Hee Tae is always tinged with unhappiness. Starting with the decision to replace Lee Soo Ryeon blindly dating Hee Tae, then Hae Tae fell in love with Myung Hee for real.
What is next? We give a little spoiler, The Youth of May ended tragically when Myung Hee and Hee Tae couldn't be together forever. Let's witness the whole love journey of these two people to get a better sense of the twisted story.
Sweet Home
Release year 2020
Genre Drama, Horror
Production Studio Dragon
Director Lee Eung Bok
Cast Song Kang Lee Jin Wook Lee Si Young Lee Do Hyun Kim Nam Hee Go Min Si Park Gyu Young Go Yoon Jung Kim Gab Soo Kim Sang Ho
The drama tells a horror story about the end of the world, in which Go Min Si is one of the main characters. The drama tells the story of Cha Hyun Soo (Song Kang), who has to face monsters in the apartment he lives in.
Go Min Si plays Lee Eun Yoo, a ballerina who has to hang up her shoes due to a leg injury. This drama is his first drama opposite Lee Do Hyun before they met in May's Youth.
In the apartment containing this evil monster, he lives with Lee Eun Hyuk (Lee Doh Hyun). He is always skeptical and against his brother. Even towards Hyun Soo, Eun Yoo often acts cold. However, he accidentally made Hyun Soo give up the idea of ​​suicide.
Secret Boutique
Release year 2019
Genre Drama , Melody , Politics , Romance
Produce Active Story
Director Park Hyung Ki
Cast Kim Sun Ah Jang Mi Hee Park Hee Bon Go Min Si Kim Jae Young Kim Tae Hoon
Secret Boutique is a TV series depicting tough and ambitious women. These women, including Go Min Si, are central characters fighting for survival, revenge, and power.
Go Min Si was cast as Lee Hyun Ji, a baduk (traditional Korean chess) player who joins forces with Jenny Jang (Kim Sun Ah), the owner of the famous J Boutique.
J Boutique is not an ordinary store. Location is a tool created for business interests and a secret network that helps solve the problems of several Korean corporations.
Love Alarm Season 1 dan 2
Release year 2019
Genre Drama, Romance
Produce Produce H , Studio Dragon
Director Lee Na Jung
Cast Kim So Hyun Jung Ga Ram Song Kang
Go Min Si's role in Love Alarm is different from what he usually plays. This time he plays Park Gul Mi, a popular kid in high school who often hurts Kim Jojo (Kim So Hyun). Gul Mi and Jojo are actually cousins.
Jojo lives in the house of Gul Mi's family, but he and his mother do not treat Jojo well. Gul Mi always annoys Jojo. At school, he was never close to Jojo. He is obsessed with being famous. So he only hangs out with celebrities from certain circles that can make him famous.
The Smile has Left Your Eyes
Release year 2018
Genre Mystery , Romance , Horror
Production Fuji Television , Studio Dragon , The Unicorn
Director Yoo Je Won
Cast of Seo In Guk Jeon So Min Park Sung Woong
Having the opportunity to compete in acting with seniors such as Jung So Min, Seo In Guk and others in the movie Smile Has Left Your Eyes, Go Min Si appeared as Im Yoo Ri, a girl who is played by Moo Young ( Seo In Guk) saved while trying. suicidal.
Im Yoo Ri and Moo Young have known each other for a long time. When they are together, Yoo Ri becomes dependent on the killer the police are looking for and has feelings for him. However, various bad events frequently occur and make his life difficult.
Live on
Release year 2018
Genres Comedy , Crime , Friendship , Romance
Production GT: st
Director Kim Kyu Tae , Myung Hyun Woo
Cast Lee Kwang Soo Jung Yu Mi Bae Sung Woo Bae Jong Ok
Live is a drama about the life of a patrol policeman serving in Hongol. Every officer there has their own backstory. The twists and turns in the life of a policeman who often encounter dangers, difficulties, and others become interesting spice in the storyline.
Well, here, Go Min Si looks very impressive as the son of Oh Yang Chon (Bae Sung Woo), a promoted Crime and Violence cop.
Eulachacha Waikiki
Release year 2018
Genres Comedy , Drama , Life , Youth
Drama Production
Director Lee Chang Min
Cast Kim Jung Hyun Lee Yi Kyung Son Seung Won Jung In Sun Go Won Hee Lee Joo Woo
Appearing as a guest in the TV series Eulalachacha Waikiki, Go Min Si captured the audience's attention. This time he plays Lee Min Ah, Bong Doo Shik's (Son Seung Won) colleague. He appeared in episode 3.
Eulalachacha Waikiki herself tells the story of three young people who often had bad luck. Three people from different backgrounds run a motel business called Waikiki in Itaewon.
Foreign tourists who come to stay in Korea, especially in Itaewon, often stay at this inn. It was at this inn that the three experienced many things, despite the misfortunes that often struck.
Meloholic
Release year 2017
Genre Comedy, Drama, Mystery, Psychological, Romance
Produce KBS Media
Director Park So Young
Cast Jung Yunho Kyung Soo Jin
Go Min Si got a chance to try her hand at a small role in the drama Meloholic. He plays Joo Yeo Jin. TVXQ's main vocalist, Jung Yunho and beautiful actress Kyung Soo Jin have teamed up in a romantic fantasy drama as the main characters.
The two of them showed great chemistry as a unique couple. Because Jung Yunho plays Yoo Eun Ho who is a gifted mind reader. Meanwhile, Kyung Soo Jin is a woman with multiple personalities.
Age of Youth
Release year 2016
Genre Drama , Mystery , Romance , Youth
Drama Production
Director Lee Tae Gon
Cast Han Ye Ri Ryu Hwa Young Park Eun Bin Han Seung -Yeon Park Hye Soo
Age of Youth stars Go Min Si as Oh Ha Na. Here he has not yet received the main role. However, the audience was still extremely surprised at the ability to transform into the character Oh Ha Na, a junior of Song Jiwon (Park Eun Bin) in the movie "Youth 2".
This is a movie starring stars, such as Han Ye Ri, Park Eun Bin himself competed in acting with him. Then there's Yoon Park, Kim Min Seok and others. However, Go Min Si has been stealing attention through her small role.
Age of Youth itself is a life drama, telling the story of girls who live together in a house called Belle Epoque. The story of the girls in the house is based on real problems faced by teenagers in Korea at that time.
My Sassy Girl
Release year 2017
Genre Comedy, History
Producing Huayi Brothers
Director Yoon Hyo-je
Cast Joo Won Oh Yeon Seo Lee Jung Shin Kim Yoon Hye
My Sassy Girl is the turning point in Go Min Si's career, making her name as a potential new Korean actress. The romantic love story about a cool and talented guy who is dubbed the 'national treasure of Joseon' and Hye Myung, a careless princess is at the heart of the story in this drama.
The main characters in this drama are Joon Won and Oh Yeon Seo. Meanwhile, Go Min Si appeared with a cute face as Seon Kyeong. Seon Kyeong is one of the minor characters completing the side story My Sassy Girl.
Those are 10 movies starring Go Min Si that have colored his acting career. From there, we can see that Go Min Si is constantly trying to try different roles in every movie that he participates in.
Curious about the new movie? Let's wait for the next work of the award-winning actress at SNS 3 Minutes Festival 2016.
In addition to Go Min Si, his co-star Lee Do Hyun in the Korean drama Record Of Youth has several other dramas that he has acted in! Recommended at Salenhanh.com
Salenhanh – Product review blog
Address: 115 Nguyen Van Qua, Tan Hung Thuan Ward, District 12, Ho Chi Minh City
Website: https://salenhanh.com/en
Mail: Salenhanh.com@gmail.com
#salenhanh #Reviewsalenhanh