Gemma Arterton is an English actress, activist and film producer. Before becoming a player on the big screen, she acted in theater plays. In 2007, she made her film debut by appearing in the comedy St. Trinian's. Now she is enjoying herself at the peak of her acting career.
Her face is indeed beautiful, but that is not the main factor that brought her to the ladder of success. Her persistence plays a bigger role. Gemma Arteton is no ordinary actress. She is also known as an activist and producer. A step worth appreciating. Want to know what movies she has starred in? Here are 10 Gemma Arteton movies that shouldn't be missed.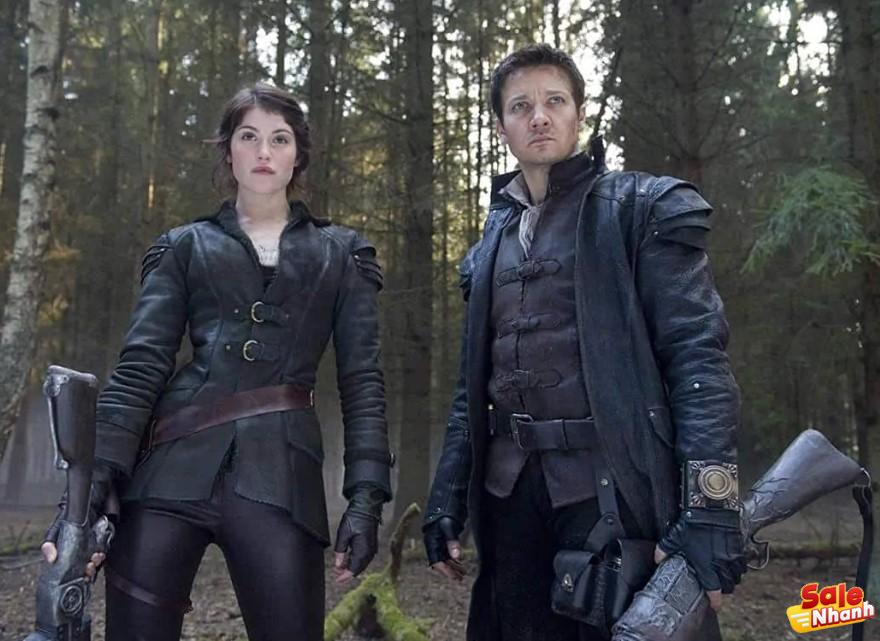 Clash of the Titans [2010]
Release year : 2010

Genre: Action, Adventure, Fantasy

Directed by: Louis Letterrier

Actors: Sam Worthington, Liam Neeson, Ralph Fiennes

Production company: Warner Bros., Legendary Entertainment, Thunder Road Pictures
Perseus was found as a baby and raised by a fisherman. Feeling like a human, his family was slaughtered by Zeus' brother, Hades. Perseus, who turns out to be a demigod intent on avenging him. In addition, Hades also intends to attack Argos with one of the most terrible gods, Kraken.
In the movie Clash of the Titans, Gemma plays Io, a goddess tasked with looking after Perseus. Gemma's appearance is quite capable of becoming Io, she is a calm person but on the other hand she does not hesitate to intervene to help and protect Perseus. In addition, he has a curse that prevents him from aging.
Hansel and Gretel: Witch Hunters [2013]
Release year : 2013

Genre: Action, Fantasy, Horror

Directed by: Tommy Wirkola

Actors: Jeremy Renner, Gemma Arterton, Peter Stormare

Production company: Paramount Pictures, Metro-Goldwyn-Mayer (MGM), MTV Films
When they were children, Hansel and Gratel were nearly killed by a witch. After 15 years, they became deadly hunters for magicians. When the blood moon came, many children were kidnapped and brought into the forest to make sacrifices.
This provoked Hansel and Gretel to hunt down the witch they had met in the past. Gemma plays Gretel. Along with his brother, Hansel, played by Jeremy Renner, he performs various actions during the witch hunt.
Gemma in this movie has to carry heavy weapons as a tool to kill people and enough to make her look ugly. Seeing armed female characters is always interesting.
Quantum of Solace [2008]
Release year : 2008

Genre: Action, Adventure, Horror

Directed by: Marc Forster

Actors: Daniel Craig, Olga Kurylenko, Mathieu Amalric

Production company: Metro-Goldwyn-Mayer (MGM), Columbia Pictures, Eon Productions
James Bond is tasked with investigating Dominique Green, a businessman who helped a coup in Bolivia on his behalf. Bond then meets Camille Montes, who helps him find a dangerous secret organization. Correspondingly, Bond felt flustered by anger at Vesper Lynd's death.
In this film, Gemma plays Fields, a member of the British consulate in Bolivia, who demands that Bond return to Britain as soon as possible. In addition, he also became Bond's partner when participating in a charity auction. His appearance in this film is relatively short but enough to steal attention.
The Disappearance of Alice Creed [2009]
Release year : 2009

Genre: Crime, Horror

Directed by: J Blakeson

Actors: Gemma Arterton, Eddie Marsan, Martin Compston

Production company : CinemaNX, Isle of Man Film
Vic and Danny put a bed in a van, then rubberized the walls and made it look like a room. They then changed into police uniforms and carried a woman in and forced her to lie on the bed before.
Thorough preparations were made for the kidnapping of Alice Creed. Gemma plays Alice Creed, the daughter of a wealthy businessman. The kidnapping is to ransom for Alice's safety.
Gemma's performance is smooth in this movie, with hysterical screams and fear throughout the film using only these three characters but making for an interesting twist.
The Escape [2017]
Release year : 2017

Genre: Drama

Directed by: Dominic Savage

Actors: Gemma Arterton, Dominic Cooper, Frances Barber

Production company : Lorton Entertainment, Shoebox Films
Mark and Tara are a married couple who have had children and are living a very good life. This situation did not make Tara happy, she felt trapped in her routine of being a wife and mother. With his mental health deteriorating, so did his relationship with Mark. He finally decided to go to Paris to live a new life.
Gemma plays Tara. His performance with Mark, played by Dominic Cooper, portrayed an unhappy couple. Gemma deserves credit for playing Tara, who looks dull and stares lifeless. In short, Gemma has managed to animate Tara's character inside and out.
Unfinished Song [2012]
Release year : 2012

Genre: Comedy, Drama, Music

Directed by: Paul Andrew Williams

Actors: Terence Stamp, Gemma Arterton, Christopher Eccleston

Production company: Steel Mill Pictures, Coolmore Productions, Egoli Tossell Film
Arthur Harris is an elderly retiree. His wife, Marion, became ill but remained active in a choir called The Oapz. She also doesn't get along with her son, James.
His wife passed away, in his honor joining The Oapz as part of an attempt to mend his relationship with James. Gemma plays the character Elizabeth. He's a young teacher coaching The Oapz's choir.
To participate in the Shadow Song choir competition, he prepared his team with unusual songs such as those by Salt-n-Pepa, Chaka Khan, Gnarls Barkley and even Motörhead.
Gemma Bowy [2014]
Release year : 2014

Genre: Comedy, Drama, Romance

Directed by: Anne Fontaine

Actors: Fabrice Luchini, Gemma Arterton, Jason Flemyng

Production company: Albertine Productions, Ciné @, Gaumont
Martin is a huge fan of the works of Gustave Flauber. He moved from Paris to Normandy and opened a bakery. He has new neighbors, husband and wife named Charles and Gemma Bowy.
He remembered Flauber's Madame Bovary. As he got closer, he noticed that Gemma resembled a character from the novel as well as the ending. Gemma plays the main character, namely Gemma Bowy.
In terms of looks, Gemma is quite successful as a middle-class wife and even plays some French dialogue. Plus the manners that make Martin curious at a young age.
Prince of Persia: The Sands of Time [2010]
Release year : 2010

Genre: Action, Adventure, Fantasy

Directed by: Mike Newell

Actors: Jake Gyllenhaal, Gemma Arterton, Ben Kingsley

Production Company : Walt Disney Pictures, Jerry Bruckheimer Films
Dastan and Princess Tamina are pursued by an army that threatens to destroy the world. They carry magical daggers that can go back in time and use them to prevent chaos from developing.
Here, a young prince and a princess try to stop a ruthless criminal with the help of a magical dagger. Gemma plays Princess Tamina.
As a princess, of course, physically she responds to that, as does the way she acts. She is a woman who dares to speak her mind and also skillfully takes advantage of every opportunity.
Runner Runner [2013]
Release year : 2013

Genre: Crime, Horror

Directed by: Brad Furman

Actors: Ben Affleck, Justin Timberlake, Gemma Arterton

Production company: Regency Enterprises, New Regency Pictures, Appian Way
Richie lost a lot of his money in online poker games. He went to Costa Rica to meet Ivan Block, the online poker operator. He discovers that he has been cheated, Ivan promises to pay him more on the condition that Richie stay in Costa Rica for a year and help him develop his website.
Gemma plays Rebecca Shafran, Ivan's ex-girlfriend. She is in a relationship with Richie, played by Justin Timberlake. He may appear as though he has no intentions with Richie or Ivan, but it turns out he has ulterior motives. A crime drama combined with a gripping thriller.
100 Streets [2016]
Release year : 2016

Genre: Drama

Directed by: Jim O'Hanlon

Actors: Gemma Arterton, Idris Elba, Tom Cullen

Production company: CrossDay Productions Ltd., Green Door Pictures, Kreo Films FZ
Max is a former player and captain of the England rugby team. He was married to Emily but had an affair with another woman. He became acquainted with Kingsley, a talented young man but deep into drugs.
Meanwhile, George is a taxi driver trying to adopt a child after his wife dies. Each person has to go through their own challenges to get a better fate, and by accident all the characters meet each other.
Gemma plays Emily. Emily is an actress who begins to regret giving up the acting world to get married. Knowing that her husband was having an affair, she ended up having sex with the wrong person.
If you are in need of entertainment, the 10 Gemma Arteton movies reviewed above are very worthy options to consider. Not just because of the quality of a Gemma, but also because of the quality of the story in the movie in which she stars. Have you seen any movies yet? You can share your opinion in the comments column already provided, yes!