Daniel Craig is a British actor whose face we often see in many different films. Watching the stage when he was in school, he had an unquestionable talent for acting. Since 1992, he began to participate in the movie The Power of One but did not get the lead role right away.
Gradually he began to find his place as the main character and became one of the versatile actors. His popularity increased when he was cast as one of the most beloved fictional characters in the world, James Bond. However, the starring film is more than just that. Here are 10 movies by Daniel Craig, the senior actor who is still charismatic.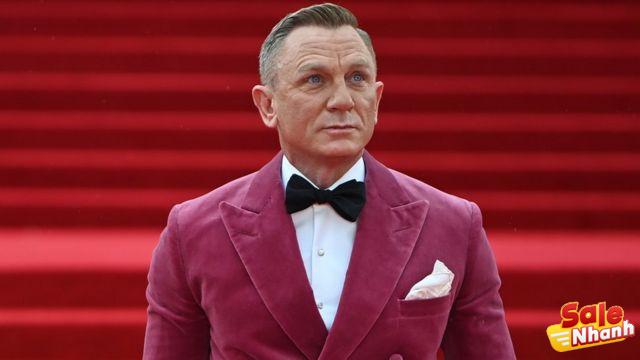 Casino Royale [2006]
Release year : 2006

Genre: Action, Adventure, Horror

Directed by: Martin Campbell

Actors: Daniel Craig, Eva Green, Judi Dench

Production company: Columbia Pictures, Eon Productions, Casino Royale Productions
Bond is tasked with investigating a terrorist, Mollaka. The investigation leads him to Dimitrios and Solange, who are suspected of having links to the terrorist, Le Chiffre. He was informed that Le Chiffre used to make large sums of money in a poker game in Montenegro to use in committing crimes.
Daniel Craig plays the character James Bond. A task is not easy when he has to become an MI6 agent instead of Pierce Brosnan. Daniel Craig can do well, especially as the use of sophisticated tools when Daniel Craig plays James Bond makes more sense than in previous eras.
Defiance [2008]
Release year : 2008

Genre: Action, Drama, History

Directed by: Edward Zwick

Actors: Daniel Craig, Liev Schreiber, Jamie Bell

Production company: Paramount Vantage, Grosvenor Park Productions, The Bedford Falls Company
During World War II, the Bielski family tried to escape from the Nazis. They are Tuvia, Zus, Asael and Aron. The safest place to hide is the forest. With more and more Jews fleeing, they later formed a community and managed to survive the sometimes hostile weather.
In Defiance, Craig plays Tuvia, one of the leaders protecting the Jews in the mountains along with Zus. The film tells about the tragedy of humanity and how difficult it is to survive. The main conflict was the one between Zus wanting the refugees to live under Soviet protection while Tuvia disagreed.
Knives Out [2019]
Release year : 2019

Genre: Comedy, Crime, Drama

Directed by: Rian Johnson

Actors: Daniel Craig, Chris Evans, Ana de Armas

Production company: Lionsgate, Media Rights Capital (MRC), T-Street
Harlan Thrombley, a renowned publisher and mystery novelist, was found dead on the sofa in his home's reading room. A week after the incident, police questioned every member of the Thrombley family, including the house's maid, Marta. They are accompanied by the most famous private detective, Benoit Blanc.
Daniel Craig plays the character Benoit Blanc. He does a great job as a detective who acts stiff, talks a bit clumsy but sometimes makes for a laugh. A spectacle complete with drama, mystery and satire about life in America today.
Dream House [2011]
Release year : 2011

Genre: Drama, Mystery, Horror

Directed by: Jim Sheridan

Actors: Daniel Craig, Rachel Weisz, Naomi Watts

Production company: Cliffjack Motion Pictures, Hell's Kitchen Films, Morgan Creek Entertainment
Will and his wife Libby and their two children Trish and Deedee move into a new home. Because he was too busy with his publishing job and his family's complaints, Will eventually resigned. The condition of his house was not as beautiful as he had imagined, it turned out that there was once a family massacred in the house.
Daniel Craig plays the character Will. As the head of the family, Will learns what really happened to his family in the new home. Mystery after mystery, you will find it confusing at the start, especially Will's changing personality. It is not until the end of the film that we can understand the mystery.
Flashback of a Fool [2008]
Release year : 2008

Genre: Drama

Directed by: Baillie Walsh

Actors: Daniel Craig, Harry Eden, Eve

Production Company : Turn Left Film, Ugly Duckling Movie, Lipsync Productions
Joe Scott is an English actor living in America. His career is not as bright as before, even movie offers are rarely found. Even the management company where he belongs chose to terminate the cooperation. This is made worse by news from his mother that his childhood best friend, Boots, has passed away.
Daniel Craig plays Joe. Many comments praised Daniel Craig's excellent performance in films of the dramatic genre. He can take on the character of an actor who begins to despair and show sadness when his best friend passes away. For those who want to see Craig's TV acting possibilities, this movie could be an option.
Kings [2017]
Release year : 2017

Genre: Crime, Drama, Romance

Directed by: Deniz Gamze Ergüven

Actors: Halle Berry, Daniel Craig, Lamar Johnson

Production company: Ad Vitam Productions, Barnstormer Productions,
Millie is a single parent to her eight adopted children. In their city, Los Angeles, racial riots broke out at the Rodney King trial. In the midst of stressful circumstances, Millie must protect her children along with her white neighbor Obie.
Daniel Craig's character Obie is a messy man. He likes to get drunk, live recklessly and even sleep in the car. In the midst of the riots, he must team up with the tough and protective Millie. This movie is in the romantic drama genre highlighting how Millie and Obbie survive in the midst of fear.
Road to Perdition [2002]
Release year : 2002

Genre: Crime, Drama, Horror

Directed by: Sam Mendes

Actors: Tom Hanks, Tyler Hoechlin, Rob Maxey

Production companies: DreamWorks, Twentieth Century Fox, The Zanuck Company
Michael Sullivan Sr. is a member of a criminal gang led by John Rooney. John raised him from an orphanage, being even closer to him than his biological son, Connor.
Sullivan Sr was assigned to meet one of John's relatives with Connor but the meeting was ended by murder due to Connor's negligence.
The father is extremely angry and asks Connor to apologize, but he does not want to. Connor then kills Sullivan Sr.'s wife and children, leaving what remains as Sullivan Jr later wants revenge. Craig in Road to Perdition as Connor Rooney.
Unlike other films, this time he appeared as a villain who did not hesitate to kill people and do as he pleased. In this movie, he has to compete with Tom Hanks, who already has a name.
Cowboys & Aliens [2011]
Release year : 2011

Genre: Action, Science Fiction, Horror

Directed by: Jon Favreau

Actors: Daniel Craig, Harrison Ford, Olivia Wilde

Production company: Universal Pictures, DreamWorks, Reliance Entertainment
Jake Lonergan wakes up with a metal bracelet in his hand and doesn't know who he is. He goes to a town called Absolution and deals with the sheriff who arrested him. That night a light sparkled in the sky and landed, which turned out to be an alien ship.
The only weapon that can defeat them is the metal bracelet on Jake's hand. The character Jake Lonnergan is played by Daniel Craig.
The battle of cowboys and aliens may sound absurd at first, but this movie can change that perception. Jake, a fugitive, shows his toughness even though he sometimes acts silly. An entertaining light show.
The Girl with the Dragon Tattoo [2011]
Release year : 2011

Genre: Crime, Drama, Mystery

Directed by: David Fincher

Actors: Daniel Craig, Rooney Mara, Christopher Plummer

Production company: Columbia Pictures, Metro-Goldwyn-Mayer (MGM), Scott Rudin Productions
Mikael Blomqvist, a journalist known for her expertise in uncovering a case and also a magazine leader. He just got into legal trouble that nearly made him bankrupt.
He accepts an offer to investigate Harriet's disappearance 40 years ago. Due to difficulties, he asked for help from a hacker named Lizbeth.
In the movie The Girl with the Dragon Tattoo, Daniel Craig plays Mikael. He did a good job as a journalist who struggled financially and then embarked on an investigation into Harriet's disappearance. Although not a detective, his thoroughness in observing small details allows him to discover what really happened to Harriet.
Logan Lucky [2017]
Release year : 2017

Genre: Comedy, Crime, Drama

Directed by: Steven Soderbergh

Actors: Channing Tatum, Adam Driver, Daniel Craig

Production company : Fingerprint Release, Trans-Radial Pictures, FilmNation Entertainment
Jimmy and Clyde, who are brothers, plan a robbery during the Nascar race. To start the action, they invited their sister, Mellie, to join because Mellie has an incredible understanding of cars.
They also brought in Joe Bang, an inmate who specializes in breaking safes. Daniel Craig plays Joe Bang. He is a smart guy who can even escape from prison.
In addition, he has a knack for opening safes, it's just that he's also a daredevil. A heist movie with light comedy can make us laugh while watching.
Most people probably only follow Daniel Craig's action sequences through the James Bond films in which he starred. The Daniel Craig movie reviewed above is an option to see Daniel Craig in his other films. Which one do you like? If you watched it, don't forget to share your story in the comments, OK!