Dakota Johnson is an Austin, Texas-based actress who entered the film world when she was 10 years old by appearing in the film Crazy in Alabama alongside her mother, Melanie Griffith. Debuting at a young age did not make him immediately pursue an acting career because his parents prioritized schooling.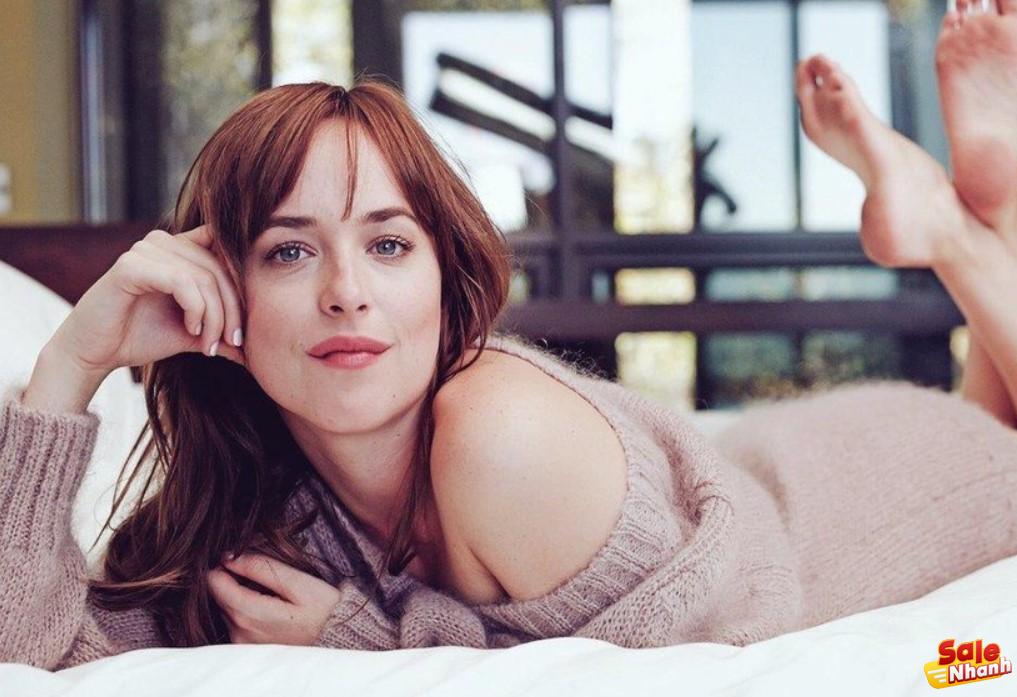 After graduating from school, she tried her hand at becoming an actress. The right decision because that's what made her one of the best actresses in Hollywood. Currently, he has been trusted with leading roles in many films. What movies has Dakota Johnson acted in? Here are 10 of Dakota Johnson's best movies that keep audiences hooked.
How to be Single [2016]
Release year : 2016

Genre: Comedy, Drama, Romance

Directed by: Christian Ditter

Actors: Dakota Johnson, Rebel Wilson, Leslie Mann

Production company: New Line Cinema, Metro-Goldwyn-Mayer (MGM), Flower Films (II)
Alice, played by Dakota, has just graduated from college and decides to temporarily break up with her boyfriend Josh. He decided to move to New York to start a new life. At his new residence, he meets Robin. He helps her heal by partying and then introduces a man who works as a bartender, Tom.
Tom's charm makes Alice fall in love, but Tom considers Alice a temporary love. Lucy who often comes and chats with Tom is the woman he is after but Lucy only considers him a friend. Heartbroken, Alice tries to get back with Josh, regretting that Josh has a new lover. How will this complicated story end?
The Peanut Butter Falcon [2019]
Release year : 2019

Genre: Comedy, Drama

Directed by: Tyler Nilson, Michael Schwartz

Actors: Zack Gottsagen, Ann Owens, Dakota Johnson

Production company : Armory Films, 1993, Lucky Treehouse
Zak, who has Down syndrome, dreams of attending the idol's pro wrestling school. He ran away from the orphanage to pursue his dream. On the run, Zak meets Tyler, a petty criminal on an escape mission. Sharing the same fate, Zak and Tyler are close.
Zak is hunted by Eleanor, played by Dakota, an orphanage worker who takes care of him. On the run, they experienced unexpected things. Tyler even convinces Eleanor to join them on their journey. If you like adventure, this movie is for you. It's fun to watch three different characters go on adventures together.
Cymbeline [2015]
Release year : 2015

Genre: Drama

Directed by: Michael Almereyda

Actors: Ethan Hawke, Ed Harris, Milla Jovovich, Dakota Johnson

Production company : Benaroya Pictures, Keep Your Head
Cymbeline is a motorcycle gang leader notorious for many crimes. He has a son named Imogen, played by Dakota. Imogen was in a relationship with Posthumus, a skateboarder, but this relationship was not approved by his father.
Sensing a threat, Cymbeline tortuously separated Posthumus from Imogen. He exiled Posthumus, but Posthumus would not rest. He contacted Pisanio, who would be the one to carry out a plot he was planning. Cymbeline's affairs were further complicated by the presence of his second wife, the Queen.
Wounds [2019]
Release year : 2019

Genre: Drama, Horror, Mystery

Directed by: Babak Anvari

Actors: Armie Hammer, Zazie Beetz, Karl Glusman

Production company : Annapurna Pictures, Two & Two Pictures, AZA Films
Will is a bartender at a small bar. Some students entered and started making noise until a scuffle broke out. The scuffle left one person stabbed. The students run away and one of them leaves a cell phone, which Will takes away with the intention of returning it.
Arriving home, Will receives a text from a man named Garrett saying that he is scared because someone is following him in the hallway. The next day he received a message in the form of a terrible picture.
Terrified, Will's lover Carrie (Dakota) asks Will to report it to the police. The longer Will holds HP, the more interference he will receive.
Need for Speed ​​[2014]
Release year : 2014

Genre: Action, Crime, Horror

Directed by: Scott Waugh

Actors: Aaron Paul, Dominic Cooper, Imogen Poots, Dakota Johnson

Production company: DreamWorks, Reliance Entertainment, Touchstone Pictures
Tobey was jailed for allegedly intentionally harming Pete to death. Out of prison, he wants to avenge Pete's death. Tobey's appearance infuriated Dino, his wealthy rival, and ordered everyone to stop him from participating in the race in San Francisco.
A truck destroyed Toby's car. With the help of one of Tobey's friends, they escaped and reached San Francisco. He then reunites with his ex-girlfriend, Anita, played by Dakota. At that time, Anita was engaged to Dino. Will Tobey succeed in revenge?
The Friend [2019]
Release year : 2019

Genre: Drama

Directed by: Gabriela Cowperthwaite

Actors: Dakota Johnson, Jason Segel, Gwendoline Christie

Production company: Black Bear Pictures, STX International, Scott Free Productions
Nicole, played by Dakota, is a singer and actress. She is married to Matt, a journalist by profession. Nicole introduces Dane to Matt. Dane, who works backstage with Nicole, asked Nicole out on a date but their relationship was just friends and Matt didn't mind.
Nicole was declared to have cancer and was sentenced not to last long. Nicole, who is cheerful and active, immediately changes. He received a lot of support from his friends but over time that support started to dwindle.
Dane, who always helps Nicole and Matt deal with the harsh reality. What will happen to Nicole next?
A Bigger Splash [2016]
Release year : 2016

Genre: Drama, Horror

Directed by: Luca Guadagnino

Actors: Tilda Swinton, Matthias Schoenaerts, Ralph Fiennes

Production company : Frenesy Film Company, Cota Film, StudioCanal
Marianne Lane is a female rock star forced to leave the music industry due to throat surgery. The hit upset him so he invited his girlfriend, Paul, to go with him on a vacation to an island called Pantelleria. Paul accepts Marianne's invitation.
Arriving at Pantelleria, Marianne and Paul have an unexpected surprise. Marianne's record producer and former lover, Harry, arrives at the same place as his daughter, Penelope, played by Dakota. Their meeting changed the atmosphere of a supposedly fun holiday. What did Harry do to Marianne and Paul?
Black Mass [2015]
Release year : 2015

Genre: Biography, Crime, Drama

Directed by: Scott Cooper

Actors: Johnny Depp, Benedict Cumberbatch, Dakota Johnson

Production company: Cross Creek Pictures, RatPac-Dune Entertainment, Grisbi Productions
Whitey Bulger is the leader of a gang called Winter Hill in Boston. Winter Hill is not the only gang in Boston, Bulger is just the leader of a small gang compared to other gangs with a larger area. Bulger has a child with Reye syndrome, Douglas, and a wife, Lindsey, played by Dakota.
John Connolly, an FBI agent, asked Bulger to be an informant. The offer was accepted, but instead Bulger created an opportunity to make his gang even more afraid and expand the territory. Then things spiral out of control and chaos ensues.
Sighs [2018]
Release year : 2018

Genre: Fantasy, Horror, Mystery

Directed by: Luca Guadagnino

Actors: Chloë Grace Moretz, Tilda Swinton, Doris Hick, Dakota Johnson

Production company : Frenesy Film Company, Videa, First Sun
Susie Bannion, played by Dakota, is an American dancer who is going to Germany to study at the Tanz Dance Academy. Her attempt to perfect her dance skills doesn't go well when she sees Patricia running away in fear and then disappearing. The next day, Patricia was found dead.
Witnessing the odd incident left Susie wondering, but the head of the dance academy, Madame Blanc, and the dance teacher, Miss Tanner, looked normal. He then gets to know Sara and tells her about her anxiety about being there. Sara had suspected that there was something strange at the academy. What will Susie and Sara do?
Bad Times at the El Royale [2018]
Release year : 2018

Genre: Crime, Drama, Mystery

Directed by: Drew Goddard

Actors: Jeff Bridges, Cynthia Erivo, Dakota Johnson

Production company: Goddard Textiles, TSG Entertainment, Twentieth Century Fox
El Royale is a hotel located on the border between California and Nevada. This hotel has two opposite sides, namely the luxury side with casinos in the California area while the hotel with cheap rooms is in the Nevada area.
The hotel used to be in its heyday and became a popular destination, but gradually it started to run out. One night, Emily, played by Dakota, is there with her sister.
After being served at the front desk, they finally got their own room. Terrible events occurred with the massacre. People are suspicious of each other while the weather is bad outside and they are stuck there.
The movies above can be a reference if you are looking for entertainment. Well, in addition to the 10 Dakota Johnson movies reviewed above, there are many others in which he has starred. You can also add a comment column if your favorite Dakota Johnson movie has not been rated yet. You can also share versions of your 10 best Dakota Johnson movies, friends!