Chris Pine is an actor born in Los Angeles, California, he has starred in many films. His talent in the acting world comes from his parents who were in the same world. In addition, Pine chose to spend time singing during college because it was difficult to make friends.
One of the biggest factors influencing a person's success is the environment. The moves that Pine chose to spend a lot of time in the theatrical environment were apt, as it was what ultimately made Pine one of Hollywood's finest actors. Want to know the 10 best Chris Pine movies?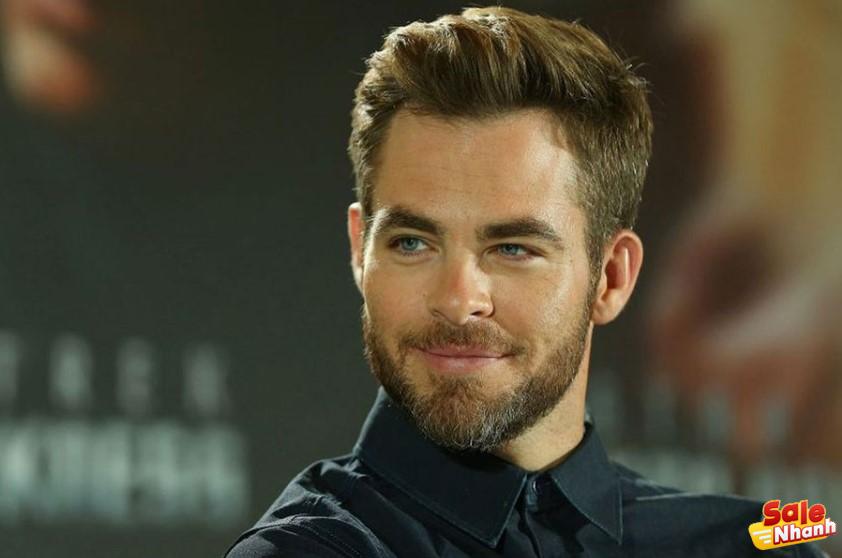 Star Trek [2009]
Release year : 2009

Genre: Action, Adventure, Science Fiction

Directed by: JJ Abrams

Actors: Chris Pine, Zachary Quinto, Simon Pegg

Production company: Paramount Pictures, Spyglass Entertainment, Bad Robot
Kirk and Spock are two young crew members of the USS Enterprise. Kirk is a normal human while Spock is a descendant of Vulcan who always uses logic. The differences in personalities of the two are faced with a mission, which is to stop Nero's actions from causing destruction on the planets of The Federation members.
Pine plays Kirk, one of the crew of the USS Enterprise. In this film, it is recounted that Kirk started at a young age, who had great potential but was very stubborn after his father died due to being attacked by people under Nero's command. For those unfamiliar with Star Trek, this movie could be the start to see two sequels, Into Darkness and Beyond.
Wonder Woman [2017]
Release year : 2017

Genre: Action, Adventure, Fantasy

Directed by: Patty Jenkins

Actors: Gal Gadot, Chris Pine, Robin Wright

Production company: Warner Bros., Atlas Entertainment, Cruel & Unusual Films
Diana was trained from a young age to fight Ares who could attack Themyscira, where she lived. During World War I, Steve Trevor was trapped in Themyscira. Diana and Trevor with the help of the inhabitants of the Amazon managed to repel the soldiers pursuing Trevor but their adventure continues in the vast world facing war.
Pine plays Steve Trevor, an American soldier serving in World War I. On the other hand, a scientist developing chemical weapons that will be used for war purposes, Steve and Diana must stop him. . After being dismissed as just a myth, Ares actually appeared in a different form.
Outlaw King [2018]
Release year : 2018

Genre: Action, Biography, Drama

Directed by: David Mackenzie

Actors: Chris Pine, Stephen Dillane, Rebecca Robin

Production company: Sigma Films, Anonymous Content, Clockwork Sessions
Robert the Bruce became the leader of the Scots in carrying out a revolt against the British Empire led by Edward I. The rebellion killed William Wallace. Robert was made a royal fugitive after assassinating John III Comyn. Robert had to do many different ways to continue his struggle, including a disgusting one.
Pine plays Robert the Bruce. Pine, who changed his appearance in this film, became the figure of Robert, who was influential in making Scotland part of the UK with his heroic actions. Set in the 14th century, we are treated to a very eye-catching sight, the locations and costumes of the players are really beautiful.
People Like Us [2012]
Release year : 2012

Genre: Comedy, Drama

Directed by: Alex Kurtzman

Actors: Chris Pine, Elizabeth Banks, Michelle Pfeiffer

Production company: DreamWorks, Hemisphere Media Capital, K/O Paper Products
Sam Jones received news that his father had just passed away. His relationship with his father was not good, so Jones did not want to attend the funeral. He insists on going to the funeral and unexpectedly, he has a sister named Frankie, the result of his father's past love affair.
Sam Jones is played by Pine. He is a salesman with excellent communication skills. His abilities don't apply when he meets Frankie, his sister, who already has a child named Josh. Two people trying to get to know each other. They have different choices that set their past lives apart.
Carriers [2009]
Release year : 2009

Genre: Adventure, Drama, Horror

Directed by: lex Pastor, David Pastor

Actors: Chris Pine, Piper Perabo, Lou Taylor Pucci

Production company : Paramount Vantage, Possible Story, This is the product
Danny and Brian, a pair of brothers with Bobby and Kate plan to go to a place they loved as children. Unfortunately, their goal is not to go on vacation but to stay away from people until the deadly flu virus outbreak is over. Not reaching the finish line, obstacles have arrived.
Pine plays Brian's character. Among his friends, Brian has indirectly become the leader. He advises not to trust anyone you meet on your trip, nor when you meet people who appear to have the virus. The message is easy to say, but in reality their conscience is racing.
Z for Zachariah [2015]
Release year : 2015

Genre: Drama, Science Fiction, Horror

Directed by: Craig Zobel

Actors: Chiwetel Ejiofor, Chris Pine, Margot Robbie

Production company: Silver Reel, Lucky Hat Entertainment, Material Pictures
Not many people survived after the earth was contaminated with radiation. Ann is one of the human survivors, she lives with Faro, her dog. Ann lives alone by hunting and farming to survive. Once he helped a dying John. John's presence made Anna feel her life was different, and so did Caleb.
Pine plays Caleb, the second man to come into Ann's life, played by Margot Robbie. Set in post-apocalyptic life, this drama focuses on the story of a surviving human love triangle. Conflict is added with Caleb and Ann, who are religious while John is practical.
Hell or High Water [2016]
Release year : 2016

Genre: Action, Crime, Drama

Directed by: David Mackenzie

Actors: Chris Pine, Ben Foster, Jeff Bridges

Production company: CBS Films, Sidney Kimmel Entertainment, MWM Studios
Tanner and Toby Howards are a pair of brothers who plan to rob a bank. Two policemen tried to investigate the incident. At first they thought it was a normal robbery. It turned out that the robbery was planned in detail and made it difficult for them.
Pine plays Toby Howard. Toby's brother Tanner is experienced in offenses, while Toby is still green but has good tactical ability. The combination makes the robbery go smoothly. Based on a strong and good reason to make their actions gray.
Unstoppable [2010]
Release year : 2010

Genre: Action, Horror

Directed by: Tony Scott

Actors: Denzel Washington, Chris Pine, Rosario Dawson

Production company: Twentieth Century Fox, Prospect Park, Scott Free Productions
One mechanic's mistake caused the train to run on its own. This is made worse by the cargo on board, a chemical that could blow up the city. Frank, who works as an engineer and is about to retire, must work with Will to stop the train.
Pine plays Will and has to compete with Denzel Washington, who plays Frank. Will is a new employee who is having problems in his family hence his performance is considered not good enough by Frank. Even so, they still have to work together on a mission to save the city from an explosion.
This Means War [2012]
Release year : 2012

Genre: Action, Comedy, Romance

Directed by: McGu

Actors: Reese Witherspoon, Chris Pine, Tom Hardy

Production company: Overbrook Entertainment, Robert Simonds Productions, Dune Entertainment
Tuck and Foster are not only deadly but also very friendly intelligence agents. Tuck meets a woman named Lauren. Meanwhile Foster meets a woman he likes at a DVD store and it turns out to be Lauren. The conflict between the two agents is not just about catching criminals, but about winning Lauren's heart.
Pine plays Foster while Tuck is played by Tom Hardy. Foster and Tuck are both nosy and do everything they can to stop Lauren from getting together. This interferes with their mission as their cooperation is interrupted and Lauren is drawn into the dangers they create.
Jack Ryan: Shadow Recruit [2014]
Release year : 2014

Genre: Action, Drama, Horror

Directed by: Kenneth Branagh

Actors: Chris Pine, Kevin Costner, Keira Knightley

Production company: Paramount Pictures, Skydance Media, Di Bonaventura Pictures
Jack Ryan survived a helicopter explosion in Afghanistan. When he returned to the US, he was treated by Dr. Cathy Muller who later became his lover. Thomas Harper offered Ryan a job as a CIA agent. He was appointed as a financial analyst. Ryan then goes to school and works in a company but he has to keep his identity a secret.
Pine plays the main character, Jack Ryan. Jack, who was more intellectually intelligent, was able to do his financial analysis smoothly. Until he was in Russia, he had to engage in danger that could threaten the life of himself and his lover.
What kind of movies do you like? If you're looking to see a lighter film, This Means War is highly recommended. If you want something a little more complicated? Of course Star Trek is the right choice. Don't forget to share your opinion in the comments section below!