Are you one of the fans of this beautiful woman? Anyway, who doesn't know that the pretty face has surpassed the entertainment industry in Korea? Bae Su-ji (배수지), better known by her stage name Suzy, was born on October 10, 1994 in Gwangju, South Korea. Suzy is known as a singer, actress, model and MC under the auspices of the management company JYP Entertainment.
Suzy debuted as a member of the girl group Miss A in 2010. However, it was not until early 2017 that she debuted as a solo singer with the album "Yes? No? " was released on January 17 and topped all the charts on Korean music websites.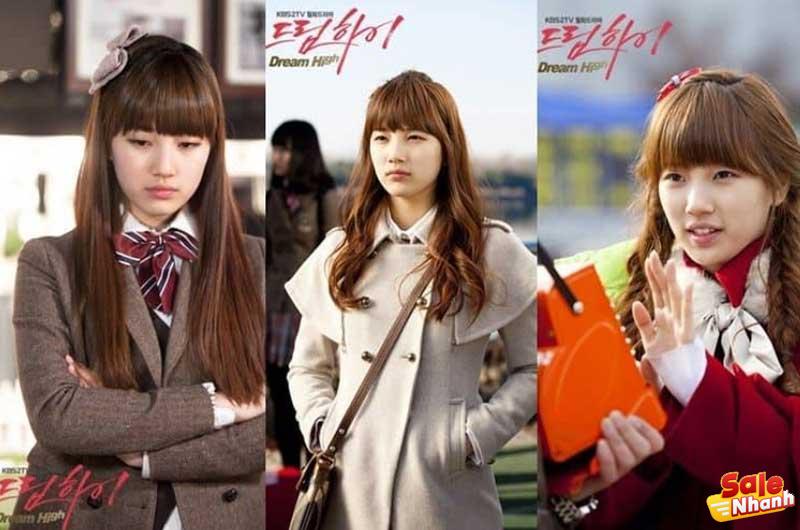 In addition to her singing career, Bae Suzy also tried her hand at acting. She even received many prestigious awards as an actress you know. Want to know what dramas he has been in since the beginning of his career? Don't worry, here we will cover it for you!
Dream High
Release year: 2011
Genre: Music, Teen, Romantic Comedy
Produce: Holym
Directed by: Lee Eung-bok, Kim Seong Yoon
Actors: Bae Suzy, Ok Taec-yeon, Kim Soo-hyun, Ham Eun-jung, Jang Woo-young, IU
This drama is Suzy's debut drama as an actress, the musical youth-themed drama "Dream High" aired on KBS from January 3 to February 28, 2011. In this drama, Suzy plays the role of Go Hye-mi, the main character.
It is said that Go Hyemi comes from a wealthy family, but her father's business failed after her mother passed away. He also entered Kirin Arts High School to achieve his dream of becoming a star in the Korean music industry.
In this drama, Suzy co-starred with Kim Soohyun, Taecyeon and Wooyoung 2PM, Eunjung T-ARA and IU. The drama "Dream High" is very popular among teenagers and is even popular in countries other than Korea and is one of the best Korean school dramas. This movie was later made a sequel titled "Dream High Season 2" in 2012 with a different cast. However, Suzy did return as a guest, even if only for a few seconds.
Thanks to her excellent acting, Suzy was even awarded "Best New Actress" and "Best Couple" with Kim Soohyun at the KBS Drama Awards. Not only that, he also won the award "Hot New Star" at the 2011 Mnet 20's Choice Awards.
Big
Release year: 2012
Genre: Romance, Comedy, Drama, Body Swap
Produce: Bon Factory Worldwide
Directed by: Ji Byung-hyun, Kim Sung-yoon
Actors: Gong Yoo, Lee Min-jung, Shin Won-ho, Bae Suzy
This romantic comedy was broadcast by KBS in 2012. The drama tells the story of a couple, Seo Yoonjae (played by Gong Yoo), a doctor, and Gil Daran (Lee Minjung), who begins question your partner's feelings. In the midst of the conflict, an unexpected accident occurred that caused the spirit of the male protagonist Seo Yoon Jae to enter the body of 18-year-old teenager Kang Kyungjoon (Shin Wonho).
In the movie Big, Suzy plays Jang Mari, a high school student who has a crush on Kang Kyungjoon. She comes from America to find the man she loves, but unfortunately the man's body lies comatose in the hospital while his soul enters the body of another.
Suzy's appearance in the third episode of the series turned out to be quite influential, you know. This drama was able to attract more viewers with a viewership rating of 8.4%, up 1% from the previous week of airing. He also received the "Popularity Award" at the 2012 KBS Drama Awards.
Gu Family Book
Release year: 2013
Genre: Historical, Romance, Action, Fantasy
Produce: Samhwa Networks
Directed by: Shin Woo-chul, Kim Jung-hyun
Actors: Lee Seung-gi, Bae Suzy, Sung Joon, Lee Yu-bi, Yoo Yeon-seok
"Gu Family Book" is a movie starring Suzy as the female lead Dam Yeo-wool. Meanwhile, Lee Seung-gi plays the male lead, Choi Kang-chi. The drama, which aired on MBC in 2013, tells the story of a half-love, Choi Kangchi, who hopes to become fully human. Choi Kangchi wishes to know his true identity, including why he was born half-demon.
On the way to find her identity, she meets Dam Yeowol disguised as a man and saves her when she is in danger. Since then, the intimacy of the two intertwined. Suzy plays a girl going through her first love.
Some of Suzy's expressions in the drama have won the hearts of the audience and this drama has become famous and is always the topic of discussion in every episode. She even won the "Top Excellence Award" that is rare for any young actress, the "Drama Actress of the Year 20" at the Mnet 20's Choice Awards and the "Best Actress Award" at the Seoul International Drama Awards.
Uncontrollably Fond
Release year : 2016
Genre: Romance, Romance
Produce : Samhwa Networks, SidusHQ
Directed by: Park Hyun-suk, Cha Young-hoon
Actors: Kim Woo Bin, Bae Suzy
This drama was broadcast by KBS in 2016 with a total of 20 episodes, this drama was fully produced before its release. Belonging to the genre of romance, love, and love movies, Suzy competes with handsome actor Kim Woobin in acting. Suzy's character in this drama is told as Noh-eul, a PD who works very hard to pay her sister's school fees and repay loan sharks.
Noh-eul also continues to fight to find the culprit of her father's car crash. Noh-eul then gets an offer to make a documentary with Shin Joon-young (Kim Woobin), her high school boyfriend. The meeting makes it clear that the two of them still have feelings for each other, until Joon-young's cancer is revealed.
This movie has many emotionally draining scenes, causing the audience to involuntarily shed tears while watching. This drama has also left a deep impression on drama lovers with a rather tragic ending. Thanks to this film, he won the "Best Star" award at the prestigious Asian Artist Awards.
While You Were Sleeping
Release year: 2017
Genre: Romance, Fantasy, Horror, Comedy, Drama
Produce: SidusHQ
Director: Oh Choong-hwan
Actors: Lee Jong-suk, Bae Suzy, Jung Hae-in, Lee Sang-yeob, Ko Sung-hee
This legal fantasy drama focuses on the lives of three young men, namely field reporter Nam Hongjoo (Bae Suzy), prosecutor Jung Jaechan (Lee Jongsuk), and police officer Han Wootak (Jung Hae In). ) the ability to predict future events through their dreams.
Suzy plays a beautiful, intelligent, and brave reporter who, with the ability to predict (the ability to see future events) through her dreams, begins to dream about her mother's death. and herself. He was determined to give up his dream along with Jaechan and Wootak who helped and supported him.
The drama "While You Were Sleeping" was broadcast by SBS in 2017 not only by the veteran cast but the story also made the audience excited to watch each episode. In 2018, the drama "While You Were Sleeping" won the award in the "Drama Category" at the Korea Top Brand Awards and the "Top Excellence Award for Korean Dramas" at the Korean Drama Awards. 13th Seoul International Drama.
Through this drama, Suzy also won awards at the Asia Artist Awards such as "Asian Star Award, Actress" and "Favorite (TV) Actress" at the Baeksang Arts Awards. . At the SBS Drama Awards, Suzy even won an award with Lee Jongsuk as the "Best Couple Award".
Vagabond
Release year: 2019
Genre: Spy, Action, Horror, Romance
Produce: Yoo In Sik
Director: Celltrion Entertainment
Actors: Lee Seung-gi, Bae Suzy, Shin Sung-rok
Vagabond is Bae Suzy and Lee Seunggi's second collaborative drama after co-starring in the drama "Gu Family Book" in 2013. The two's reunion has attracted the attention of drama-loving audiences. Korea though this movie has been scrapped. is only scheduled to air in May 2019 in the future. While shooting started a few months ago.
Suzy will play Go Hae Ri, an agent at the National Intelligence Service. Go Hae Ri is the daughter of a marine lieutenant named Go Kang-chul, who tragically died. After her father passed away, Go Hae Ri was determined to become a 7th grade civil servant and have a stable job to take care of her mother and younger sister.
Start Up
Release year: 2020
Genre: Business, Comedy, Romance, Youth, Drama
Produce: HiSTORY D&C
Director: Oh Choong Hwan
Actors: Bae Suzy, Nam Joo Hyuk, Kim Seon Ho, Kang Han Na
As one of the most talked about TV series of 2020, Start Up, as the title suggests, is about a group of young people trying to achieve their dream of starting a Start Up company under the auspices of Mr. Sandbox.
Is Seo Dal Mi, a new high school graduate aspiring to become a successful businessman, whose background is a family conflict in the past, because of economic problems her parents had to divorce and she was injured. separated from her sister Seo In Jae.
In this Start Up movie, there is a lot of knowledge and lessons on how to grow a business for beginners in the digital age. In addition, this drama is also spiced up by the love triangle story between Seo Dalmi (Bae Suzy), Nam Do San (Nam Joo Hyuk) and Han Ji Pyeong (Kim Seon Ho). Seo Dal Mi has divided the audience of this drama into two camps, #timdosan and #timjipyeong. Don't miss this Suzy movie because it's not only interesting, emotional and funny but there are a lot of positive things you can learn from this drama. Like watching!
So that's the movie that Bae Suzy has been and will be acting in since the early days of her career. In addition to the movie above, Suzy also appeared in the dramas "Human Casino" in 2011 and "My Love from Another Star" in 2014, you know, but only in cameos.
The achievements and awards that have been achieved in the acting world are not small, you know. How did Yeoreobun become a fan of Bae Suzy? Or even more fans? Hope it can give you a reference to watch the movie that you haven't had a chance to see yet!
Salenhanh – Product review blog
Address: 115 Nguyen Van Qua, Tan Hung Thuan Ward, District 12, Ho Chi Minh City
Website:  https://salenhanh.com/en
Mail: Salenhanh.com@gmail.com
#salenhanh #Reviewsalenhanh