Anushka Sharma is a Bollywod actress who started her career as an artist in a movie called Rab Ne Bana Di Jodi. In that film, she was immediately given the lead role and co-starred with the legendary actor Shahrukh Khan. Since then, she began to be noticed by many film producers to play characters in their films.
Anushka Sharma was born on May 1, 1988. She has appeared in many films. In addition, Anushka is also a prestigious new actress not inferior to her seniors entering the film industry for the first time. Here are 10 best Indian movies starring Anushka Sharma.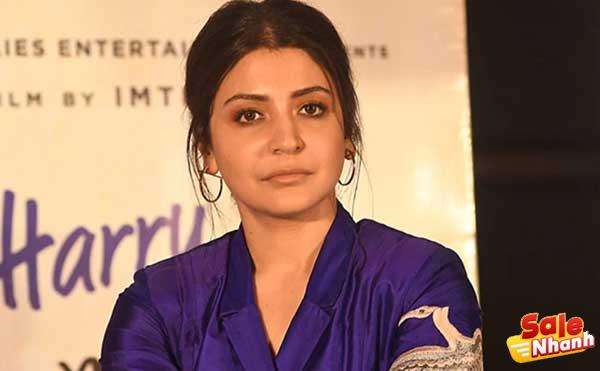 Movie Rab Ne Bana Di Jodi
Release year : 2008
Genre: Comedy, Drama, Music
Directed by: Aditya Chopra
Actors: Shah Rukh Khan, Anushka Sharma, Vinay Pathak
Producer: Yash Raj Films
Rab Ne Bana Di Jodi is a romantic comedy film. The film was released on December 12, 2008, directed by Yash Chopra, produced by Yash Raj Chopra and written by Aditya Chopra. This movie is about a man's struggle to get the love of his unexpectedly married wife.
Surinder Sahni "Suri" (Shahrukh Khan) is an ordinary and simple man who works at the office of a power company in Punjab who falls in love at first sight with his future wife. a man named Tania Gupta "Taani" (Anushka). Sharma).
Taani, who suddenly lost her future husband due to an accident, ends up unexpectedly marrying Suri. Taani, who doesn't have any affection, tries to give the best to the husband she doesn't love and just met.
Taani was originally a cheerful girl who turned into a gloomy and sad girl. Only dancing can make Taani happy again. This movie is rated 7.2/10 in the IMDb survey.
Movie PK
Release year : 2014
Genre: Comedy, Drama, Musical
Director : Rajkumar Hirani
Actors: Aamir Khan, Anushka Sharma, Sanjay Dutt
Production company : Rajkumar Hirani Films, Vinod Chopra Productions
PK is an Indian film of the genre of drama, comedy and satire. PK tells the story of an alien (PK) played by Aamir Khan who conducts research and asks about everything on earth, starting with living things, civilizations, religious differences, God, faith, love, compassion, etc.
While on Earth, the aliens befriend a woman who works as a TV reporter named Janani Sahni (Jaggu/Jagat). Jaggu is played by Anushka Sharma, at first Jaggu is very upset with PK's behavior and thinks he is crazy. But in the end Jaggu helped PK complete his mission on Earth.
The movie PK was released on December 19, 2014, with a rating of 8.2/10 on the IMDb survey. The film is one of the highest-grossing films of all time, ranking 66th in the list of highest-grossing films worldwide in 2014. The film is directed by Rajkumar Hirani and produced by Vidhu Vinod Chopra.
Movie Band Baaja Baaraat
Release year : 2010
Genre: Comedy, Drama, Romance
Directed by: Maneesh Sharma
Actors: Ranveer Singh, Anushka Sharma, Ranjit Batra
Producer: Yash Raj Films
The Baaja Baaraat Band or Wedding Planners is a romantic comedy film. The film is directed by Maneesh Sharma and produced by Aditya Chopra. The band Baaja Baarat released on December 10, 2010, has a rating of 7.3/10 on the IMDb movie survey. Tells the love story of a wedding girl wrapped in comedy.
Anushka Sharma is one of the main actors of this film. Anushka plays Shruti, a student who has just graduated from Delhi University. Shruti meets a young man named Bitto (Ranveer Singh) and forms a partnership to build a business in the wedding industry.
When going through a work relationship, both of them agree not to mix work and personal matters. Everything must be done professionally. Eventually, Shruti and Bitto develop feelings for each other and the two become lovers.
Bombay Velvet
Release year: 2015
Genre: Drama, Crime, Horror, Musical
Director: Anurag Kashyap
Actors: Ranbir Kapoor, Anushka Sharma, Karan Johar, Kay Kay Menon
Produce: Phantom Films
Maybe many people are curious why Bombay Velvet (2015) is ranked among the best films of Anushka Sharma. Bombay Velvet undeniably failed at the Indian box office, but Anushka Sharma's performance in this film cannot be underestimated.
Set in 1960, Anushka Sharma plays Rosie, a bar singer who falls in love with Johnny Balraj (Ranbir Kapoor).
Unfortunately, their love story collided with current reality and their respective dreams. Johnny's ambition to become rich is compared to the reality of life of Rosie, who has to live under Mistri's pressure. Lots of dirty plots and schemes to get rid of important people for personal gain.
Dil Dhadakne Do
Release year: 2015
Genre: Romance, Comedy, Musical
Directed by: Zoya Akhtar
Actors: Anil Kapoor, Shefali Shah, Priyanka Chopra, Ranveer Singh, Anushka Sharma, Farhan Akhtar
Producer: Excel Entertainment, Junglee Pictures
A family seems to be harmonious and perfect on the surface, but the reality that people see and what they experience is far different. This happens in the family of Kamal Mehra (Anil Kapoor) and Neelam (Shefali Shah). Trapped by adultery and nearly bankrupt business, Kamal plans to match Kabir (Ranveer Singh) to save the company.
Kabir refuses to marry because she finds her sister Ayesh (Priyanka Chopra) unhappy with her husband Manav (Rahul Bose). The reason is that Manav has a crush on Farah (Anushka Sharma), a dancer. This family looks like a happy family, but inside it is full of lies that make them so fragile.
Movies Nh10
Release year : 2015
Genre: Action, Crime, Drama
Director : Navdeep Singh
Actors: Anushka Sharma, Neil Bhoopalam, Darshan Kumaar
Production company: Clean Slate Films, Clean Slate Filmz, Eros International
Nh10 is an Indian horror film that tells the struggle story of a pair of lovers Arjun (Neil Bhoopalam) and Meera (Anushka Sharma) who must save and protect their lives from a group of criminals. that they accidentally met while on vacation.
Nh10 was released on March 12, 2015, directed by Navdeep Singh and written by Sudip Sharma. Initially, Meera (Anushka) is traumatized by an assault on her by a group of strangers that occurred when she returned home from a party.
Unable to escape his heartbreak, his lover Arjun (Neil) takes him on a vacation in the desert. Instead of going on vacation, they encounter a new problem that forces them to fight to survive.
Nh10 is taken from the true story of the brutal murder of a young couple on Highway 10 (National Highway 10) in India. Although it was taken from a true event, it was adapted and adapted into a thrilling story. Nh10 has a rating of 7.2/10 on IMDb site.
Sultan
Release year : 2016
Genre: Action, Drama, Sports
Directed by: Ali Abbas Zafar
Actors: Salman Khan, Amit Sadh, Randeep Hooda, Anushka Sharma
Producer: Yash Raj Films
Sultan is a film directed by Ali Abbas Zafar, and produced by Aditya Chopra, who is also the screenwriter. Premiered on June 6, 2016, in the genre of drama-action-sports. There is a rating of 7.2/10 on the IMDb survey.
Sultan tells the life story of a wrestler named Sultan Ali Khan played by Salman Khan who is looking for a way out of the problems in his life. When the Sultan won several wrestling matches, his troubles did not decrease, on the contrary, they increased.
Sultan has many problems both in the world of wrestling and personal issues that greatly influenced his career. The movie The King has a rating of 7.2/10 on the IMDb movie survey. Anushka Sharma plays Aarfa, a female wrestler who fights with the Sultan to fulfill her dream of becoming India's No.
Jab Tak Hai Jaan
Release year : 2012
Genre: Drama, Romance
Directed by: Yash Chopra
Actors: Shah Rukh Khan, Katrina Kaif, Anushka Sharma
Production company : First Step Productions, Redchillies.VFX, Yash Raj Films
This is the film that made Anushka Sharma the winner of Filmware Bollywood's Best Supporting Actress, Jab Tak Hai Jaan. Although not the main character, Anushka Sharma is an important character in this movie.
Anushka plays Akira Rai, a reporter completely enamored with the diary he accidentally found. Ultimately, he wanted to lift the story out of the diary. As it turns out, the diary belongs to a bomb squad, Samar Anand (played by Shahrukh Khan).
In the end, Akira follows Samar's every activity until Akira falls in love with Samar. But sadly, Samar's love meets his love again, Meera Thapar. So what about Akira and Samar's relationship? Penasara right? You must see the movie!
Sui Dhaaga
Release year: 2018
Genre: Romance, Comedy, Musical
Directed by: Sharat Katariya
Actor: Varun Dhawan Anushka Sharma
Producer: Yash Raj Films
It is no wonder that arranged marriages are popular in India, especially for those living in densely populated areas. Mamta (Anushka Sharma) and Mauji (Varun Dhawan) are a married couple who do not know each other. This did not make Mamta give up supporting her husband, this woman actually invited him and became an important person to Mauji.
Mamta is the one who is always by Mauji's side when he has to lose his job and become annoying. Mamta always encourages and helps her husband when they both run a sewing business.
Mamta became the rock for Mauji when the man was tricked by a big company and it was this woman who pushed him to start his own fashion company.
Zero
Release year: 2018
Genre: Drama, Romance, Comedy, Musical
Director: Aanand L. Rai
Actors: Shah Rukh Khan, Katrina Kaif, Abhay Deol, Anushka Sharma
Production: Red Chillies Entertainment, Color Yellow Productions
Made with a huge budget, in fact, the film called Zero (2018) cannot be called the best-selling film at the box office. Although this movie has the participation of famous actors and actresses such as Shahrukh Khan, Anushka Sharma to Katrina Kaif. Zero tells the story of Bauua Singh (Shahrukh Khan), a short man born into a wealthy family.
He becomes entangled in a love triangle with Babita (Anushka Sharma), a NASA scientist with cerebral palsy. The other woman Babita (Katrina Kaif) is a rising actress but a drinker.
Bauua Singh may be arrogant but he never fails to get his way. The love journey made Bauua learn many things that broadened his horizons and insight.
In addition to the above films, Anushka Sharma also participated in a number of other Bollywood films that are equally good. Don't just focus on this article! Watch other movies by Anushka Sharma.
So, information on the 10 best movies starring Anushka Sharma from Bacaterus. If you have suggestions and other information about other great movies, please share them with us in the comments column.
Salenhanh – Product review blog
Address: 115 Nguyen Van Qua, Tan Hung Thuan Ward, District 12, Ho Chi Minh City
Website:  https://salenhanh.com/en
Mail: Salenhanh.com@gmail.com
#salenhanh #Reviewsalenhanh