The Scandinavian region is not only famous for creating legendary Norse mythology. This place also gave birth to a group of talented actors in the acting world. One of the examples that can be seen is the figure of a Swedish-born woman named Alicia Vikander.
Alicia Vikander has made her way into Hollywood and starred in several films that have sold well enough to be shown on the big screen. Alicia began her career as a stage performer, having appeared in several short films and several television series in Sweden.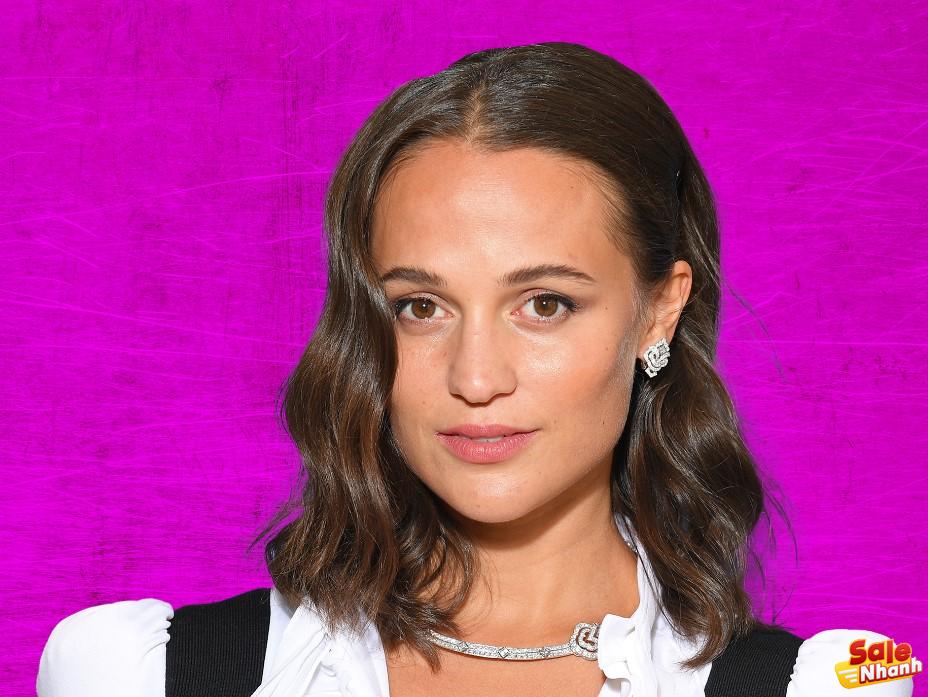 She made her film debut when she starred in her own domestically produced film, Pure in 2010. In 2015, she received Golden Globe and BAFTA nominations for Best Supporting Actress for role as an intelligent robot in the movie Ex Machina.
The wife of actor Michael Fassbender is currently preparing for her latest film titled The Green Knight which will be released this year. For those who want to know the movies played by Alicia Vikander, Salenhanh.com will give the suggestions below. Check out the full review below!
The Danish Girl (2015)
Release year : 2015

Genre: Biography, Drama, Romance

Directed by: Tom Hooper

Actors: Eddie Redmayne, Alicia Vikander, Amber Heard

Production company : Working Title Film, Beautiful Image, ReVision Image
The Danish Girl is a film based on the novel of the same name by David Ebershoff. Tells the true story of a Danish couple who work as painters named Einar Wegener (Eddie Redmayne) and Gerda Wegener (Alicia Vikander).
Einar then underwent sex reassignment surgery and became transgender with the female name Lili Elbe. For her performance in this film, Alicia Vikander won the Academy Award for Best Supporting Actress, and Eddie Redmayne was nominated for Best Actor in the same event.
Meanwhile, The Danish Girl received Academy Award nominations for Best Production Design and Best Costume Design, as well as being nominated for Best British Film at the BAFTA Awards.
 The Light Between Oceans (2016)
Release year : 2016

Genre: Drama, Romance

Directed by: Derek Cianfrance

Actors: Michael Fassbender, Alicia Vikander, Rachel Weisz

Production company : Heyday Films, LBO Productions (II), DreamWorks
Tom Sherbourne (Michael Fassbender) is a World War I veteran. He now works as a lighthouse guard on the Australian coast and is married to a local girl named Isabel Graysmark (Alicia Vikander) ).
His wife experienced two failed pregnancies. Once, they saved a baby girl in the ocean and planned to adopt her.
The premiere of The Light Between Oceans was held at the 73rd Venice International Film Festival in September 2016. In this competition, the film also competed for the Golden Lion award.
This romantic drama is based on the novel of the same name by writer ML Stedman, published in 2012.
Tomb Raider (2018)
Release year : 2018

Genre: Action, Adventure, Fantasy

Directed by: Roar Uthaug

Actors: Alicia Vikander, Dominic West, Walton Goggins

Production company: Warner Bros., Metro-Goldwyn-Mayer (MGM), Square Enix
Angelina Jolie was actually quite memorable playing Lara Croft in the Tom Raider films in 2001 and 2003. Once unknown, this tough woman character came to life as played by Alicia Vikander.
In this movie, Lara Croft will embark on a much more thrilling adventure. He will embark on a dangerous journey to solve the mystery left by his father.
The Tom Raider remake grossed $58.3 million in financial profits, and grossed $275 million worldwide. Earnings immediately surpassed previous films that came out in 2001 and 2003. The film is tipped to get a second sequel, slated for a March 2021 release.
Ex Machina (2014)
Release year : 2014

Genre: Drama, Science Fiction, Horror

Directed by: Alex Garland

Actors: Alicia Vikander, Domhnall Gleeson, Oscar Isaac

Production company: A24, Universal Pictures, Film4
Ex Machina is a science fiction film by British director Alex Garland. It is said that a programmer named Caleb Smith was invited by his boss, Nathan Bateman, to perform a Turing test on a female humanoid robot named Ava (Alicia Vikander). The test is taken to show intelligent behavior equal to or different from that of a human.
The Natioan Board of Review praised the film and ranked it one of the ten best independent films of the year it was released. The 88th Academy Awards gave this film the category of Best Visual Effects.
In addition, Ex Machina was nominated for the BAFTA Award for Best British Film, and the Hugo Award for Best Dramatic Presentation – Long Form.
Testament of Youth (2014)
Release year : 2014

Genre: Biography, Drama, History

Directed by: James Kent

Actors: Alicia Vikander, Kit Harington, Taron Egerton

Production company : BBC Films, BFI Film Fund, Heyday Films
Estimates of Youth is a drama film based on the memoir of the same name about World War 1 written by Vera Brittain. In this film, it is told that Vera Brittain (Alicia Vikander) is a young woman who decides to drop out of her studies at Somerville College, Oxford. She did it just to be a nurse in wartime.
In 2016, the New York City-based Union of Women Journalists awarded Alicia Vikander the award for Best Breakthrough Performance for her performance in the film.
The youth estimate has since received generally positive reviews on the website Rotten Tomatoes with a rating of 82% based on 109 critics. Meanwhile, Metacritic gave the film an average rating of 77/100.
A Royal Affair (2012)
Release year : 2012

Genre: Biography, Drama, History

Directed by: Nikolaj Arcel

Actors: Alicia Vikander, Mads Mikkelsen, Mikkel Boe Flsgaard

Production company: Zentropa Entertainments, Danmarks Radio (DR), Trollhättan Film AB
Upon its release on March 29, 2012, the film won two Silver Bear Awards at the 62nd Berlin International Film Festival. In addition, it was nominated for the category of Best Foreign Language Film. at the 85th Academy Awards and 70th Golden Globe Awards.
A Royal Affair received a score of 90% from Rotten Tomatoes based on 108 reviews with an average rating of 7.3 / 10. A Royal Affair is a historical drama film directed by Danish director Nikolaj Arcel command.
The film is set in the 18th century when King Christian VII of Denmark is in power. He has a wife named Caroline Matilda from the UK, played by Alicia Vikander. The wife turned out to have an affair with a royal physician named Johann Friedrich Struensee.
The Man from UNCLE (2015)
Release year : 2015

Genre: Action, Adventure, Comedy

Directed by: Guy Ritchie

Actors: Henry Cavill, Armie Hammer, Alicia Vikander

Production company: Warner Bros., RatPac-Dune Entertainment, Wigram Productions
In 1963, the cold war was raging in continental Europe. At the time, a CIA agent named Napoleon Solo (Henry Cavill) was investigating the nuclear development of a Nazi scientist named Dr. storyteller.
Solo then approaches the scientist's son, Gabby Teller (Alicia Vikander) for clues. Instead, however, he is being hunted down by a hardened Russian KGB agent.
It is an adaptation of the 1964 television series of the same name. The Man from UNCLE is directed by Guy Ritchie and written by him and Lionel Wigram.
In North America, the film grossed $45.4 million, while worldwide, the film grossed $109.8 million through a $75 million production budget.
Submergence (2017)
Release year : 2017

Genre: Drama, Romance, Horror

Directed by: Wim Wenders

Actors: Alicia Vikander, Celyn Jones, Jannik Schümann

Production company: Backup Media, Green Hummingbird Entertainment, Lila 9 Productions
Submergence delivers a romantic thriller between Alicia Vikander and James McAvoy. The actor who played Professor X in X-Men plays a British agent named James Moore, while Alicia Vikander plays Danielle Flinders, a scientist specializing in biological math.
This movie is based on the novel of the same name by JM Ledgard. James Now has to disguise himself as a marine engineer. On the other hand, Danielle is working on an underwater project to study the origin of life on Earth.
The two then met at an inn in French Normandy. Because they often spend time together, they fall in love. However, they must face a reality that separates them.
Earthquake Bird (2019)
Release year : 2019

Genre: Crime, Drama, Mystery

Directed by: Wash Westmoreland

Actors: Alicia Vikander, Kiki Sukezane, Kenichi Masuda

Production company : Scott Free Productions, Twenty First City
1989's Tokyo is a new location for the life of Lucy Fly (Alicia Vikander). He became an immigrant and worked as a translator. His meeting with a photographer named Teiji made him even more comfortable in Japan.
The situation then becomes complicated when Lucy's friend, Lily, disappears without a trace. Lucy was later suspected of murder because of the incident. Earthquake Bird offers a pretty cool psychological horror feel to enjoy.
The film, directed by Wash Westmoreland, is based on the novel of the same name by Susanna Jones. The first of this film was shown at the BFI London Film Festival on 10 October 2019.
Jason Bourne (2016)
Release year : 2016

Genre: Action, Horror

Directed by: Paul Greengrass

Actors: Matt Damon, Tommy Lee Jones, Alicia Vikander

Production company: Universal Pictures, Perfect World Pictures, The Kennedy / Marshall Company
Jason Bourne is the fifth installment in the Bourne franchise, which premiered in 2002. This latest sequel still stars Matt Damon, Tommy Lee Jones, Julia Stiles and Alicia Vikander as Heather Lee, a cast member. Senior CIA.
A week after its release, this film immediately occupied the number one box office with a revenue of $ 59 million. It is said that Bourne's whereabouts are now known, and that the CIA is trying to arrest him again.
Meanwhile, the head of the CIA's Cyber ​​Intelligence Division, Heather Lee, begins an investigation into Bourne's past. He then asked the Director of National Intelligence, Edwin Russell, to contact Bourne privately and persuade him to join the CIA.
Gentle as a Viking and charming as a Scandinavian girl, maybe that's how Alicia Vikander is supposed to be. If you've been seduced by this one woman, then you shouldn't miss out on all the movie recommendations that have been made. Hopefully the above movie reviews can add more references to your watch list. Have fun watching!