Alexandra Daddario is a New York-born actress who decided to drop out of Marymount Manhattan College to pursue an acting career. She said that she had dreamed of becoming an actress since the age of 11. She started appearing as an actress by appearing in television series when she was 16 years old.
Her first entry into the acting world was when she was cast as Laurie Lewis on the television series All My Children. Her decision to focus on the world of acting turned out to be the right one.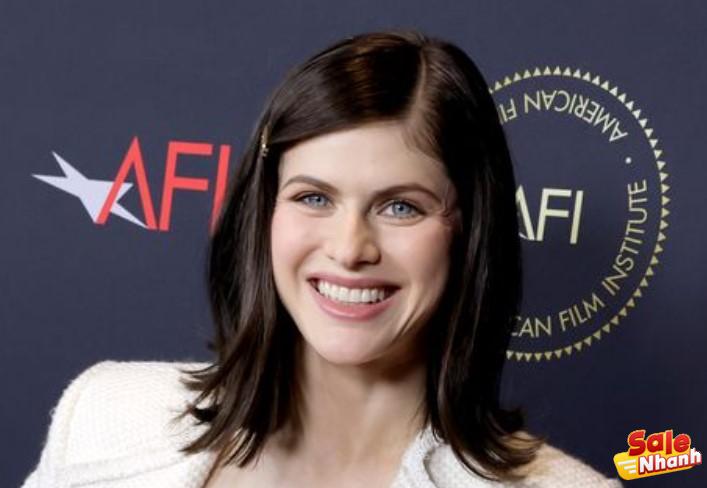 Currently, she has been entrusted with leading roles in many movies. Here are the 20 best films of Alexandra Daddario in her career that readers will refer to. Check out the following review, yes!
The Choice
Release year : 2016

Genre: Drama, Romance

Directed by: Ross Katz

Actors: Benjamin Walker, Teresa Palmer, Alexandra Daddario

Production company : Nicholas Sparks Productions, The Safran Company
In a small seaside town, a veterinarian named Travis (Benjamin Walker) works alongside his father. His life is peaceful and happy. Travis also has a girlfriend named Monica (Alexandra Daddario) and there's nothing wrong with their relationship.
The calm in Travis's monotonous life changes when he meets a local hospital intern, Gabby (Teresa Palmer). Gabby lives next to Travis.
Gabby herself has a boyfriend named Ryan (Tom Welling). However, when Ryan goes to another city, Gabby becomes close to Travis. The two fell in love with each other, forgetting that each had a lover.
When We First Met
Release year : 2018

Genre: Comedy, Fantasy, Romance

Directed by: Ari Sandel

Actors: Adam Devine, Alexandra Daddario, Shelley Hennig

Production company : Footprint Features, Wonderland Sound and Vision, MXN Entertainment
One day, Noah meets a woman named Avery, played by Daddario. Noah has feelings for Avery but Avery only sees Noah as a friend. Three years passed, and their relationship remained unchanged until Avery became engaged to Ethan.
Noah sadly wondered if the first time he met Avery, he had taken a different path. One morning, he woke up the very day he first met Avery. Noah tries to find a way to make him Avery's lover in the future. Will things be different?
San Andreas
Release year : 2015

Genre: Action, Adventure, Drama

Directed by: Brad Peyton

Actors: Dwayne Johnson, Carla Gugino, Alexandra Daddario

Production company: New Line Cinema, Village Roadshow Pictures, RatPac-Dune Entertainment
Dr. Lawrence Hayes, a scientist who has spent his life researching earthquake detection but no one believes in it. An earthquake hit San Andreas and caused a lot of damage. 9.6 SR tectonic earthquake becomes the largest earthquake in history
Ray Gaines, a rescue helicopter pilot must fight to save his wife, Emma, ​​and son Blake played by Daddario. The problem was that he and his wife were in the process of getting a divorce at the time and she was in the suburbs, and Blake was downtown. Will he be successful?
Percy Jackson & the Olympians: The Lightning Thief
Release year : 2010

Genre: Adventure, Family, Fantasy

Directed by: Chris Columbus

Actors: Logan Lerman, Kevin McKidd, Steve Coogan

Production company: Fox 2000 Pictures, 1492 Pictures, Sunswept Entertainment
Percy Jackson is a teenager who lives only with his mother. During a visit to the school's museum, a teacher transforms into another form and asks Percy to return Zeus' magic wand.
He was saved by Mr. Brunner and Go tell him that he is a descendant of a god. He. Brunner and Go reveal their true identities that they are Chiron and Satyr. They took Percy to Camp Half-Blood for training.
There he meets Annabeth Chase, played by Daddario. The three of them are on an adventure facing Hades and Medusa to save Percy's mother and meet Zeus.
Nomis
Release year : 2018

Genre: Action, Crime, Drama

Directed by: David Raymond

Actors: Henry Cavill, Ben Kingsley, Alexandra Daddario

Production company: Arcola Entertainment, Arise Pictures, Buffalo Gal Pictures
Walter Marshall, a detective investigates the body of a woman he found. With the help of Michael Cooper, a former judge, he is able to find a child predator in a mansion. Simon Stulls, the owner of the house, was arrested by the police despite his mental retardation.
The arrest of Simon turned out to be a mess and managed to free him from the police. It turns out that Simon has an identical twin brother who killed Cooper and kidnapped an investigator, Rachel Chase, played by Daddario. Can Marshall save Rachel and solve the case?
Hall Pass
Release year : 2011

Genre: Comedy, Romance

Directed by: Bobby Farrelly, Peter Farrelly

Actors: Owen Wilson, Jason Sudeikis, Christina Applegate, Alexandra Daddario

Production company : New Line Cinema, Conundrum Entertainment
Saturation in married life is common. That's what Rick (Owen Wilson) and Fred (Sudeikis) are going through. Rick's wife, Maggie (Jenna Fischer) and Fred's wife, Grace (Christina Applegate), seem to have grown tired of each other. The wives agreed to let their husbands go with half of them, doing whatever they wanted.
Unadjusted, the half-pass allows Rick and Fred to sleep with another woman. Both were immediately excited. With the help of some friends, Rick and Fred find a woman they can sleep with. But in reality things don't work out because they don't want to sleep with any woman because they still think about their wife.
Contrary to her husband, Grace and Maggie really enjoy a free life without a husband. In fact, Grace has a special relationship with a younger man and Maggie is approached by a middle-aged man who is a friend of her father.
Alexandra Daddario got a supporting role in this film. The beautiful actress plays Paige, the nanny at Rick and Maggie's house.
We Have Always Lived in the Castle
Release year : 2019

Genre: Drama, Mystery, Horror

Directed by: Stacie Passon

Actors: Taissa Farmiga, Alexandra Daddario, Crispin Glover

Production company: Mighty Engine, Furthur Films, Albyn Media
The Blackwood family is left with only three family members, two sisters named Merricat and Constance played by Daddario. Plus their old uncle, Julian. Another member of Blackwood died at dinner because his food was contaminated with arsenic. All of the accusations are directed at Constance though never proven.
The surrounding community gave the rest of the Blackwood family a bad image. One day, Charles, a relative of the family came and lived at the Blackwood family mansion. A fire broke out at the Blackwood family residence and the incident changed everyone's opinion.
The Babysitters
Release year : 2007

Genre: Drama

Directed by: David Ross

Actors: Lauren Birkell, Paul Borghese, Chira Cassel, Alexandra Daddario

Production Company : Forensic Film, ODD Entertainment, Upload Film
In this film, once again, Alexandra Daddario only received a supporting role. "The Babysitters" is indeed a film that has received a lot of negative reviews. On some movie review sites, "The Babysitters" is rated very low.
The film tells the story of a 17-year-old teenager, Shirley Lyner (Katherine Waterston), who initially opens a babysitting service. Shirley does this to earn extra money. However, Shirley turned her job into a call girl for married men after having an affair with one of her clients.
Baywatch
Release year : 2017

Genre: Action, Comedy, Crime

Directed by: Seth Gordon

Actors: Dwayne Johnson, Zac Efron, Alexandra Daddario

Production company: Paramount Pictures, Uncharted, Shanghai Film Group
Mitch Buchannon is a Florida coast guard. He suspects something is wrong with the company run by Victoria Leeds. Unable to get support from his superiors, Mitch struggles with the new lifeguards Matt, Ronnie and Summer played by Daddario.
Victoria turned out to turn the Florida coast area into a drug-smuggling area and intended to control the real estate around the coast. Mitch did not stop investigating the matter even though it was beyond his jurisdiction. Unfortunately, she and Matt don't get along. Mitch is fired and the baton is indiscriminately passed to Matt.
Burying the Ex
Release year : 2014

Genre: Comedy, Horror, Romance

Directed by: Joe Dante

Actors: Anton Yelchin, Ashley Greene, Alexandra Daddario

Production company: Voltage Pictures, Elended Productions, Act 4 Entertainment
Max, a horror fan, has a girlfriend named Evelyn. The relationship between the two is far from harmonious, small problems often turn into fights. One day, Evelyn is killed by being hit by a bus and instead of making Max sad, he feels free.
Gradually Max began to feel lonely without Evelyn's presence. Then he meets Olivia, played by Daddario. Their relationship went smoothly until they rose from the grave. Evelyn continues to haunt Max to be his girlfriend again. Max's relationship with Olivia deteriorates further and Evelyn increasingly shows a different side of the creature that has risen from the grave.
Baked in Brooklyn
Release year : 2016

Genre: Comedy, Crime, Drama

Directed by: Rory Rooney

Actors: Josh Brener, Alexandra Daddario, Paul Iacono

Production company : Eight Trick Pony, Red Crown Productions
David (Josh Brener) has just lost his job at a consulting firm. The young man who had earned a bachelor's degree from a college had difficulty finding a new job. Finally, to make a living, David worked as a marijuana seller in Manhattan.
At first, David's plan goes according to plan until he meets his idol girl, Kate (Alexandra Daddario). David's life is in turmoil and great danger is threatening him. Will David be able to struggle this time?
Can You Keep a Secret?
Release year : 2019

Genre: Comedy, Romance

Directed by: Elise Duran

Actors: Alexandra Daddario, Tyler Hoechlin, Laverne Cox

Production company : BCDF Pictures, Big Indie Pictures
Emma Corrigan, played by Daddario, an employee at the Panther Corporation, goes through a life she considers complicated. In the family, he always loses to his cousin who is considered the most successful. She has two friends who are bipolar and her fiancé, Connor, who is increasingly boring.
During a plane ride, Emma sat next to a man named Jack Harper. With the storm causing her to panic, Emma opened up to Jack from small stories to his secrets. Little did he know that Jack was actually the founder of the Panther Corporation. What will happen next?
We Summon the Darkness
Release year : 2019

Genre: Horror, Music, Horror

Directed by: Marc Meyers

Actors: Alexandra Daddario, Keean Johnson, Maddie Hasson

Production company: Common Enemy, thefyzz, Magna Entertainment
In 1988, America was horrified after the Satanist group killed 18 people. Their victims are always the same, that is, young people who go to concerts of heavy metal bands. Although the incident is still heartbreaking, it does not stop young people from enjoying the music of their favorite band.
Three young women, Alexis played by Daddario, along with Val and Beverly go to a concert by a heavy metal band. There, they met three men. The night that was supposed to be fun turns scary and threatens their lives. What happened after the introduction?
Bereavement
Release year : 2010

Genre: Crime, Horror, Thriller

Directed by: Stefan Mena

Actors: Michael Biehn, Alexandra Daddario, Brett Rickaby

Production company : Crimson Film
A movie with a mentally ill protagonist is classified as underrated. Its rating is also quite low on some review sites like IMDb.
Synopsis "Bereavement" tells the story of a boy named Martin (Chase Pechacek) who is kidnapped by psychotherapist Graham Sutter (Brett Rickaby). Graham is a psychopath who likes to slaughter women. He cuts Martin's cheek and forces the boy to witness himself killing the women he has also kidnapped. Graha did it brutally.
Martin was kidnapped by Graham and abandoned for many years. Until Martin was in his late teens, he was still forced to witness Graham's cruelty in killing his victims.
Allison (Alexandra Daddario) accidentally sees Martin through Graham's window as he crosses the street in front of a mad psychotherapist's house. Allison's instincts told her that Martin was unwell and needed help. Unfortunately, Allison's curiosity actually puts her and her lover, William (Nolan Gerard Funk) in danger.
Lost Transmissions
Release year : 2019

Genre: Drama

Directed by: Katharine O'Brien

Actors: Juno Temple, Simon Pegg, Rebecca Hazlewood, Alexandra Daddario

Production company: Pulse Films, Royal Road Entertainment, Underground Tension
Renowned record producer Theo Ross (Simon Pegg) must treat his schizophrenia. Theo has a best friend who is a musician, Hannah (Juno Temple), who is very concerned about Theo's mental health.
Tired of treatment, Theo went to Los Angeles. Hannah and some other friends struggle to get Theo to Los Angeles. They try to find Theo and bring him back for psychiatric treatment.
Texas Chainsaw 3D
Release year : 2013

Genre: Horror, Thriller

Directed by: John Luessenhop

Actors: Alexandra Daddario, Tania Raymonde, Scott Eastwood

Production company : Millennium Films, Mainline Pictures
Missing the explosive Leatherface character in the 1974 "Texas Chainsaw Massacre"? This psychotic character has been made into a movie several times, one of which was "Texas Chainsaw 3D" in 2013.
The story begins with Heather Miller (Alexandra Daddario), who has just found out that she is the adopted child of a couple she knows are her parents. Heather received a will from a grandmother she never really knew. Heritage is a mansion in Texas.
With her friends, Heather travels to Texas to see the mansion that will be hers. As young people in the city, Heather and her friends wanted to throw a party when they saw the mansion. They never knew that in the basement there was a terrifying figure named Leatherface ready to take down prey with his top chainsaw.
The Layover
Release year : 2017

Genre: Comedy, Romance

Directed by: William H. Macy

Actors: Kate Upton, Alexandra Daddario, Matt Barr

Production company: Unified Pictures, BRON Studios, Creative Wealth Media Finance
Kate, played by Daddario and Meg, are two friends who have been friends for a long time and live in the same apartment. The two of them are facing different problems, Kate is having trouble figuring out how to teach while Meg is having trouble selling her cosmetic products. To relieve their fatigue, they plan a vacation together.
On a vacation trip, Meg and Kate met a handsome man named Ryan while on a plane. Bad weather causes the flight to be delayed, the three continue their journey by car and Kate and Meg's rivalry heats up, even threatening their longtime friendship.
The Attic
Release year : 2007

Genre: Horror, Thriller

Directed by: Mary Lambert

Actors: Elisabeth Moss, Catherine Mary Stewart, John Savage, Alexandra Daddario

Production company : New Films International, Intri Internal Value Films, Wideye
Emma (Elisabeth Moss) seems unhappy with her new home. Not only Emma, ​​other family members also appeared unhappy and restless.
One day while alone in the attic, Emma saw someone who looked a lot like her. The mysterious figure brutally attacks Emma.
Instead of moving, Emma chooses to stay indoors to find answers to the mysterious events she experiences. Emma suspects that her family is involved in the horrific events she is experiencing. Furthermore, the previous owner of the house, Ava Strauss (Alexandra Daddario), also mysteriously died in the house.
Odd Jobs
Release year : 2010

Genre: Comedy

Directed by: Jeremy Redleaf

Actors: Alexandra Daddario, Anna Garner, Jack Haley

Production company : Brackets Creative
"Odd Jobs" is not really a feature film but a TV series. Not much synopsis has been shared for this film. However, we can confirm that Alexandra Daddario is indeed one of the actors.
This series tells the story of Nate (Jeremy Redleaf), a bank employee who has just been laid off. Nate has a roommate named Joe (Devin Ratray), an unemployed person often referred to as a swindler.
Nate secretly follows the adventures of "Craiglist" hired by Joe. Through these activities, both learn the rules of survival.
The Squid and the Whale
Release year : 2005

Genre: Comedy, Drama

Directed by: Noah Baumbach

Actors: Owen Kline, Jeff Daniels, Laura Linney, Alexandra Daddario

Production company: Samuel Goldwyn Films, Sony Pictures Releasing International, Destination Films, American Empirical Pictures, Original Media
In "The Squid and the Whale", Alexandra Daddario is not ranked as the main character. You still have to watch this movie, though, because it contains a moral message about the ill effects of a parent's divorce on their two children.
The film's story centers on a married couple, Bernard (Jeff Daniels) and Joan (Laura Linney). Bernard and Joan have two sons, Walt (Jesse Eisenberg) and Frank (Owen Kline).
Long story short, Bernard is a former successful writer and is currently at a low point in his career and currently works as a lecturer at the school. On the other hand, his wife – Joan – actually has a writing skill that surpasses her husband's. Joan made a best-selling novel on the market. However, Joan had an affair with several men.
When Bernard and Joan decide to divorce, eldest brother Walt, who idolizes his father, will blame his mother for this divorce entirely. Meanwhile, Frank, who tends to be apathetic and ignorant, chooses to side with his mother.
The impact of his parents' divorce turned out to be on Walt and Frank's lives. Walt became skeptical and arrogant. In fact, he's unashamed to admit Pink Floyd's "Hey You" is his own.
Frank was much more unruly and out of control. The teenager loves to drink beer and even masturbates in the library and spreads his sperm into his friends' lockers.
The movies reviewed above are of different genres so you can enjoy the different characters played by Alexandra Daddario. From there you can self-assess Daddario's role-playing skills. Any of your favorite movies above? If you haven't already, you can add another Alexandra Daddario movie to the comments column.