In Bollywood movies, besides Shah Rukh Khan, there is another very successful actor who can match the achievement of "King of Bollywood". Who is he?
Aamir Khan entered the Bollywood movie world earlier than Shah Rukh Khan even though they were the same age and that made Aamir Khan's name known before Shah Rukh Khan was famous.
Starting a film career at a young age, 8 years old, getting the lead role at 20 and becoming famous at 23 is an amazing leap for an actor in India.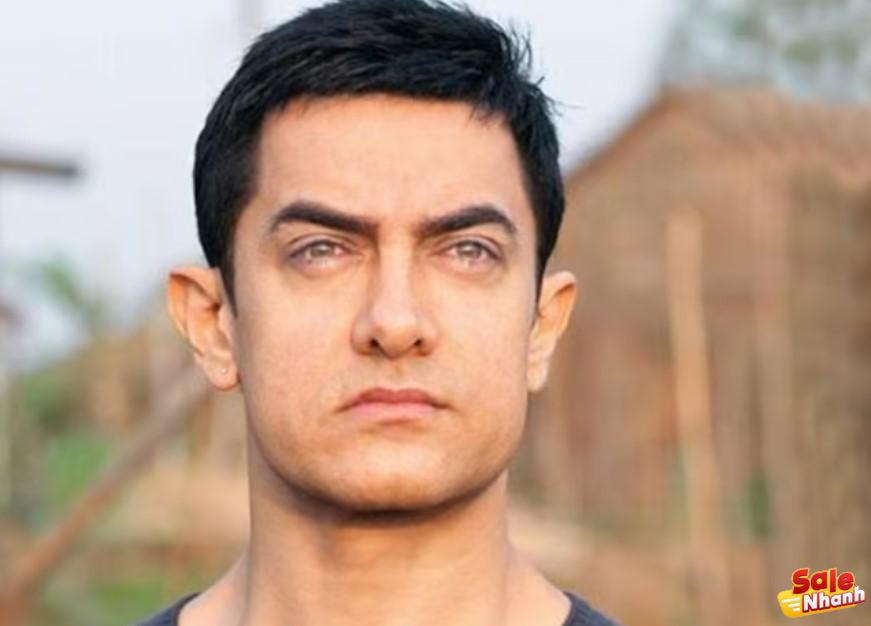 His handsome face, although his physique is a bit short compared to other actors, makes him look like Tom Cruise in Hollywood movies. Coincidentally, their popularity coincided in the next year.
Apart from some of the movies that we have reviewed in previous articles, here is a list of the 10 best Bollywood movies ever starring Aamir Khan.
Qayamat Se Qayamat Tak [1988]
Release year: 1988
Genre: Drama, Musical, Romance
Director : Mansoor Khan
Actors: Aamir Khan, Juhi Chawla, Goga Kapoor
Production company : Nasir Hussain Films, United Producers
The story-inspired film based on the contemporary version of the Romeo and Juliet story, was an instant box office hit and huge hit in India. It can be said that Qayamat Se Qayamat Tak has brought a breath of change to Bollywood cinema.
If previous Indian films were more violent with the appearance of the characters "Tuan Takur" and "Inspector Vijay", there is not enough violence in this movie. In addition, this film also brings traditional Indian music back after a decade where the majority of films were filled with disco songs and breakdance. And many other firsts are also in this movie.
Aamir Khan and Juhi Chawla are the actors who were first introduced and starred. In addition, this film is also the first career of the singer couple Udit Narayan and Alka Yagnik, who will later produce many hit songs for popular Bollywood movies.
Aamir Khan came out too impressed and earned a Best Actor nomination, although he ended up taking home the Filmfare Award for Best Actor.
Raakh [1989]
Release year: 1989
Genre: Action, Crime, Drama
Directed by: Aditya Bhattacharya
Actors: Aamir Khan, Supriya Pathak, Pankaj Kapur
Production company : Emotion Picture Company, Saritha Films, Second Image Enterprise
After bringing the wind of change in the film Qayamat Se Qayamat Tak, Aamir Khan entered the field of action films – horror typical of Bollywood at that time. It seems this is inevitable for a new star like Aamir Khan.
The signature Indian theme of revenge is carried throughout the film, where Aamir Khan delivers maximum acting for this Bollywood standard action movie. So don't be surprised if through this movie he gets nominated for Best Actor again, even though he hasn't won it yet.
Dil Hai Ki Manta Nahin [1991]
Release year: 1991
Genre: Adventure, Comedy, Drama
Director : Mahesh Bhatt
Actors: Aamir Khan, Pooja Bhatt, Anupam Kher
Production company : Super Cassettes Industries Limited (T-Series), Vishesh Films
Love is not easy to understand. Sometimes we want to love someone but we fall in love with someone else instead. That's what happened to the character played by Pooja Bhatt in this movie with Aamir Khan as her partner.
This romantic movie is a completely free remake of the popular Hollywood movie It Happened One Night. In addition to boosting Pooja Bhatt's acting career, once again for her performance, Aamir Khan was nominated for Best Actor for the fourth time, after the previous year for the film Dil. And he still hasn't achieved it again.
Jo Jeeta Wohi Sikandar [1992]
Release year : 1992
Genre: Comedy, Drama, Romance
Director : Mansoor Khan
Actors: Aamir Khan, Ayesha Jhulka, Deepak Tijori
Production company : Nasir Hussain Films, United Producers
Competing for women's hearts can't just be by insulting and demeaning each other. Such negative things should be avoided. It is better to get sports through sporting events, as told in this best Bollywood movie.
Aamir Khan returns to collaborate with director Mansoor Khan, who directed him in the film Qayamat Se Qayamat Tak. Together they took the film to the Best Picture award that year and made a huge commercial profit. In addition, Aamir Khan was once again nominated for Best Actor.
Hum Hain Rahi Pyar Ke [1993]
Release year : 1993
Genre: Drama, Family, Comedy
Director : Mahesh Bhatt
Actors: Aamir Khan, Juhi Chawla, Sharokh Bharucha
Production company : Tahir Husain Enterprises, TV Films Pvt. Co., Ltd
Aamir Khan and Juhi Chawla are back together in this remake of the Hollywood classic, Houseboat by Mahesh Bhatt. This movie was an instant hit and hit that year. Hit the big box office and become the Best Movie. Juhi Chawla herself was ranked in the list of Best Actress.
Only Aamir Khan had to be patient again, because for the eleventh time he was nominated for Best Actor and failed to win it. But his talent as a director and screenwriter began to be seen in this film. It is known that many times the scenes directed by Aamir Khan were often absent by Mahesh Bhatt and the script changes that occurred were also written by Aamir Khan.
Andaz Apna Apna [1994]
Release year : 1994
Genre: Comedy, Romance
Director : Rajkumar Santoshi
Actors: Aamir Khan, Salman Khan, Raveena Tandon
Production company: Vinay Pictures
This comedy filled with humorous scenes initially received ridicule when it was released. Although the 4 main actors were all famous Bollywood stars of that time. Aamir Khan and Salman Khan play con artists, while Raveena Tandon and Karisma Kapoor play their partners.
But over time, it has become the classic to date and hailed by Indian film critics as one of the best Indian comedies. Notably, Aamir Khan was still able to shortlist for Best Actor nomination even from a film that was disparaging and failed at the box office at the time.
Ghulam [1998]
Release year : 1998
Genre: Action, Crime, Drama
Director : Vikram Bhatt
Actors: Aamir Khan, Rani Mukerji, Rajit Kapoor
Producer: NH Studioz
After being nominated again for Best Actor through Akele Hum Akele Tum, Aamir Khan finally won Best Actor for Raja Hindustani, which really has quality. much worse than his previous films. The title of Best Actor further raised his honor even further, and Ghulam was his first film after Raja Hindustani.
This crime drama explores the social lives of lower class citizens who often engage in criminal acts. Rani Mukerji, who recently appeared in Kuch Kuch Hota Hai, co-stars with Aamir Khan in this film. Once again Aamir Khan was nominated for Best Actor for his role in this film directed by Vikram Bhatt.
Sarfarosh [1999]
Release year: 1999
Genre: Action, Drama
Directed by: John Mathew Matthan
Actors: Aamir Khan, Naseeruddin Shah, Sonali Bendre
Production company : Cinematt Pictures
The endless conflict on the India-Pakistan border has always been a story for Bollywood movies. Released almost simultaneously with Shah Rukh Khan's film on the same theme famous for his song "Chaiyya Chaiyya", Dil Se… , Sarfarosh is also set in a similar setting. Coincidentally, there was also a border conflict at the time known as the Kargil Conflict.
Not far from the theme of revenge for one of his family members who was a victim of the conflict, this movie is packed with action and explosion scenes here and there. Aamir Khan's excellent performance earned him a Best Actor nomination.
Dil Chahta Hai [2001]
Release year : 2001
Genre: Comedy, Drama, Romance
Directed by: Farhan Akhtar
Actors: Aamir Khan, Saif Ali Khan, Akshaye Khanna
Producer: Excel Entertainment
After Aamir Khan won his second Best Actor award for Lagaan , who was also nominated for Best Foreign Language Film at the Academy Awards , he returned to acting in comedy through Dil Chahta Hai . This film has been widely criticized for being too city-oriented, where the three main characters come from wealthy, upper-class families.
This movie from director Farhan Akhtar installs Aamir Khan, Saif Ali Khan and Akshaye Khanna as 3 best friends while in college and the story starts to get complicated when they fall in love with their woman. The difference in principles of love between them makes this movie interesting. Through this film, Aamir Khan has returned as the Best Actor nominee.
PK [2014]
Release year : 2014
Genre: Comedy, Drama, Musical
Director : Rajkumar Hirani
Actors: Aamir Khan, Anushka Sharma, Sanjay Dutt
Production company : Rajkumar Hirani Films, Vinod Chopra Productions
After being nominated again for Best Actor through Mangal Pandey: The Rising, Rang De Basanti, Ghajini, 3 Idiots and Best Director through Taare Zameen Par, PK is a film with philosophical values. his highest education but encountered a lot of objections from the audience. Religious groups are alluded to in the film.
But the controversy did not stop the film's success, which was named the highest-grossing Indian film of all time and led Aamir Khan to once again be nominated for Best Actor. KY
His unique story of aliens who got lost on Earth and then researched human civilization with their God, whom he considers responsible for the loss of associated tools. lost so he could not return to his planet and was lost for many years on Earth.
Through his series, Aamir Khan proves that he is not an actor with stereotypical roles. He also always pushes himself to act better by trying out challenging roles even though he sometimes has to sacrifice commercial value.
Aamir Khan and Shah Rukh Khan have never met in a movie, perhaps because their stars and salaries are so big that studios don't dare to combine acting.
Even while making cameos in Bombay Talkies, neither of them was in a frame. Just hoping as soon as possible they can co-star in one of Bollywood's best movies, before their stardom wanes. Hope!!
Salenhanh – Product review blog
Address: 115 Nguyen Van Qua, Tan Hung Thuan Ward, District 12, Ho Chi Minh City
Website:  https://salenhanh.com/en
Mail: Salenhanh.com@gmail.com
#salenhanh #Reviewsalenhanh