Apocalypse means the end of the world. A topic that is almost certainly on everyone's mind. We wondered, to the point of guessing at the end of the world. There is small talk, there is also debate. Everyone has their own thoughts on the apocalypse, including the filmmakers.
Although very rare, there are still a number of films that take the theme of the apocalypse as the main topic of discussion. Of course with different background stories. There's nothing wrong with watching a movie about the end of the world.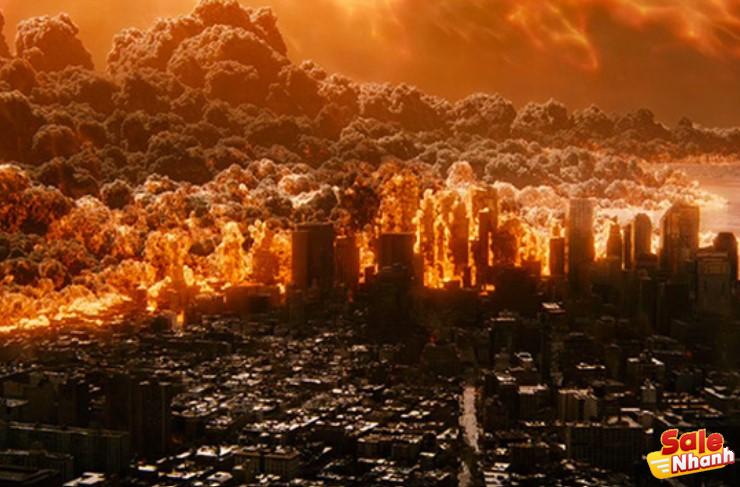 With different stories, apocalyptic movies will remind us that everything in this world is temporary. Here are 10 movies that tell the story of the apocalypse.
Armageddon [1998]
Release year : 1998
Genre: Action, Adventure, Science Fiction
Directed by: Michael Bay
Actors: Bruce Willis, Billy Bob Thornton, Ben Affleck
Production company: Touchstone Pictures, Jerry Bruckheimer Films, Valhalla Motion Pictures
An asteroid is predicted to hit the earth and possibly destroy the earth just like millions of years ago. A powerful explosion is predicted to wipe out human life again because the previous explosion wiped out the dinosaurs.
To save the earth, the US sent a team to destroy space asteroids. Otherwise, the earth is predicted to perish.
Armageddon is one of the most famous apocalyptic movies. Starring Bruce Willis, Ben Affleck and Liv Tyler, this film is not only suspenseful but also emotional. Humans will perish because of asteroids? The story is fictional, but the tension it gives feels real.
The Book of Eli [2010]
Release year : 2010
Genre: Action, Adventure, Drama
Directed by: Albert Hughes
Actors: Denzel Washington, Mila Kunis, Ray Stevenson
Production company : Alcon Entertainment, Silver Pictures
All religions must teach something about the last day. The Book of Eli tells the story of how people live after an event that destroys human civilization. At that time, the inhabitants of the earth were mere human beings who no longer knew morality.
Eli has a book aimed at restoring human civilization. Unfortunately, his mission to spread the teachings of the book was thwarted by the presence of those who wanted to steal it.
The Book of Eli is played by Denzel Washington, Mila Kunis, and Gary Oldman. Set in the year 2043, this film focuses on the spiritual side of people. Eli tries to create a new civilization of society through his book. The story seems fictional, but the ideas in this movie are very close to the anxiety of many people.
Deep Impact [1998]
Release year : 1998
Genre: Action, Drama, Romance
Directed by: Mimi Leder
Actors: Robert Duvall, Tea Leoni, Elijah Wood
Production company: Paramount Pictures, DreamWorks, Zanuck / Brown Productions
Once again, readable objects from outer space will hit the earth. A comet about to crash towards Earth tries to be stopped by a rocket piloted by astronauts. Once on earth, a bunker was built to save humanity but not everyone can access it.
In the '90s, films with apocalyptic or apocalyptic themes appeared, perhaps because of the prediction that the apocalypse would happen in 1999. Deep Impact also brought up a similar theme, a The meteorite splits open the earth and destroys some of its contents. This film depicts how people begin to despair because they cannot save their lives.
The Apocalypse [2007]
Release year : 2007
Genre: Action, Adventure, Drama
Directed by: Justin Jones
Actors: Rhett Giles, Jill Stapley, Kristen Quintrall
Production company : Faith Films, The Asylum
Apocalypse at the time of its appearance was billed as a merger between Armageddon and Deep Impact. Take the same theme, namely the existence of extraterrestrial objects heading for Earth. An asteroid the size of Texas, about 970 km will hit the earth and destroy humans.
The part that distinguishes this film from other apocalyptic-themed films is its perspective in dealing with horrifying events. In the wake of the destruction of the earth, Jason and Ashley search for their missing child in Los Angeles.
They believe that the only way to survive the asteroid and find their child is to return to religion.
The Day After Tomorrow (2004)
Release year : 2004
Genre: Action, Adventure, Science Fiction
Directed by: Roland Emmerich
Actors: Dennis Quaid, Jake Gyllenhaal, Emmy Rossum
Production company: Twentieth Century Fox, Centropolis Entertainment, Lions Gate Films
If before the end of the world was determined by objects from space, After Tomorrow uses a different approach. The phenomenon of global warming, which in 2004 has not yet become a hot topic of discussion, has been turned into a movie about how it will eat away at the earth.
Chronic warming has the opposite effect, namely global cooling. One climatologist says the world has reached an alarming rate.
One sign is that the melting of polar ice will take hundreds of years to return to normal. The warning turned out to be too late and left the world covered in snow and ice. This movie will make us think more seriously about the environment.
2012 [2009]
Release year : 2009
Genre: Action, Adventure, Science Fiction
Directed by: Roland Emmerich
Actors: John Cusack, Thandie Newton, Chiwetel Ejiofor
Production company: Columbia Pictures, Centropolis Entertainment, Farewell Productions
The Mayan prediction of the destruction of the earth in 2012 has been made into a movie titled 2012. Once again, global warming is posed as a problem for humanity's apocalypse on the planet. the earth. The doomsday experts' calculations turned out to be wrong and resulted in humanity being wiped out.
One of the things that we often see in apocalyptic movies is the construction of bunkers. Even in this 2012 movie. Once again, the chaos of man to save himself is shown. This movie was widely discussed, especially since at the time the conversation about the 2012 apocalypse was also heating up.
Knowing (2009)
Release year : 2009
Genre: Action, Drama, Mystery
Directed by: Alex Proyas
Actors: Nicolas Cage, Chandler Canterbury, Rose Byrne
Production company: Summit Entertainment, Escape Artists, Mystery Clock Cinema
Compared to other apocalyptic movies, Knowing offers something different. The sci-fi genre, Knowing, tells the story of how Caleb retrieves an envelope containing numbers from a capsule written 50 years ago.
It felt strange because his other friends received envelopes containing pictures. Caleb thought of numbers as a math puzzle. John, Caleb's father, discovers that one of the numbers is written as September 11 has passed when a major event occurred in America.
There are two other events that need to be resolved: a train accident and the last event is a warning to humanity that the ozone layer has been depleted and will destroy humanity. If you like mysteries or puzzles, this movie will not disappoint.
Geostrom [2017]
Release year : 2017
Genre: Action, Science Fiction, Horror
Directed by: Dean Devlin
Actors: Gerard Butler, Jim Sturgess, Abbie Cornish
Production company: Warner Bros., Skydance Media, RatPac-Dune Entertainment
Geostorm is a science fiction film starring Gerard Butler, Abbie Cornish, and Jim Sturgess. Tells the story of a satellite called the Dutch Boy that is used as a weather controller to regulate the ecosystem and extreme weather changes. Unfortunately, the satellite is experiencing problems that could endanger humanity.
Jake and Max attempt to repair the satellite but are thwarted by the kidnapping of an American Prediden who is in charge of decision making. As long as the satellite fails, there will be a lot of disasters falling on the earth.
This is a must-see movie for those who like beautiful visual effects. This film packs disasters, political intrigue, family drama and heroic actions to save the world into one moving story.
Hell [2011]
Release year : 2011
Genre: Horror, Science Fiction, Horror
Directed by: Tim Fehlbaum
Actors: Lilo Baur, Marco Calamandrei, Lisa Vicari
Production company : Caligari Film und Fernsehproduktions GmbH, Vega Film AG, SevenPictures Film
What if the sun, one of the sources of human life, turns into a source of suffering? That's what this movie is trying to do. Set in the year 2016, a heat wave is ravaging the earth and humans must find a way to survive.
Taking on a post-apocalyptic theme, Hell offers a different presentation. In the midst of the world's destruction, the remaining humans are competing with each other to find a source of livelihood for their existence. In this movie, they are looking for a spring.
Take the title Hell leaves a unique story. In the English dictionary it means hell while in German Hell means bright or light. The difference is very contrasting. Try this movie to see if 'Hell' means hell or light?
The Quiet Earth [1985]
Release year : 1985
Genre: Drama, Mystery, Science Fiction
Directed by: Geoff Murphy
Actors: Bruno Lawrence, Alison Routledge, Pete Smith
Production company: Cinepro, Pilsbury Productions, Mr. Yellowbeard Productions Limited & Company
Another fun post-apocalyptic movie to watch is The Quiet Earth. While other movies discuss how to save yourself from the apocalypse, this one shows the other side. Surviving Zac Hobson was one of the participants in 'Project Flashlight', a global energy generation project.
His days go on as usual until one day he thinks there's a glitch in Project Flashlight and loses hope. He gets bored and does strange things until he meets two other survivors. Personal problems arise between the three, although they all have one goal, to fix Project Flashlight in order to survive.
Those are some of the suggested apocalyptic movies. The footage is enough to remind us of the apocalypse and the transience of this world. If you have other movies with similar friends, you can add them in the comments column. The films above are fiction stories, but we can learn a lot from them.