If you are an action movie connoisseur, the name Tony Jaa is certainly not a strange name to you. This Thai actor is known for his various martial arts action sequences in several martial arts movies. His name is even listed in the credits of some famous Hollywood movies.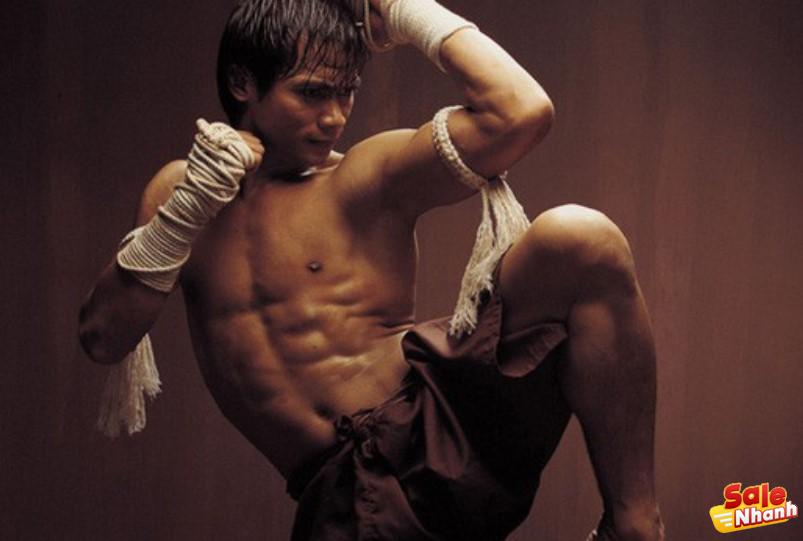 Since starting his martial arts career, he has acted in dozens of films. If you want to see Tony Jaa's sharp acting and fighting style in action movies, but are unsure where to start, here are 10 suggestions for the best Tony Jaa movies for friend.
Ong-Bak: The Thai Warrior (2003)
Release year : 2003

Genre: Action, Crime, Horror

Directed by: Prachya Pinkaew

Actors: Tony Jaa, Petchtai Wongkamlao, Pumwaree Yodkamol

Production company: Baa-Ram-Ewe, Sahamongkolfilm Co.
The story of the movie Ong-Bak begins with a sacred Buddha statue, Ong Bak has been stolen by a mafia drug dealer from Bangkok. Therefore, a young man in the village who is also a Muay Thai expert named Ting (Tony Jaa) is tasked with tracking down the thief and recovering the sacred objects belonging to his village.
This film brought Tony Jaa to fame on the international film scene. The audience was amazed at the Muay Thai performance performed by Tony Jaa. Not only the actors were noticed, but Muay Thai martial arts also began to be recognized by the global community.
The Protector (2005)
Release year : 2005

Genre: Action, Crime, Drama

Directed by: Prachya Pinkaew

Actors: Tony Jaa, Nathan Jones, Xing Jin

Production company: Sahamongkolfilm Co., TF1 International, Baa-Ram-Ewe
After the great success of Ong Mak's film, Tony Jaa continues to appear in the action film project called The Protector. In terms of plot, this movie is somewhat similar to Ong Mak. Where Tony Jaa plays a young man from Kham village who is assigned to Australia to save a baby elephant stolen by a high-class mafia.
Here, Tony Jaa manages to perform a new kind of Muay Thai made especially for this movie, Muay Kotchasan. Not only highlighting Tony Jaa's fighting action, this movie also showcases a lot of action from several other actors. Let's call it Nathan Jones, Lateef Crowder, Jon Foo and Johnny Nguyen who play opposite Tony Jaa's character.
Ong Bak 2 (2008)
Release year : 2008

Genre: Action

Directed by: Tony Jaa, Panna Rittikrai

Actors: Tony Jaa, Sarunyu Wongkrachang, Sorapong Chatree

Production company : Sahamongkol Film International, Iyara Films
If only looking at the title, this drama is like a sequel to Ong Bak first aired in 2003. But apparently, the plot of this drama has nothing to do with Ong Bak 1. Even so, here Tony Jaa is still the main character. In addition, he also participated as a director in the movie Ong Bak 2.
The film is set in 1431, Tony plays Tien, the son of a murdered nobleman. He was almost captured and sold into slavery. However, he was saved by the leader of the martial arts group and trained by them. After growing up, he was tasked with breaking slavery and fighting the people who killed his family.
Skin Trade (2014)
Release year : 2014

Genre: Action, Crime, Horror

Directed by: Ekachai Uekrongtham

Actors: Dolph Lundgren, Tony Jaa, Ron Perlman

Production company : Baumgarten Management and Production (BMP)
This time, Tony Jaa received an American action horror film project. Here he collaborated with famous actors, namely Dolph Lundgren and Michael Jai White. And Tony Jaa plays a character named Tony Vitayakul, a police detective.
Skin Trade tells the story of Nick, a New York cop whose family is murdered by a group of Serbian gangsters involved in world trafficking. He comes to Bangkok to avenge their actions, where he works with Thai detective Tony to destroy the human trafficking organization and business they run.
Furious 7 (2015)
Release year : 2015

Genre: Action, Adventure, Horror

Directed by: James Wan

Actors: Vin Diesel, Paul Walker, Dwayne Johnson

Production company: Universal Pictures, Media Rights Capital (MRC),
Furious 7 is the seventh installment in the Fast and Furious franchise. The story of this series continues from the previous series, where Dominic and his friends managed to defeat international terrorist Owen Shawn. But their victory left Owen Shawn's brother, Deckard Shaw, a grudge. So he tried to kill each of their members.
In this Hollywood blockbuster, Tony Jaa plays the villain Kiet, a member of Jakende's team allied with Shawn. Here he demonstrated his fighting expertise with other actors and martial artists, namely Paul Walker.
Kill Zone 2 (2015)
Release year : 2015

Genre: Action, Adventure, Crime

Directed by: Soi Cheng

Actors: Tony Jaa, Jing Wu, Simon Yam

Production company : 1618 Action Limited, Abba Movies Co. Ltd., Bona Film Group
In the movie titled Kill Zone 2 in the SPL series, Tony Jaa collaborates with famous Hong Kong actors such as Jin Zhang and Jacky Wu. The story follows Kit, a Hong Kong police officer who secretly investigates a human organ trafficking organization. But his disguise was exposed and he was sent to prison in Thailand.
And here Tony Jaa plays a Thai warden named Chatcahai, who is assigned to watch over Kit. He was forced to accept the mission ordered by Chan Kwok-Wah, they threw Kit in prison so that he could pay for the treatment of his son with blood cancer. Chatchai, who is said to have kept Kit from running away, became Kit's friend.
xXx: Return of Xander Cage (2017)
Release year : 2017

Genre: Action, Adventure, Horror

Directed by: DJ Caruso

Actors: Vin Diesel, Donnie Yen, Deepika Padukone

Production company: Huahua Media, Maple Cage Productions, One Race Films
In the Hollywood series called xXx, Tony Jaa has returned with the cooperation of Hollywood actor Vin Diesel. The story of this film begins with the CIA's Pandora's Box being stolen by a group of thieves led by Xiang.
Xander Cage, a former xXx agent returns from his fake "death", after a CIA agent discovers his whereabouts. The agent asks Xander on a mission to rescue Pandora's Box, a device that can control satellites.
In this film, Tony Jaa plays Talon, a member of Xiang's team, although Tony's appearance time is not much. But the audience can still enjoy Tony Jaa's cool martial arts action.
Paradox (2017)
Release year : 2017

Genre: Action, Adventure, Crime

Directed by: Wilson Yip

Actors: Louis Koo, Yue Wu, Ka Tung Lam

Production company: Aether Film Production, Alibaba Pictures, Bona Film Group
Tony Jaa re-joined the Hong Kong drama project, series SPL. This third series is still the subject of the story of human organ trafficking, but with different characters and plots. Here Tony Jaa plays Tak, a Thai detective who helps main character Lee Chung Chi, played by Hong Kong actor Louis Koo.
The film tells the story of a 16-year-old girl named Wing Chi who goes missing in Pattaya, Thailand. The girl's father, Lee Chung-Chi, a Hong Kong policeman, went to Thailand to find his son. There, he is helped by local detective Tak and his partner Tsui Kit.
Master Z: The Ip Man Legacy (2018)
Release year : 2018

Genre: Action, Biography, Crime

Directed by: Woo-Ping Yuen

Actors: Jin Zhang, Dave Bautista, Michelle Yeoh

Production company : Golden Harvest Company, Mandarin Motion Pictures
Master Z: Ip Man Legacy is a spin-off of the popular Chinese series, Ip Man. In this film, Tony Jaa collaborates with other martial arts actors such as Max Zhang and Dave Bautista. And here he takes on the role of Sadi, a mysterious killer.
This drama tells the story of Cheung Tin Chi, who decided to leave the world of material arts after he was defeated by Master Ip. So he chose to live like any other normal person in Hong Kong with his children. While trying to survive, he gets into trouble when he is forced to fight a group of gang members.
Triple Threat (2019)
Release year : 2019

Genre: Action, Horror

Directed by: Jesse V. Johnson

Actors: Tony Jaa, Tiger Hu Chen, Iko Uwais

Production company: Aurora Alliance Films, Hamilton Entertainment, Kungfuman Culture Media
In the movie titled Triple Threat, Tony Jaa once again competes in acting with Michael Jai White and Michael Bisping. Not only that, he also collaborated with other famous actors such as Tiger Chen, Scott Adkins and Indonesian actor Iko Uwais. And in this movie, Tony Jaa plays a character named Payu.
Directed by Jesse V. Johnson, the film tells the story of the son of a billionaire named Xian, who becomes the target of assassination by a group of paid growers as he tries to dismantle a crime synd great. And a group consisting of Payu, Long Fei, and Jaka are tasked with protecting Xian from the assassin's actions.
So, those are 10 suggestions for the best action movies starring Tony Jaa. From the list of movies above, have you seen any of them? And which movie intrigues you the most? Share the answer in the comments column yes! And have fun watching!
Salenhanh – Product review blog
Address: 115 Nguyen Van Qua, Tan Hung Thuan Ward, District 12, Ho Chi Minh City
Website: https://salenhanh.com/en
Mail: Salenhanh.com@gmail.com
#salenhanh #Reviewsalenhanh