One of the veteran Korean actors who often plays the father is Heo Joon Ho. Besides often playing the role of a father, he also appeared many times as a terrible villain.
For example, when he acted in the TV series Come and Hug Me. In Why Her? He became greedy and ambitious.
But he doesn't always play the villain. In some other dramas, he plays a main character like in the TV series Kingdom or Snowdrop.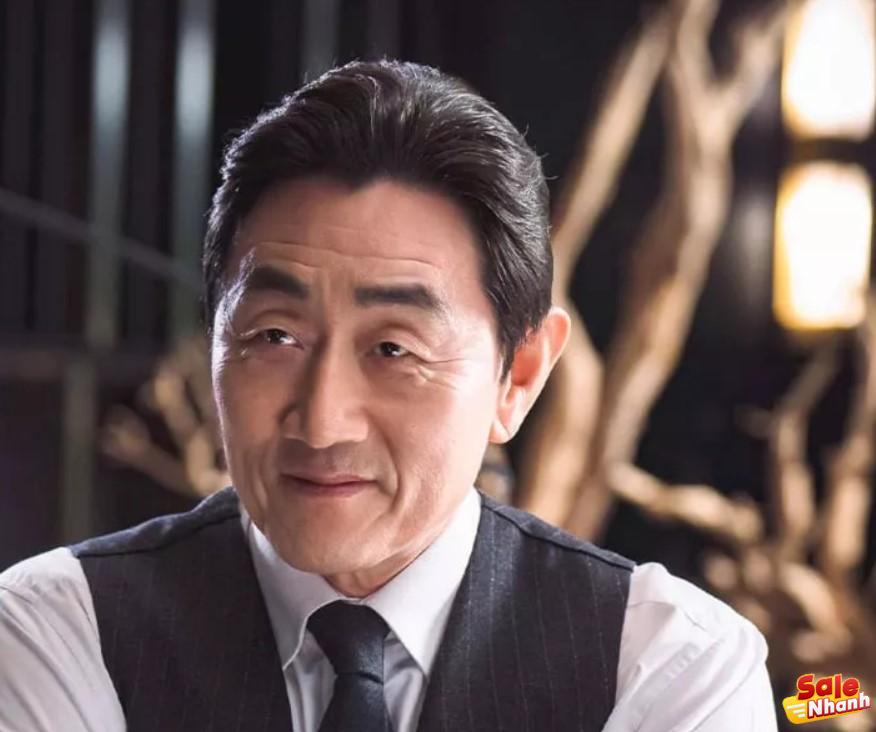 Heo Joon Ho, whose father is a famous actor, started his acting career in the theatrical world. This character actor has starred in many television series. The following is a series of Heo Joon Ho's dramas for you to watch.
Missing: The Other Side
Release year 2020
Genre Fantasy , Mystery , Horror
Production CAN Entertain
Director Min Yeon Hong
Cast Go Soo Heo Joon Ho Ahn So Hee Ha Joon Seo Eun Soo
The film tells the story of a rather mysterious village. The village called Duon is a place to house the spirits and the dead.
In the village there is a search for the bodies of the spirits that have not been found as well as a search for the truth behind the disappearance of the bodies.
There are three characters associated with the village. The first is a handsome man named Kim Wook (Go Soo). He is a fluent speaker and can fool people with his words.
From that ability he earns a living. When he arrives at the village, he is faced with quite mysterious things.
Meanwhile, Heo Joon Ho plays another character, Jang Pan Seok. This mysterious man does the job of finding the missing.
He acts as an intermediary between the village and the outside world. Jang Pan Seok becomes Kim Wook's cheating partner while trying to solve a mystery in the village.
Another character is Lee Jong Ah (Ahn So Hee), a hacker supporting Kim Wook. Shin Joon Ho (Ha Joon) is a detective and the other character is Thomas Cha (Song Geon Hee), a spirit who works as a bartender.
Designated Survivor: 60 Days
Release year 2019
Genres Drama, Politics, Horror
DK E&M Manufacturing
Director Yoo Jong Sun
Cast
Designated Survivor: 60 Days is a political story about a professor forced on a mission to become the leader of a country because the president is assassinated by terrorists.
For 60 days, he was assigned to lead the country. This professor is named Park Moo Jin, played by famous actor Ji Jin Hee.
The person who introduced the new president was Han Joo Seung (Heo Joon Ho). He served as an employee of the president during the previous administration.
In the Blue House, Han Joo Seung is a respected figure. Now, he acts as an adviser to the new president. He also keeps an important secret in this movie.
Why Her?
Release year 2022
Genres Crime , Drama , Law , Legal , Drama , Romance , Horror
Production Studio S , VO Media
Director Park Soo Jin
Cast Seo Hyun Jin Hwang In Yeop Heo Joon Ho Bae In Hyuk
A play called Why Her? This legal story is about experts in the legal field who work at a law firm called TK Law Firm. The head of the company is Choi Tae Kook (Heo Jun Ho).
He is described as a person who can do things beyond limits to realize his ambitions.
One of the lawyers serving as his subordinate is Oh Soo Jae (Seo Hyun Jin). He was traumatized because of the cases he handled unsuccessfully.
As a result, he had to be demoted to become an assistant professor at a university. The disappointment of being demoted led him astray. Fortunately, he was saved by his student.
Come and Hug Me
Release year 2018
Genre Drama , Mystery , Romance , Horror
Production Company Ching , Imagine Asia
Director Choi Joon Bae
Cast Jang Ki Yong Jin Ki Joo Nam Da Reum Ryu Han Bi Heo Joon Ho
In the movie Come and Hug Me, Heo Joon Ho plays a rather terrible and cruel character. His acting made the characters he played look very scary.
Heo Joon Ho plays an evil father as well as a murderer named Yoon Hee Jae (Heo Jun Ho). He killed his son's friend's parents.
Yoon Hee Jae's son, Chae Do Jin, is played by Jang Ki Yong. He grew up to be a detective.
He tried very hard to help the victims as a way to atone for his father's sins. Meanwhile, his friend whose parents passed away because his father, Han Jae Yi (Jin Ki Joo), grows up to be an actress following in his mother's footsteps.
Han Jae Yi, who changed his name due to past events, turns out to be facing his nightmare. Like his mother, his life becomes the target of a killer.
The Emperor: Owner of the Mask
Release year: 2017
Genre: History, Drama, Politics, Romance, Comedy
Produce: People Story Company, Huayi Brothers
Directed by: Noh Do Chul, Park Won Gook
Actors: Yoo Seung Ho, Heo Joon Ho, Kim Myung Soo, Kim So Hyun, Park Chul Min, Yoon So Hee
Episodes: 40
The Emperor: Owner of the Mask is about a power struggle and greed. Set in the Joseon Dynasty, King Yi Yoon (Kim Myung Soo) aspires to become a king.
Because of that, he escaped his father and worked with the group Pyeonsuhwe led by Kim Dae Mok (Heo Joon Ho).
King Yi Yoon, who longs to have children, is finally blessed with a son named Crown Prince Lee Sun (Yoo Seung Ho).
In order to save his son's life, he was forced to give control of the water to the Pyeonsuhwe group, who were evil to the people. While growing up, the prince tried to help his people and fought against the group led by Dae Mok.
Precious Family
Release year: 2004
Genre: Drama, Romance, Family
Produce: Samhwa Networks
Directed by: Jung Eul Young
Actors: Kim Hee Ae, Song Jae Ho, Heo Joon Ho, Kim Hae Sook
Episodes: 68
Precious Family tells the story of family troubles that happen to Park Chang Soo (Heo Joon Ho), who has an autistic son named Park Joon Yi (Yoo Seung Ho).
The pressures in his life that he had to endure really put him off. In the end, he broke up with his wife, Ahn Sung Shil (Kim Hee Ae).
After a divorce from his wife, only then did he understand how important family is. Chang Soo also tries to reconcile with his wife. But in the midst of his efforts, he faced a heavy blow because his company went bankrupt.
Will the wife return to Chang Soo – the one who betrayed her? Or did she decide to accept her changed husband?
I Love Hyun Jung
Release year: 2002
Genre: Romance
Manufacturing: –
Directed by: Ahn Pan Seok
Actors: Kim Gyu Ri, Kam Woo Sung, Heo Joon Ho
Episodes: 16
I Love Hyun Jung is a drama about a rich man's romance with an ordinary woman. The man tries to hide his identity from the woman he likes.
Told Lee Hyun Jung (Kim Gyu Ri) is an assistant director of a documentary production company. He works under the direction of Yoo Sang Ho (Heo Joon Ho). The director was his teacher in high school.
Hyun Jung meets Kim Beom Su (Kam Woo Sung), a second generation chaebol. The father is a property business owner. When Beom Su decided to strike up a conversation with Hyun Jung, he tried to hide his identity.
Funny Princess
Release year: 2000
Genre: Drama, Family
Production:-
Directed by: Kwon Seok Jang
Actors: Byun Hee Bong, Jo Min Ki, Lee Joo Hyun, Heo Joon Ho, Joo Han Ul
Episodes: 130
This family drama tells the story of four brothers whose lives change drastically when their father dies and goes bankrupt.
Sadly, the father also had an affair with his secretary until they had a child. It is said that Yeo Jae Man (Byun Hee Bong) has four children. The eldest brother's name is Yeo Si Gwang (Heo Joon Ho).
He has a feud with his father because after an arranged marriage, his marriage failed and he divorced his wife. While the second son, Yeo Si Woo (Jo Min Ki), is a restaurant owner and behaves like his father.
The third child named Yeo Si Gul (Lee Joo Hyun) is addicted to sports. He also relies on his muscular strength for a living. The youngest named Yeo Si Hyeong (Joo Han Ul) is an intelligent student.
Bad Friends
Release year: 2000
Genre: Friendship, Music, School, Drama
Manufacturing: –
Directed by: Jang Yong Woo
Actors: Ahn Jae Wook, Park Sang Myeon, Lee Hoon, Heo Jun Ho, Kim Jee Soo
Episodes: 16
Unlike the negative connotation of the title, the TV series Bad Friends tells the story of the friendship of four real friends.
It's just that they're known as troublemakers. These four friends form a musical group. The four friends were friends until they became adults.
Kim Kang Seok (Ahn Jae Wook), Hong Joo Gon (Park Sang Myeon), Choi Ki Cheol (Lee Hoon) and Jang Soo Hyun (Heo Jun Ho) have been friends since they were in high school.
After graduating from high school, they lived apart and lost contact. The four were successfully reunited by Lee Sang Eun (Kim Jee Soo), a female member of the group. What happens after the four meet again?
8 Love Stories
Release year: 1999
Genre: Romance & Drama
Manufacturing: –
Directed by: Lee Kang Hoon, Kim Jong Hyuk
Actors: Song Yoon Ah, Heo Jun Ho, Yoo Ji Tae, Han Go Eun
Episodes: 16
8 Love Story is a drama about the colorful lives of many people in the theme of love. The love story in this movie is shown through thematic situations.
This drama hopes to make viewers feel warm in this harsh world. Consisting of 8 seasons, Heo Joon Ho appeared in the third story episode 5-6 titled Lost Luggage.
This third part tells the love story of Lee Jung In (Song Yoon Ah), Choi Young Man (Heo Jun Ho) and Soo Yun (Han Go Eun). The heart of this third story is about sad memories of losing a past love and ignoring a new one.
Those are 10 dramas of Heo Joon Ho, the veteran actor who portrays the characters very well. When playing the villain, he always manages to scare or upset the audience. But Heo Joon Ho can also stick to love stories like in the historical dramas that he has acted in.
The actor also proved his acting ability with several awards. For his role in Come and Hug Me, Heo Joon Ho excellently won Actor of the Year, Best Supporting Actor, Special Acting Award and many other awards from various award shows . Have you watched Heo Joon Ho act in Why Her?
Salenhanh – Product review blog
Address: 115 Nguyen Van Qua, Tan Hung Thuan Ward, District 12, Ho Chi Minh City
Website: https://salenhanh.com/en
Mail: Salenhanh.com@gmail.com
#salenhanh #Reviewsalenhanh