This year, the Japanese film industry is very productive. Many movies have been released this year. Films of various genres and stories; as to prove that Japanese filmmakers never run out of ideas or imagination to make stories that already exist.
For those of you who like Japanese movies but are lacking information on interesting titles to watch, here are some suggestions for the best Japanese movies this year. What movies are mentioned? Check out the list, come on!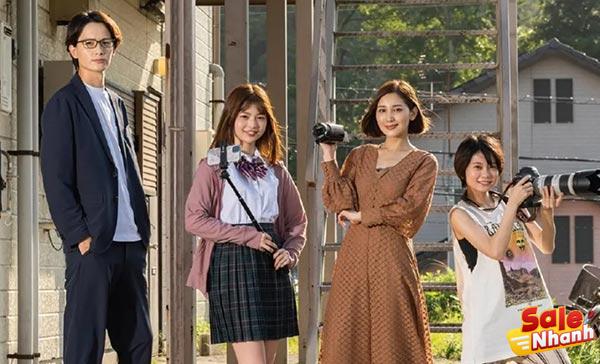 Kamen Rider Saber: Trio of Deep Sin
Tokusatsu fans should see this one. It is the sequel to the film Kamen Rider: Beyond Generations (2021). The story follows the story of three kamen riders, namely Kamen Rider Saber / Kamiyama Touma, Kamen Rider Blades / Shindo Rintaro and Kamen Rider Espada / Fukamiya Kento.
Eight years have passed after Touma and his allies saved the world from Storius. Now Touma takes care of an 11-year-old boy named Riku who has lost his parents.
Even though Touma tried to be a father to Riku, Riku still couldn't smile. Meanwhile, Kento is currently a book translator and is looking forward to getting engaged to his girlfriend, Tachibana Yuina.
An unexpected terrible incident occurred among the members of the Sword of Logos, following the disappearance of the Swordsman. Rintarou is sent to investigate the incident and encounters Kamen Rider Falchion, who claims to be Rintarou's biological father.
In a state of confusion, Falchino attacked Touma and Kento. What exactly happened and how did Touma CS solve this?
Dreaming of the Meridian Arc
This comedy genre film stars Matsuyama Kenichi, Nakai Kiichi and Kitagawa Keiko. The story takes place in two distinct periods, the present and the Edo period.
Currently, in the small town of Katori, the government is in the process of funding a Taiga drama. The film tells the story of famous historical figure Tadaka Ino, who first drew a map of Japan in 1821.
During the making of the film, it was discovered that Tadataka Ino was not the first person to draw a map of Japan. During the Edo period, it is said that Tadataka Ino died while being with his students.
Tadataka died before finishing the first map of Japan. And at that time, one of his students announced that he was going to carry out a secret operation to complete the first map of Japan.
Kamen Rider Revice: Battle Familia
The tokusatsu-themed movie is back on the list of the best movies of 2022. This movie is the sequel to the Kamen Rider Revice Movie Spin-Off Distribution Drama: Birth of Chimera film.
It follows the story of Igarashi Ikki / Kamen Rider Revi, Vice / Kamen Rider Vice, Igarashi Daiji / Kamen Rider Evil, and Igarashi Sakura / Kamen Rider Jeanne.
Once upon a time, there was a hijacking that resulted in some people being kidnapped by a criminal named Azuma. The abducted passengers were taken to Area 666, a restricted area.
The Igarashi brothers rushed in to save the hostages. However, they are confronted by Azuma, who transforms into Kamen Rider Daimon with a strange belt in his hand.
Soutomi, a mysterious scientist then reveals the great secret of the Igarashi family. He also reveals why criminals are hunting them down while setting up a giant trap. Azuma's battle against the Igarashi brothers became even more fierce.
Alivehoon
This is a sports-themed movie, telling the story of a young man named Oba Koichi. Koichi is an introvert, shy, but talented in the Esports driving game.
Not only in the game world, Koichi also shows his ingenuity in using real cars. However, Koichi must face off against a professional race car driver who challenges him to a life-or-death race.
Now, Koichi must overcome the barrier of the virtual world by reaching the pinnacle of drift in real life. This is the story of Koichi who tries to push his limits with passion, courage and teamwork.
Kingdom 2: To the Far Land
For fans of historical, action and war movies, Kingdom II could be an option. This film is a sequel to the movie Kingdom (2019), starring Yamazaki Kento as Shin. The story is about Shin, who has a dream of becoming a general.
After suppressing a rebellion led by his younger brother, the king of Qin, Ei Sei, ascended the throne with the aim of unifying China. However, the palace is under threat because of the assassin's infiltration.
Thanks to Shin and Ka Ryo Ten, the assassins were stopped. Because of this incident, it was clear that someone in the palace wanted to kill Ei Sei.
While the mastermind has not been revealed, the neighboring country's enemies have begun to attack across the border. Shin finally joined the first battle as a soldier.
Popran
Release year 2022

Genre Comedy

Film Lab Production

Director Shin'ichir Ueda

Cast Yoji Minagawa
The film is said to be the unique work of director Shinichiro Ueda. Starting from a black shadow crossing the Tokyo sky at high speed, the TV program 'Unidentified Creatures Above Tokyo?' was broadcast on the television.
Tagami is a successful manga distribution executive. One morning, he was surprised to have lost his 'lucky'.
Tagami then went to a rally called 'Popran no Kai'. There gathers people who have lost 'lucky' and they are explained on how to recover it.
Tagami will be able to catch his 'lucky' running at high speed within six days. Otherwise, he will lose that 'lucky' forever. Tagami starts traveling to get her 'lucky' back.
Ultraman Trigger: Episode Z
Release year 2022

Genres Action , Adventure , Science Fiction

Production Tsuburaya Productions

Director Takesue Masayoshi

Cast of Raiga Terasaka Koshu Hirano
Are you a 90s kid and remember the Ultraman movies? This movie might be an option for you to watch. The story begins two years after the final battle and world peace. However, the state of peace did not last as the monsters reappeared on Earth.
At the same time, there have been a series of mysterious break-ins in ancient monuments around the world. GUTS-Select's team of experts prepares its troops to carry out the investigation under new leadership.
However, they found only a handful of events that reveal a fierce battle with the fate of the universe in balance. Then GUTS-Select and Ultraman Z rush to where the monsters appear.
However, an evil figure emerged from the shadows, the Evil Trigger, the evil giant who inherited the shadow. And to make everyone smile again, Ultraman Trigger and Ultraman Z join forces and together defeat the monsters that appear on Earth.
Even if This Love Disappears From the World Tonight
For lovers of the romantic genre, this movie can be added to your watch list. It was adapted from a novel by Ichijo Misaki titled Konya, Sekai kara Kono Koi ga Kietemo. The story revolves around a young man named Kamiya Tooru and a girl named Hino Maori.
Kamiya is often the target of bullying by his classmates. To stop his friend's actions, Kamiya made a false confession to his classmate Hino Maori.
Hino knew that the confession was a lie, but Hino made three rules with Kamiya. The contents of these regulations include; They were forbidden to talk until after school, kept in touch briefly, and were not allowed to fall in love.
However, the longer the two are together, their feelings begin to develop and the two are attracted to each other. Kamiya couldn't hold back his emotions anymore, but Hino said something unexpected. Get ready to cry when you watch this movie!
True Accident Property / Really Scary Residents
The next best movie is also known as Majiko Bukken / Hontoni Kowai Jumintachi. This movie is for those who like horror movies, but not recommended for those who don't like gore scenes. It has a horror story full of violence, gory scenes, as well as brutal images.
A YouTuber and an aspiring idol are forced to participate in a TV show located in an apartment. The apartment is the scene of a mutilated murder and is arguably the most horrifying place in Japan.
Program participants will stay in it. Unfortunately, it is not only evil spirits that they will find, but those people will also have to face unimaginable horror and pain.
My Small Land
This film is a sequel to the TV series of the same name that tells the story of a refugee girl in Japan named Salya and her family.
At first, Salya lived well in Japan. His grades in school were good and enough to get into college. He is also surrounded by good friends and even has a special relationship with a young Japanese man named Sota.
But Salya's happy life has to come to an end when she learns that Saiya and her family's status has been denied at the immigration office. This limits the movement space of Salya and her family.
On the other hand, his father, who continued to work to survive, ended up being detained for working illegally. And now, Salya is obliged to provide for her younger siblings.
Those are some of the best must-see Japanese movies this year. You are free to choose according to your preference from the genre to the player or director working behind it. Out of the above titles, which one makes you curious?