Dramas that tell stories about detectives or investigations are no less popular than movies with romantic themes. The plot is full of mysteries and puzzles that are the main attraction that makes dramas like this so popular.
Moreover, if the film contains many clever twists and turns, it is guaranteed that the audience will not be bored.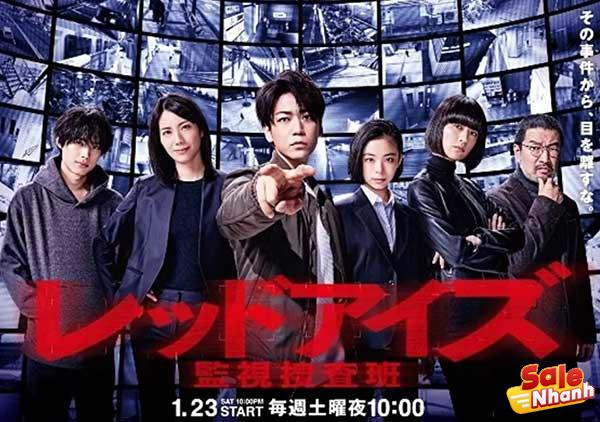 Japanese dramas with detective stories are also interesting, you know. Some of the titles below present stories in different genres. For those of you who are looking for a detective-themed movie, try to refer to the information below!
Movie Red Eyes: Kanshi Sousa-Han
Release year: 2021
Episodes: 10
Genre: Horror, Mystery, Drama
Produce: NTV
Directed by: Naganuma Makoto
Actor: Kamenashi Kazuya
This drama tells the story of a group of people who are members of a special unit called KSBC. They are tasked with investigating special criminal cases using CCTV in every corner of Japan.
KSBC members are special members. They are former criminals who have repented. Inside were former pickpockets, scammers, hackers and others.
The president of KSBC, Kyousuke Fushimi (Kamenashi Kazuya), recruits them and assigns them missions as true detectives and investigates complex cases.
One particular case they deal with is the serial murder case that killed Kyousuke's fiancé. He is determined to find the real killer and punish him.
Movie Nippon Noir: Detective Y's Rebellion
Release year: 2019
Episodes: 10
Genre: Mystery, Science Fiction
Produce: NTV
Director: Inomata Ryuichi
Actor: Kaku Kento
Kento Kaku becomes a detective in this movie with the character name Yusa Kiyoharu. One day, Yusa woke up in a strange house in the middle of the forest. There was no one else in the house but him.
Besides, he doesn't remember how he got there. What's even scarier is that he sees his teammate, Kaoru Usui (Hirosue Ryoko), lying motionless beside him.
At the same time, his boss orders Yusa to look after Kaoru's son, Katsuki Usui (Ken Tanoi).
In the midst of the unknown situation, he tries to investigate the case and the truth that happened. Including the cause of Kaoru's death which turned out to be related to the robbery of one billion yen in money.
Crisis: Special Security Guard
Release year: 2017
Episodes: 10
Genre: Action, Horror, Mystery, Drama
Producer: Kansai Telecasting (KTV)
Directed by: Suzuki Kosuke Shiraki Keiichiro
Actor: Oguri ShunNishijima Hidetoshi
The story is about a former Japanese soldier in the decommissioned self-defense force (SDF). After losing his job, he was called back to the special task force of the Japanese police.
In that unit, the task is no stranger to a detective in general, specifically investigating complicated, difficult cases.
In that special unit, he and his teammates work together to investigate cases brought up by the special government of Japan. Most of these cases are filled with political content.
Keiji Yugami
Release year: 2017
Episodes: 10
Genre: Horror, Mystery, Comedy, Drama
Produce: FujiTV
Directed by: Nishitani Hiroshi, Katou Yusuke, Miyaki Shogo
Actor: Asano Tadanobu Kamiki Ryunosuke
Asano Tadanobu confronts Kamiki Ryunosuke in this movie. They play co-workers. Asano Tadanobu plays Yugami, a high-ranking detective who will do anything to solve criminal cases.
Meanwhile, Kamiki Ryunosuke plays Torao, a young detective who always follows the rules and disciplines. It's certain how chaotic these two detectives with different personalities would be when placed in the same unit.
Not only do they often disagree at work, they also often argue about many things. However, over time, they can solve cases well, even the complicated case of a couple's death is solved thanks to their cooperation.
Ouroboros
Release year 2015
Category
Directors Daisuke Yamamuro , Katsuhiko Ikeda , Yasuharu Ishii
Cast Ikuta Toma Shun Oguri Juri Ueno
Ikuo (Toma Ikuta) and Tatsuya (Shun Oguri) are two children who grew up in an orphanage. They were raised by Yuko, who is considered her older sister.
One day, there is a shooting that kills their nanny. It is not known who fired the gun.
As adults, they work as policemen in a special school and are determined to uncover a shooting at the orphanage when they were children.
The first Ikuo, the first to join the police and have a high rank. Later, he helped Tatsuya get promoted.
Ikuo is a smart and cheerful cop, but he has a dark side that no one knows. Their colleagues are aware of that. They even saw the special relationship between Ikuo and Tatsuya that neither of them showed.
Bitter Blood
Release year: 2014
Episodes: 11
Genre: Action, Mystery, Comedy, Family
Produce: FujiTV
Directed by: Kanai Ko, Tanimura Masaki
Actors: Satoh Takeru, Watanabe Atsuro
The story in this movie is adapted from the novel by Shuzuke Shizukui titled Bitter Blood. The journey of a detective named Natsuki Sahara (Takeru Satoh) becomes the focus of the story.
Natsuki is paired with her biological father, namely Akimura Shimao (Atsuro Watanabe) and is taken to the Ginza police station.
He and his father did not have a harmonious relationship. When Natsuki was young, she was abandoned by her father and raised by her grandfather.
It was the cause of the breakup in their relationship. In addition, Natsuki dislikes his father because of his strange and flirtatious nature.
On the other hand, Atsuro feels apologetic towards Natsuki for deciding to divorce his ex-wife. He tries to build a relationship with Natsuki, but the boy's anger and frustration is too great for him to accept his father's kindness.
Lucky Seven
Release year: 2012
Episodes: 10
Genre: Action, Mystery, Comedy
Produce: FujiTV
Directed by: Hirano Shin, Narita Gaku
Actors: Matsumoto Jun, Nagayama Eita, Matsushima Nanako, Oizumi Yo
Detective movies or TV series often depict detective characters who are serious and good at deducting cases.
However, the main characters in this movie are the opposite, they are reckless and a great seducer. Instead of solving cases, they are more interested in women's issues.
Well, the story in this movie focuses on a group of detectives working in a small private detective agency. There are a total of seven members on the team.
Interestingly, they never get along and are always fussy over small changes. However, as time goes on, they find the harmony in the rhythm of work to be able to properly perform their responsibilities.
Criminologist Himura and Mystery Writer Arisugawa
Release year: 2016
Episodes: 10
Genre: Mystery, Drama
Produce: NTV
Directed by: Sakuma Noriyoshi
Actors: Kubota Masataka, Saito Takumi, Mizuki Yamamoto, Yuka
This movie is based on the adaptation of Arisu Arisuga's novel titled Hideo Himura Series. There are four seasons in this drama that tells the story of a famous professor and criminologist named Hideo Himura (Takumi Saito).
What others don't know is that Hideo has an unexpected dark side. He has a desire to kill.
Hideo has a close friend who is a novelist. The interesting thing about this movie is that they both compete to solve the murder cases that are happening around them.
If they are investigating a case, these two are like real detectives. They have unique and accurate reasoning methods that help solve cases effectively.
Boss
Release year: 2009
Episodes: 11
Genre: Action, Mystery, Comedy, Drama
Produce: Fuji TV
Directed by: Mitsuno Michio, Hoshino Kazunari, Ishii Yusuke, Narita Gaku
Actor: Amami Yuki
Eriko Osawa (Amami Yuki) is the center of the story in this movie. He plays a member of the state police agency who has just undergone detective training in the US.
After returning from Uncle Sam's country, he is promoted and becomes the leader of a new division consisting of detectives deemed incompetent.
Under Eriko's guidance, the department turned into a great department and the detectives were able to complete the task well.
He and his team solve many cases that are difficult for other departments to solve. Eriko's leadership has really turned these detectives into members with good case analysis skills.
Tokyo Dogs
Release year: 2009
Episodes: 10
Genre: Action, Horror, Comedy
Produce: Fuji TV
Directed by: Ishii Yusuke, Narita Gaku
Actors: Oguri Shun, Mizushima Hiro, Yoshitaka Yuriko
Shun Oguri and Mizushima Hiro are the main characters in this detective movie. Shun plays Sanade Takakura who is a detective with precise analytical skills. However, he is very cold and indifferent to anything.
One day, he is assigned to join Maruo (Mizushima Hhiro) to solve cases. Maruo is a detective who was a member of a motorcycle gang.
These two opposite personalities must work together to complete a difficult task.
So that's 10 Japanese dramas with detective themes. Hearing that word, surely we will immediately remember mysteries, cases and crimes. That's not wrong because the dramas above are dense with these things.
Despite bringing genres that are classified into the mainstream, Japanese filmmakers have a very unique way of expressing their stories. Instead of being curious, it's better to just watch the movie in person.
Salenhanh – Product review blog
Address: 115 Nguyen Van Qua, Tan Hung Thuan Ward, District 12, Ho Chi Minh City
Website:  https://salenhanh.com/en
Mail: Salenhanh.com@gmail.com
#salenhanh #Reviewsalenhanh