When it comes to football movies, Shaolin Soccer and Goal! will definitely be the top two names that come to mind. This makes sense when the two films are both very popular, iconic and unique.
Through Shaolin Soccer, we can see how football can be played in Shaolin style. Meanwhile, we get to see Santiago Munez in action while watching the Goal!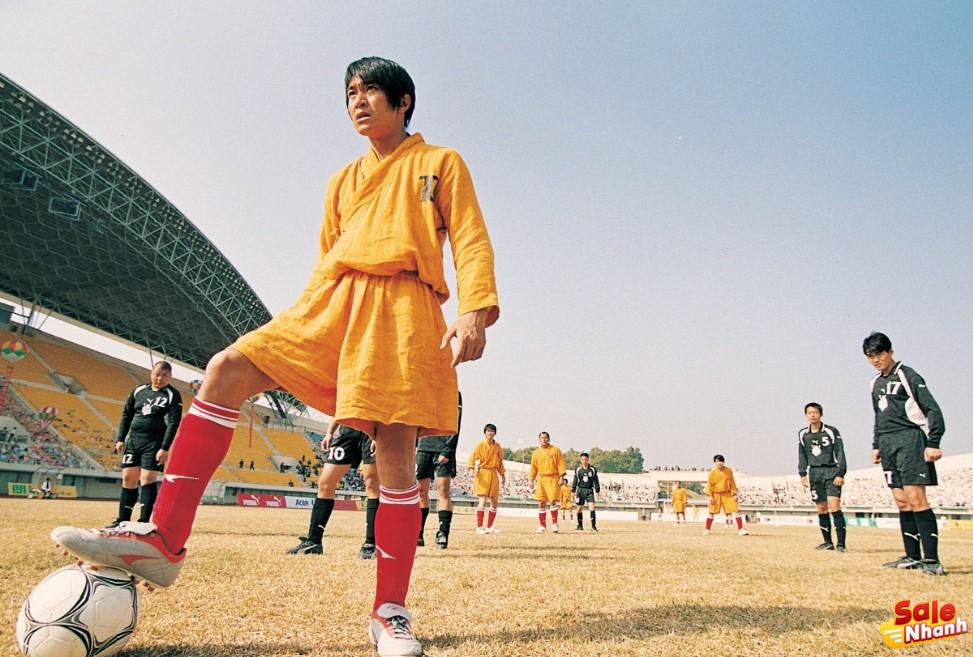 In addition to these two movies, there are several other football movies that you should watch. Some of them Bacaterus recommends the following.
Pele: Birth of a Legend (2016)
Release year : 2016

Genre: Biography, Drama, Sports

Directed by: Jeff Zimbalist

Actors: Vincent D'Onofrio, Rodrigo Santoro, Diego Boneta

Production company : Imagine Entertainment, Seine Pictures, Zohar International
This is a relatively new movie about football. About three years ago, this movie was released worldwide. As the name implies, this is a biography of one of the greatest players of all time: Pele. The life story of the Brazilian-born boy is shown quite nicely in this film.
In this movie, we will learn about Pele's actions in realizing his dream. Starting from his difficulties when he was a kid, to his success in winning three World Cups with the Brazilian national team.
The Class of '92 (2013)
Release year : 2013

Genre: Documentary, Sports

Directed by: Benjamin Turner, Gabe Turner

Actors: David Beckham, Nicky Butt, Ryan Giggs

Production company: Boundless, CO92 The Film, Fulwell 73
Manchester United (MU) has a generation of iconic players: Class of '92. This is the generation of Manchester United academy players that Sir Alex Ferguson created. Some notable players of this generation are David Beckham; Paul Scholes; and Ryan Giggs.
The story of one of Manchester United's best players was made into a movie in 2013. In the film, you'll learn the journeys of the players in the Class of '92. Starting from when they won the Youth Cup in 1992, to winning the Champions League final in 1999 at Camp Nou.
Will (2011)
Release year : 2011

Genre: Drama, Family, Sports

Directed by: Ellen Perry

Actors: Damian Lewis, Bob Hoskins, Rebekah Staton

Production company : Strangelove Films, Galatafilm
Football has a lot of glorious history. One of them was the 2005 Champions League final that brought Liverpool and AC Milan to meet. The final won by Liverpool was memorable for all sides; whether it is the Liverpool and AC Milan players; fans of both teams; for football fans in general.
One of the historical moments was later designated in the movie Will in 2011. The film tells the story of Will Brennan, a Liverpool fan who witnessed this historic moment. In this movie, Will is told about the struggle of Will, who is willing to jostle with other audience members, to witness the struggles of his idol team.
The Two Escobars (2010)
Release year : 2010

Genre: Documentary, Biography, Sports

Directed by: Jeff Zimbalist, Michael Zimbalist

Actors: María Ester Escobar, Alexis García V., Jaime Gaviria Gómez

Production company : All Rise Films
Besides having a heroic history, football also has a dark history. One of them is the story of Andres Escobar in 1994 ago. Escobar was the captain of the Colombian national team, who took his own life after accidentally kicking his own goal against Colombia.
Escobar's dark story later inspired Jeff Zimbalist to make the movie "Two Escobars". The film released in 2010 depicts the dark story of Andres Escobars paired with the dark story of Pablo Escobar; The leader of the Colombian drug cartel.
The Damned United (2009)
Release year : 2009

Genre: Biography, Drama, Sports

Directed by: Tom Hooper

Actors: Colm Meaney, Henry Goodman, David Roper

Production company : Columbia Pictures, BBC Films, Screen Yorkshire
This is a football movie based on the novel of the same name by David Pearce. This film follows Brian Clough's gait while coaching Leeds United. Brian Clough himself is one of the legendary British coaches.
This 98-minute film won't just tell you what Clough's career at Leeds United was like. This movie also makes you feel what persistence, success, failure, friendship and love are like.
Montevideo, Taste of a Dream (2010)
Release year : 2010

Genre: Adventure, Comedy, Drama

Directed by: Dragan Bjelogrlic

Actors: Milos Bikovic, Petar Strugar, Nina Jankovic

Production company : Intermedia Network
Uruguay is the first country to win the World Cup. The success of the Uruiguay national team was made into a successful movie by Dragon Bjelogrlic. Montevideo, Taste of a Dream is his movie.
In the film, you will see how hard the Uruguayan national team was at that time. You will not get bored watching this movie. Because, this film is a mixture of comedy and drama quite unique.
First Team: Juventus (2018)
Release year : 2018

Genre: Documentary, Reality TV, Sports

Manager : –

Actors: DB Sweeney, Massimiliano Allegri, Andrea Barzagli

Production company : Original content IMG
If you are a loyal Netflix viewer and a Juventus fan, there is a football movie that you can watch. The movie is none other than First Team: Juventus. The movie that premiered in February 2018 will make you love Juventus even more.
If you are not a Juventus fan, you can still watch this movie. You see, this movie will help you see what the rest of Italy's top clubs look like. Starting from the philosophy of the team to the stories of the players.
Barca Dreams (2015)
Release year : 2015

Genre: Documentary, Sports

Directed by: Jordi Llompart

Actors: ric Abidal, José Ramón Alexander, José María Bakero

Production company : Entropy Studio, Gen Image Media
If this movie is suitable for those of you who like Barcelona. The film was released on September 3, 2015, very well depicting the history of the Spanish team. Especially, from their main players.
You can see a bunch of legendary Barcelona players. Starting with Johan Cruyff; Ronald Koeman; to Ronaldinho and Lionel Messi. Like the movie First Team: Juventus, you can watch this Jordi Llompart movie via Netflix.
Green Street Hooligans (2005)
Release year : 2005

Genre: Crime, Drama, Sports

Directed by: Lexi Alexander

Actors: Elijah Wood, Charlie Hunnam, Claire Forlani

Production company: Baker Street, MWM Studios, Yank Film Finance
Football movies are not just about players or teams. The football fan community also became the subject of a football movie. And Green Street Hooligans is one such example. Broadly speaking, this film is about the hooliganism of football fans in England.
The plot of this movie begins with Matt Buckner being expelled from Arvard for being caught with cocaine in his room. Matt, who was kicked out of his university, later moved to England and came into contact with some thugs there.
Purely Belter (2000)
Release year : 2000

Genre: Comedy, Drama

Directed by: Mark Herman

Actors: Chris Beattie, Greg McLane, Charlie Hardwick

Production company : FilmFour, Mumbo Jumbo Productions
Like Green Street Hooligans, this film also tells the story of football fans in England. The story introduced in this film is about two Englishmen who fall in love with the same football team: Newcastle United.
In this film, two Newcastle fans are depicted as willing to work hard to buy tickets to their favorite team. This movie has a lot of witty lines and sarcastic humor. The 2000 film also stars one of Newcastle United legends: Alan Shearer. Shearer appears in the film in several scenes.
Escape to Victory (1981)
Release year : 1981

Genre: Drama, Sports, War

Directed by: John Huston

Actors: Michael Caine, Sylvester Stallone, Pelé

Production company : Lorimar Film Entertainment, Victory Company, New Gold Entertainment
This movie presents a rather unique story. This 1981 film tells the story of a group of allied prisoners who are asked to play ball against Nazi convicts. In addition to the unique plot, the presence of a series of famous football players is also another attraction of this film.
For some of the players playing roles in this film are Pele and Bobby Moore. Two football legends competed in acting with several actors. One of them is Sylverster Stallone, who plays Captain Robert Hatch.
Off target! and Shaolin Soccer, there are still plenty of football movies worth watching. Eleven of them that we have described above. So, for those of you who want to watch attractive football movies, the above 11 movies are probably worth a reference. Like watching!
Also, read articles about sports movies produced by Disney for those of you who really like sports-themed movies.