Crime always exists and occurs everywhere, in all countries, both poor and developed countries, are not exempt from the crimes of these criminals. Theft, murder, robbery, beating and many other crimes keep police officers busy all the time. Especially if the criminal act was designed by a criminal with a smart brain.
These different types of offenses have inspired filmmakers to portray criminals and their crimes in movies. These criminals not only play villains but some are also seen as protagonists with many personal motives behind.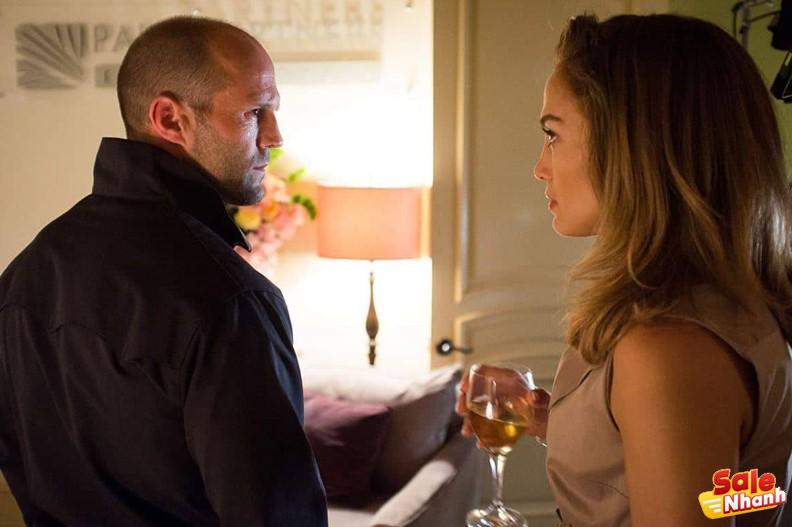 Most of the films of this genre attract the admiration of the audience because the criminal process is shown in detail. So here we have selected 17 movies about the criminal world with all the crimes they have committed.
Top 10+ Best Crime Movies
Bonnie and Clyde [1967]
Release year : 1967
Genre: Action, Biography, Crime
Director : Arthur Penn
Actors: Warren Beatty, Faye Dunaway, Michael J. Pollard
Production company : Warner Bros./Seven Arts, Tatira-Hiller Productions
The story of a romantic bank robbery couple is one of the classic films that is considered to have "one of the bloodiest death scenes in cinematic history", when both are trapped in the ring. surrounded by police but they did not give up and continued to fight.
These two characters became very famous because of the actions that took place in 1931-1935 during the Great Depression that struck America.
In the movie, they are played by Warren Beatty and Faye Dunaway with a very good chemistry. Winning two Academy Awards in the categories of Best Supporting Actress for Estelle Parsons and Best Cinematography, the film was one of the first 100 films to be registered with the National Film Registry as a classic.
The Godfather [1972]
Release year : 1972
Genre: Crime, Drama
Directed by: Francis Ford Coppola
Actors: Marlon Brando, Al Pacino, James Caan
Production company : Paramount Pictures, Alfan Productions
One of the best movies ever made is the work of director Francis Ford Coppola, adapted from the best-selling novel by Mario Puzo.
It follows the life of an Italian mafia family living in New York in the face of competition from other gangster groups who also want to dominate the city's criminal world in the 1945-1955 era. The story of the mafia is described in detail, so it takes up to nearly 3 hours of film time.
The Godfather has received many accolades and awards, one of which is winning an Oscar in three categories as Best Picture, Best Actor for Marlon Brando, and Best Adapted Screenplay. Due to its success, two sequels were made, namely The Godfather Part II [1974] and The Godfather Part III [1990].
Scarface [1983]
Released year: 1983
Genre: Crime, Drama
Directed by: Brian De Palma
Actor: Al Pacino, Michelle Pfeiffer, Steven Bauer
Production company: Universal Pictures
The film follows Tony Montana, a Cuban immigrant living in Miami, how he begins his criminal career to culminate as a drug lord in America. Al Pacino appeared with a characteristic acting style, namely many emotional scenes. In addition, this film also shows a high level of violence compared to the scale at that time.
A commercial and qualitative success, this film, which is a remake of the 1932 film of the same name, is often considered one of the best gangster films ever made and one of the best. The best works of director Brian De Palma.
There is a popular saying that comes from this movie by Tony Montana, "Say Hello to my little friend! ", while firing his rifle at his enemies.
Once Upon a Time in America [1984]
Release year : 1984
Genre: Crime, Drama
Director : Sergio Leone
Actors : Robert De Niro James Woods Elizabeth McGovern
Producers: The Ladd Company, Warner Bros., Producers Sales Organization (PSO)
This classic underworld crime film from legendary director Sergio Leone is adapted from Harry Gray's novel The Hoods.
The last film he directed, tells the story of a Jewish mafia that dominates New York and a childhood friendship that becomes rivals as adults. Starring Robert De Niro and James Woods, this series has several versions aired.
The original version is very long, 6 hours. The European cinematic version runs for 229 minutes and for US distribution it runs to 139 minutes with plot changes made in chronological order. The American version was criticized by many, so the European version was recognized as the best.
The Untouchables [1987]
Release year : 1987
Genre: Crime, Drama, Horror
Directed by: Brian De Palma
Actors: Kevin Costner, Sean Connery, Robert De Niro
Production company: Paramount Pictures
Once again, Robert De Niro plays a mafia character. This time he plays the real Al Capone, one of the biggest mafia bosses to ever rule the US criminal world. Kevin Costner plays an FBI agent who tries to catch Al Capone by forming his own team even though that team consists of only a handful of trusted colleagues.
Inspired by the 1957 book of the same name, Brian De Palma presented an excellent crime drama and helped Sean Connery win the Academy Award in the category of Best Supporting Actor.
Heat [1995]
Release year: 1995
Genre: Crime, Drama, Horror
Director : Michael Mann
Actors: Al Pacino, Robert De Niro, Val Kilmer
Production company: Warner Bros., Regency Enterprises, Forward Pass
Al Pacino and Robert De Niro are two personality actors who are used to playing crime and mafia genres. This time around, they meet in Michael Mann's thriller, which features action sequences with high adrenaline levels, and even features one of the best car chase scenes in the movie.
In this film, De Niro plays a professional thief with his team of loyalists and Al Pacino plays a detective trying to catch them. Although they were in a movie in The Godfather Part II [1974], at the time they were never in the same scene. This time they were in a scene that turned out to be during the filming of their solo act.
LA Confidential [1997]
Release year : 1997
Genre: Crime, Drama, Mystery
Directed by: Curtis Hanson
Actors: Kevin Spacey, Russell Crowe, Guy Pearce
Producers: Regency Enterprises, The Wolper Organization, Warner Bros.
The film, now registered with the National Film Registry as a classic, tells the story of three police officers in their efforts to solve crime in 1950s Los Angeles amid the world of chaos. Hollywood splendor.
Adapted from the novel by James Ellroy, director Curtis Hanson boldly installed two unknown Australian actors to pair with Kevin Spacey, Guy Pearce and Russell Crowe, who performed quite satisfactorily and collected attracted the attention of Hollywood filmmakers.
Winning two Academy Awards in the categories of Best Supporting Actress for Kim Basinger and Best Adapted Screenplay, this film still holds the highest rating from the majority of movie review sites as a crime film. best offender.
The Departed [2006]
Release year : 2006
Genre: Crime, Drama, Horror
Directed by: Martin Scorsese
Actors: Leonardo DiCaprio, Matt Damon, Jack Nicholson
Producer: Warner Bros., Plan B Entertainment, Initial Entertainment Group (IEG)
This is the story. A policeman disguised as a member of the mafia to detect traitors and arrest the Irish mafia figures dominating Boston, and a high-ranking police officer who is the patron of this mafia character becomes a spy. Spy in the police force and erase the criminal traces of the mafia boss.
The story idea for Martin Scorsese's best movie came from the hit Hong Kong film, Infernal Affairs [2002], starring Andy Lau and Tony Leung. This intense drama stars Jack Nicholson, Leonardo Di Caprio, and Matt Damon.
From the Academy Awards, this film won four Academy Awards in the categories of Best Picture, Best Director, Best Adapted Screenplay, and Best Supporting Actor for Mark Wahlberg.
Sicario [2015]
Release year : 2015
Genre: Action, Crime, Drama
Director : Denis Villeneuve
Actors: Emily Blunt, Josh Brolin, Benicio Del Toro
Production company: Lionsgate, Black Label Media, Thunder Road Pictures
To catch a sadistic drug lord, it takes a police team who are also very sadistic to track down and destroy this type of crime. When an idealistic FBI agent is added to the team, his inner turmoil becomes the biggest problem in his crime-fighting work.
Emily Blunt comes out gorgeous with a performance she's never shown before, aided by Benicio del Toro and Josh Brolin, who come across as cool and natural. The sadism shown in this film is said to be based on true stories that have been and are happening at the US-Mexico border.
American Gangster [2007]
Release year : 2007
Genre: Biography, Crime, Drama
Directed by: Ridley Scott
Actors: Denzel Washington, Russell Crowe, Chiwetel Ejiofor
Production company: Universal Pictures, Imagine Entertainment, Relativity Media
In the 1970s, a US police detective tried to catch New York drug lord Frank Lucas, who was sourcing drug ingredients from Vietnam by hitchhiking via US military planes. USA.
No one doubts Denzel Washington's acting ability, which was proven again when he played Frank Lucas in this film. His acting credibility can also be offset by other Oscar-class performances from Russell Crowe as detective Richie Roberts.
Although this film was criticized from the original characters for making too many changes from reality, this film by director Ridley Scott still received a lot of praise for its quality. great movie, especially in terms of acting. , directing and cinematographic performance .
Black Mass [2015]
Release year : 2015
Genre: Biography, Crime, Drama
Director : Scott Cooper
Actors: Johnny Depp, Benedict Cumberbatch, Dakota Johnson
Production company: Cross Creek Pictures, RatPac-Dune Entertainment, Grisbi Productions
Black Mass is the best underworld crime movie that tells the story of Whitey Bulger, the most powerful and cruel mafia boss from Ireland. Bulger controlled the southern part of Boston, USA. You also certainly don't believe that the character of Whitey Bulger is played by Johnny Depp. The reason is, in this movie, Depp is pictured in a way that looks like an old and bald man.
This film based on a true story doesn't quite portray Bulger as a villain. To avoid getting in the way of the law, Whitey instead teamed up with the FBI to track down a group of Italian mafia families.
American Made [2017]
Release year : 2017
Genre: Action, Biography, Comedy
Directed by: Doug Liman
Actors: Tom Cruise, Domhnall Gleeson, Sarah Wright
Production company : Cross Creek Pictures, Imagine Entertainment, Quadrant Pictures
Who doesn't know Pablo Escobar? He is a major drug lord who is responsible for 80% of cocaine smuggling in the US. There have been many films about Pablo Escobar, but American Made, which was released in 2017, tells the story of Pablo Escobar in a different way.
The main focus of this film is Barry Seal (Tom Cruise), a commercial airline pilot turned CIA agent. Barry disguised himself as a courier for Pablo Escobar. Barry's adventures in the criminal world are extremely interesting because he has to become a courier for drug lords and keep the identity of a CIA agent secret to stay undetected.
American Made is a movie about the world of crime based on a true story. In fact, Barry died because he was executed by Pablo Escobar, who knew in advance of Barry's betrayal.
Goodfellas [1990]
Release year: 1990
Genre: Biography, Crime, Drama
Directed by: Martin Scorsese
Actors: Robert De Niro, Ray Liotta, Joe Pesci
Producer: Warner Bros.
Old but gold, those are the words that describe the movie Goodfellas. This underworld drama is about Henry Hill (Ray Liotta) dropping out of school to join a mafia group called Lucchese. Since living as a bandit, Henry's life becomes full. In the mafia, Henry learns not to betray his friends and to keep quiet.
Gradually, Henry and two friends, James Conway (Robert De Niro) and Tommy DeVito (Joe Pesci) form a small group of frequent criminals. The three of them become more and more immersed in the cruel criminal world. Killing each other had become the norm for them.
In the end, Henry ended up in jail for killing a gambler and dealing drugs in prison. Both Jimmy and Tommy become increasingly mired in an endless world of crime. Until Henry was arrested again by the police, his wife threw away all of the $60,000 worth of cocaine to destroy evidence.
Reservoir Dogs [1992]
Release year : 1992
Genre: Crime, Drama, Horror
Directed by: Quentin Tarantino
Actors: Harvey Keitel, Tim Roth, Michael Madsen
Production company: Live Entertainment, Dog Eat Dog Productions Inc.
Before becoming the famous director he is today, Quentin Tarantino made his debut by making the movie Reservoir Dogs. Tarantino is one of the directors who has made many movies about the underworld. Reservoir Dogs is one of Tarantino's masterpieces.
The film tells the story of six foreign men who are recruited by a boss named Joe Cabot to steal diamonds. The six men did not know each other. The boss calls them by nicknames, like Mr. White, Mr. Blonde, Mr. Cam, Mr. Pink, Mr. Blue, and Mr. Brown.
Unfortunately, the robbery scenario did not go smoothly as one of the six men was an undercover cop. They face a new problem where they have to deal with policemen who are ready to ambush or prioritize loyalty in the performance of their duties.
Baby Driver [2017]
Release year : 2017
Genre: Action, Crime, Drama
Directed by: Edgar Wright
Actors: Ansel Elgort, Jon Bernthal, Jon Hamm
Production company : TriStar Pictures, Media Rights Capital (MRC), Working Title Films
Having successfully played in the sci-fi movie "Divergent" and the TV series "Our Why", Ansel Elgort tried her hand at acting in films about the underworld. Interestingly, the film was a success and received fairly high reviews.
As Baby Driver, the film tells the story of Baby (Ansel Elgort), an ordinary young man who suddenly has to fall into the world of crime. Despite her hearing loss, Baby has extraordinary driving skills. He is recruited by a robber boss to become a driver specializing in driving professional robbers.
When Baby meets Deborah (Lily James), he falls in love and decides to quit his job. However, this angered the bandit boss and threatened to hurt everyone close to Baby.
Wrath of Man
Release year : 2021
Genre: Action, Horror
Produce : Metro-Goldwyn-Mayer, Miramax
Directed by: Guy Ritchie
Actors: Jason Statham, Holt McCallary, Jeffrey Donovan
H (Jason Statham) is the head of a notorious criminal group. Once, when he was about to help his team, he instead found his son shot by a group of robbers who were robbing a truck carrying money from a security company called Fortico. H. was angry but was controlled by the killer himself.
To get information about the bandits, H eventually joins and disguises as a new escort at Fortico. There, he gains a wealth of information that even leads him to his son's killer, who turns out to be working with Fortico boss H himself, Bullet (Holt McCallary).
Parker
Release year : 2013
Genre: Action, Crime, Thriller
Director : Taylor Hackford
Actors: Jason Statham, Jennifer Lopez, Michael Chiklis
Production company: Incentive Filmed Entertainment, Sierra/Affinity, Alexander/Mitchell Productions
Parker nearly died after being robbed of $ 75 million by his accomplices. After recovering, he wants to avenge the actions of the swarm. He knew they were going to commit a major heist at an amusement park frequented by the rich and famous. He invites Leslie to stop the robbery.
Jennifer Lopez plays the character Leslie, a financially troubled but ambitious woman. He wants to help Parker, played by Jason Statham, stop a robbery that's graced with many of Statham's signature action sequences. While Statham does a lot of action, J-Lo becomes a character that brings a lot of humor.
Those are 17 of the best crime movies Hollywood has ever made. Most of the topics that are often raised are about mafia operations, drug dealing and bank robberies. These three themes are still often implemented and shown in movies.
Hopefully the crime rate shown in these movies won't happen in Indonesia, even though our country has one of the highest crime rates in Asia.
Salenhanh – Product review blog
Address: 115 Nguyen Van Qua, Tan Hung Thuan Ward, District 12, Ho Chi Minh City
Website: https://salenhanh.com/en
Mail: Salenhanh.com@gmail.com
#salenhanh #Reviewsalenhanh