Mouse pad is one of the accessories that can be said to play an important role in supporting the activities when using your computer, especially if you use a mouse. Mouse pads are divided into 2 types: soft surface and hard surface.
The soft surface type is made of cloth and the base is made of rubber so that the touchpad is not easy to move, while the hard surface type has a hard and smooth surface, sometimes made of plastic and aluminum. In general, gaming mouse pads have a different texture than regular mouse pads because they are specialized by game genre.
How to choose the best Gaming Trackpad
Pay attention to the material
First you have to consider the type of game you are playing and the DPI of your mouse. Fabric, plastic, silicone, glass, aluminum are some of the commonly used materials in mouse pads. But the best gaming mouse pads are usually made of fabric with a non-slip layer that is usually rubber. Fabric mouse pads have the advantage of being affordable and comfortable, they have a very precise surface when used for gaming. Make sure the materials used are not scratched.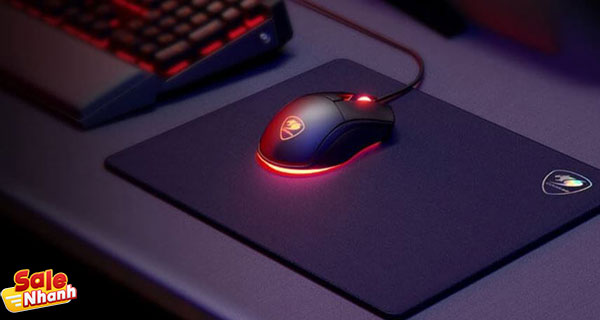 Determine the size
Then make sure your mousepad size is right for your condition and comfort as this factor will also affect your gaming atmosphere. There are different shapes like rectangle, square, and even oval, so tailor it to your needs and your desk space. Make sure you adjust to the area of ​​your hand when playing the game.
Choose a suitable design
Generally, the mouse pad is 4mm thick, which is intended to keep your hand steady. Pay attention to whether the edge design of your mouse pad is sewn tightly as it will affect the durability of the mouse pad. Make sure that the design provided makes you comfortable enough to rest your hand while playing the game and whether the design is suitable for the game you are playing.
Additional Features
This extra feature is intended to add to your gaming experience to make it more immersive, one of which is the RGB lighting system. The feature commonly found on the best gaming mouse pads is the waterproof material, which is useful for minimizing damage if you accidentally spill water on it.
Not only equipped with quality materials, some gaming mousepad lines are also equipped with RGB lights that make the machine look very eye-catching. So, what is the best gaming touchpad you can choose from on the market today? Just by looking at the recommendations below that Salenhanh recommends for you, it is completely possible to choose the best mouse pad products!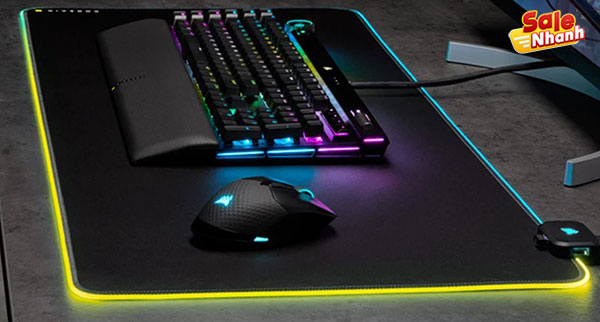 Today's 10 best gaming touchpad recommendations
SteelSeries QCK touchpad
SteelSeries confirms, QCK is in demand in the world. How not, this peripheral gaming company has sold 10 million QCK mousepads worldwide!
The surface of the best StellSeries QCK gaming mousepads is made of a fabric with a textile that is claimed to be able to accurately read mouse movements. So you can point the mouse without difficulty, such as when playing FPS games,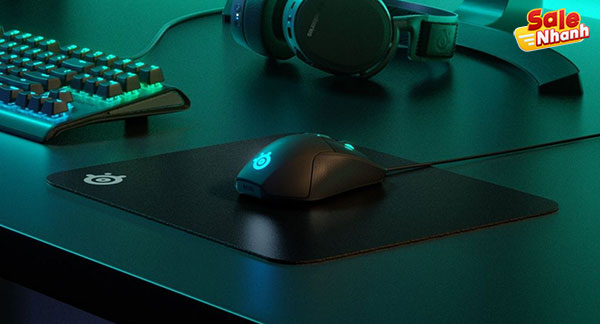 SteelSeries QCK bottom or base is made of rubber. The purpose is that the gaming touchpad can "stick" or not move or shift.
SteelSeries QCK comes in various sizes from Small, Medium, Large, 3XL, 4XL and 5XL. In fact, SteelSeries introduced the QCK in an RGB-equipped version, the SteelSeries QCK Prism.
Digital Alliance D4 RGB gaming mouse pad
The shape of the best gaming mouse pad is a long composite with an overall size of 800 x 300 x 3 mm, this best gaming mouse pad is a great product for gaming.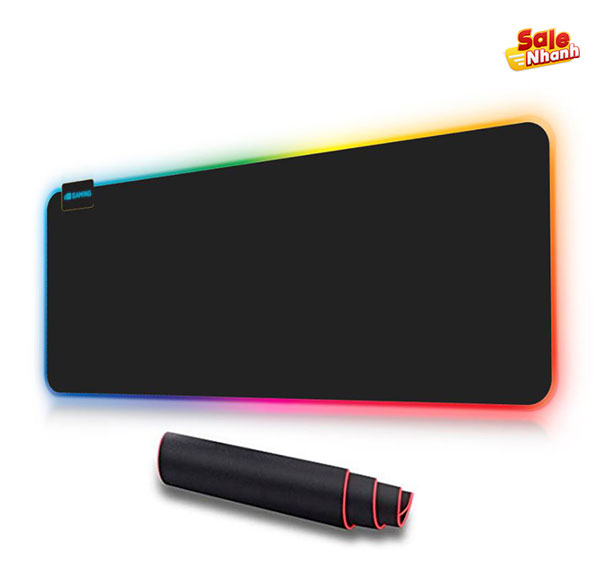 This best gaming mouse pad has RGB lighting embedded on the side and has a button to adjust the lighting on the top left. As for the surface, this best gaming mouse pad uses micro-textured fabric and has assorted controls and speeds. The bottom part won't move if you play hard because it has anti-slip material made of rubber. To connect to a PC, the best gaming touchpads use USB and to control the LEDs with Micro USB.
Logitech G240 . Trackpad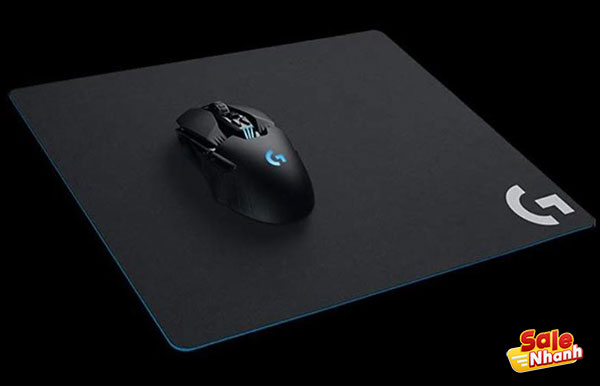 Logitech G240 is quite large, 280 mm high x 340 mm wide x 1 mm thick. Its weight is still relatively light, 90 grams. The Logitech G240 uses a fabric that is claimed to be accurate, especially for low DPI settings. The fabric surface provides adequate friction for low DPI operations. The sole is made of rubber that clings to the fabric. This means that this gaming trackpad will "stick" to the tabletop.
D4 Hexa RGB touchpad
Not much different from the Digital Alliance D4 RGB Gaming Mouse Pad, this best gaming mouse pad is designed with a soft fabric on the surface and uses non-slip rubber for the base.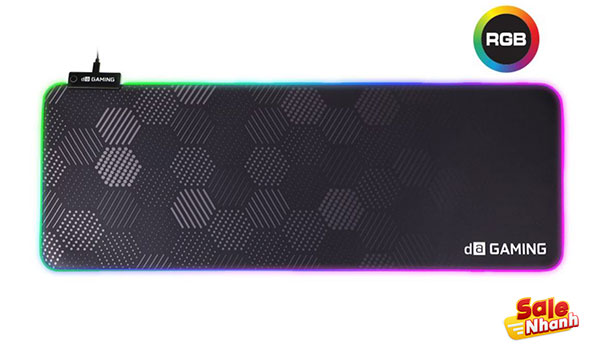 Thanks to its flexible and rubberized surface, it makes for the best gaming mouse pad, which in addition to rolling up makes it easy to carry it also reduces friction to control mouse movements. The best gaming mouse pad in black has an overall size of 800 x 300 x 3 mm and has a rectangular shape. At the top of the left side there is a button for RGB settings. This best gaming mouse pad also has control and speed with 15 lighting modes for RGB and detachable cable.
Cooler Master MP510 . touchpad
Gaming mousepads come in a variety of sizes. However, most of them are very large in size. Naturally, when considering a gaming touchpad must respond to mouse movements which can sometimes be very wide.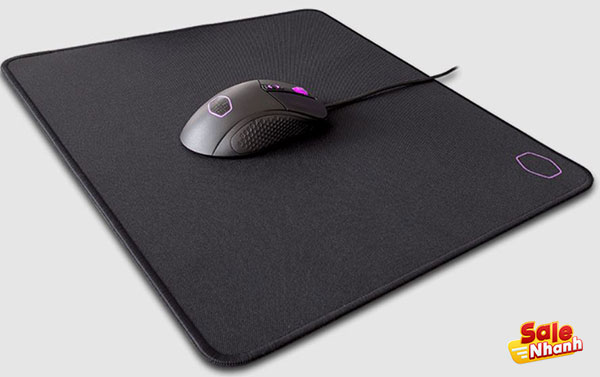 So if size is an issue, you can choose the Cooler Master MP510. The reason is, this product is available in different sizes. So just pick as needed.
Considering the design, the Cooler Master MP510 is quite attractive with a logo that can glow in the dark. The Cooler Master MP510 uses a fabric called Cordura. This material is said to be water and stain resistant. You don't need to worry when the gaming mousepad comes into contact with water!
HyperX FURY S Pro touchpad
This best gaming mouse pad has a smooth fabric surface and has wrinkle-resistant edges as it is neatly and smoothly sewn, to keep your wrist comfortable. As for the textured natural rubber bottom designed to keep you frantic so you don't move, all the designs offered by this best gaming mouse pad aim to make Your gaming feeling is more comfortable and distraction-free.
This best gaming mouse pad also offers you 4 sizes so you can choose according to your preference and this best gaming mouse pad is also rollable so it's easy to carry. This best gaming touchpad says it is the most accurate in terms of its targeting accuracy when used.
Mousepad Mousepad Razer Goliathus Chroma
Once again, Razer admits that this product is the best-selling gaming mouse pad on the market today. This best gaming mouse pad has incredible speed and precision that makes your gaming experience more challenging and this best gaming mouse pad will illuminate every gaming victory of yours. you with a wonderful range of colors.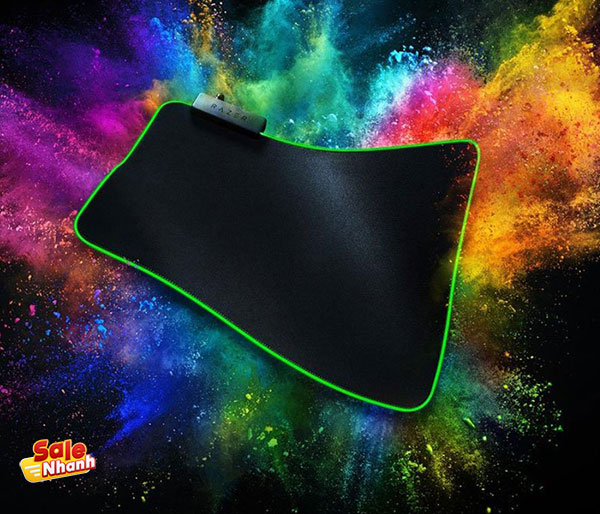 This best gaming mouse pad is designed with sensor sensitivity and settings in mind for very precise tracking response when playing games using laser or optical sensors. This micro-textured surface strikes a neat balance between control and speed, and you can enjoy the ultimate in motion precision while gaming with this ultimate gaming mouse pad. .
Razer Sphex v2 . Trackpad
Looking for a slim gaming touchpad? Razer Sphex v2 is the answer. The thickness is only 0.5 mm!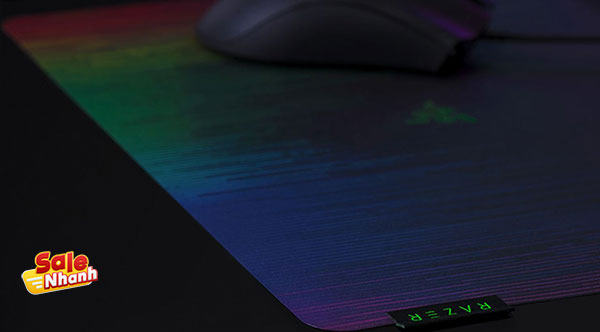 The Razer Sphex v2 is made of polycarbonate. This material is actually optimized for laser or optical mouse use.
If you have a large desk, choose the regular-sized Razer Sphex v2. If it's small, you can opt for the mini version of the Razer Sphex v2.
HyperX FURY Ultra RGB Gaming Mousepad
The best gaming trackpad on this one can make your style settings more immersive with 360-degree lighting and subtle effects that you can tailor to your style. The low-friction micro-textured surface with neat unobtrusive edges is the best thing about this gaming mouse pad giving you quick and smooth mouse movements.
The bottom has a non-slip grip so this best gaming touchpad won't run or shake all over the place when in use. With the help of software from HyperX NGENUITY, you can easily adjust the lighting and adjust the effects for each of the 20 LEDs.
Siberian Gaming Arsenic RGB Trackpad
If you are looking for a gaming touchpad complete with RGB lighting, you can choose the Xiberia Gaming Arsenic. It has 14 lighting modes, including seven kinds of static lighting modes and three dynamic lighting modes.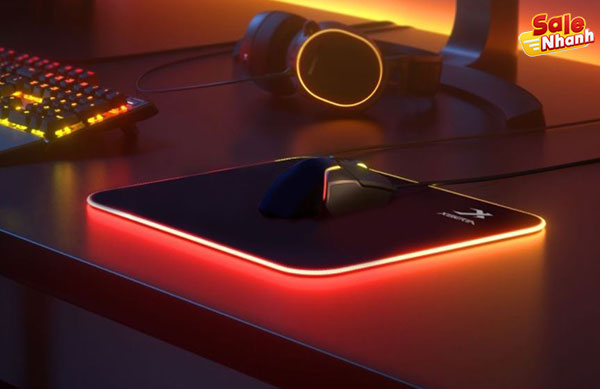 In addition, it is very easy to use. You just need to plug this device into your PC or laptop to turn on the RGB lights.
This Siberian Arsenic gaming mouse pad has a smooth fiber surface with a fairly wide size. The sole itself is made from rubber, which helps prevent slipping.
So, out of the five recommendations for the best gaming touchpad that Salenhanh recommends, which do you like the best
MousePad Razer Firefly V2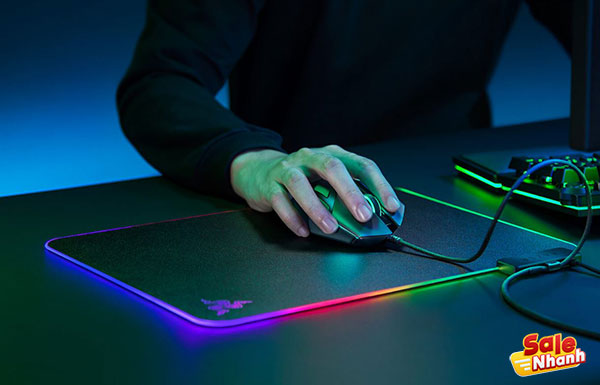 Razer claims that this best gaming mouse pad is an upgraded version of the original Firefox version, featuring a slimmer and more colorful and brighter design than its predecessor and also a gaming mouse pad. This best game has 19 individual lighting zones 4 times more than the first one. release. This best gaming mouse pad measures 355 mm x 255 mm x 3 mm overall with a micro-textured hard surface designed for more gaming environments. In addition, the base is equipped with an integrated cable holder to minimize drag for the mouse.
Logitech G640 . Trackpad
For the best gaming touchpad, this pad is designed with edge-to-edge theme which has a very clean, smooth and consistent texture so that the resulting performance is very smooth as its sensor works. good. For gamers, this best gaming mouse pad offers an amazing level of precision and accuracy in use.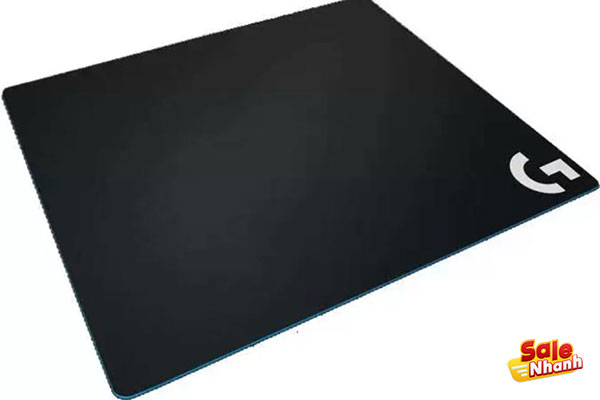 The friction provided by the best gaming mouse pad on this pad is perfect for controlling low DPI games. As for its design, this best gaming mouse pad has a rubber pad that sticks to it so it doesn't slide easily. The fabric used in this best gaming mouse pad is so soft that it feels comfortable in your hand.
Rexus Kvlar T10 Trackpad
The best gaming mouse pad designed with a thickness of 3mm has a textured fabric and rubber surface that is bonded together by seams at the edges with nylon thread for a good gaming mouse pad This one is not easy to peel off. Because the material he uses is waterproof, it doesn't take long to dry so if you spill while playing you can use it again by simply wiping it off.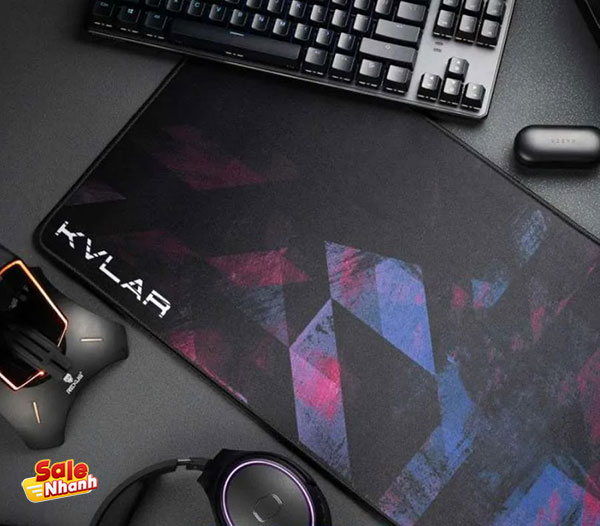 Generously sized, the best gaming trackpads geared toward "speedy" games features a mouse sensor with detailed and flawless mapping that produces fast, precise, and powerful movements. but still correct. In addition to being easy to clean,
ASUS ROG Scabbard II touchpad
The best gaming mouse pad is made of durable textile with military standard nano coating, resistant to water, oil and dust, besides this best gaming mouse pad is also very easy to clean and maintain easily. Its rubber sole makes it non-slip so it rides smoothly and it also features anti-fraying with even seams.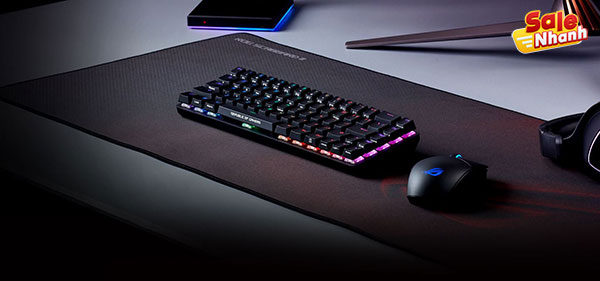 The textile surface in this best gaming mouse pad provides a smooth surface and supports the use of lasers and optical sensors, for very good response rates. With 3mm thickness and soft texture provided by the best gaming mouse pad, of course, it makes your gaming comfort more appealing and comfortable.
Instructions for cleaning the gaming mouse pad
In this review, we will provide some tips on how to best clean your gaming mouse pad as not all materials can use the same cleaning method.
Plastic mouse pad
There are 2 ways to clean it, that is to simply wipe it with a cleaning solution and wash it with soap and water if your mouse pad is very dirty.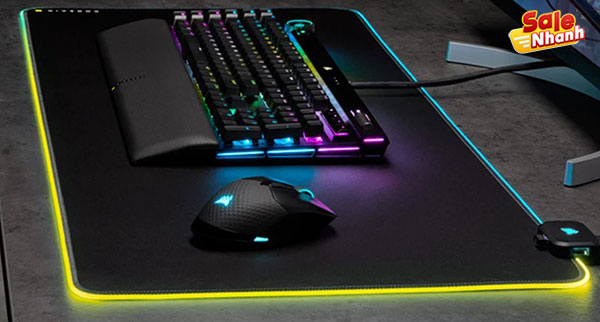 Mouse pad "silk"
To clean this mouse pad, you can gently pat the stain with a wet cloth to soften the stain, then you can wipe it with a cleaning solution.
Nylon knitted mouse pad
The advantage of this mouse pad is that it is water resistant, so cleaning it must definitely have another method. Wet the spot then apply soap and scrub with a toothbrush or sponge then rinse with water. Particularly, this mouse dryer is only aerated because if it is exposed to sunlight, it will fade the mouse pad color.
RGB touchpad
Not much different from those made from silk, the method is dry cleaning, specifically using a wet cloth to wipe the surface of the mouse pad and then let the mouse pad dry. What you need to pay attention to is that when cleaning, make sure not to bump into electronic elements.