Using skin brightening pills is currently a popular method for skin care to restore smooth and radiant skin. Among the products on the market today, NuBest White from the US stands out. What are the actual benefits of this product? How should it be used to achieve skin brightening effects quickly? Let's explore in the following article by Sale Nhanh!
What is the origin of NuBest White?
NuBest White is a product distributed by the NuBest corporation in the United States. This is a well-known brand in the US for health protection foods related to beauty, joint, physiology, height development… NuBest products are now available in over 118 countries around the world, including Vietnam, and are sold on top global e-commerce channels such as Amazon, Walmart…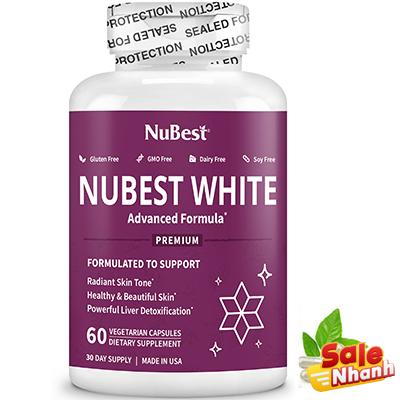 The main ingredients of NuBest White
The ingredients of NuBest White include Vitamin C, Vitamin E, Glutathione, L-Cysteine, Hydrolyzed Collagen, Polypodium Leucotomos, Alpha Lipoic acid, Milk Thistle, Gelatin, Calcium Carbonate, and Magnesium Stearate. These ingredients have been quality checked and carefully selected to create a safe product for those who consume it.
How effective is NuBest White?
NuBest White has been proven to have positive effects on brightening and beautifying the skin, helping it become firmer and smoother while also preventing aging. People with dark, dull, or dry skin will see significant improvements after using the product for a period of time. These are encouraging signs for the skin, and it's important to use NuBest White regularly to achieve these positive changes as soon as possible.
Should you take NuBest White or not?
NuBest White has been certified by the FDA (U.S. Food and Drug Administration) for its quality, allowing it to be freely sold in the United States and exported overseas. The production process meets cGMP, HACCP standards, ensuring safety for users. You can use NuBest White with confidence for an extended period.
What age should use NuBest White?
NuBest White is recommended for adults with dark, dull, or uneven skin who wish to improve its brightness. People over the age of 18 can take NuBest White, but it is best to start after 20. Using NuBest White at the right time can quickly and effectively solve current skin issues.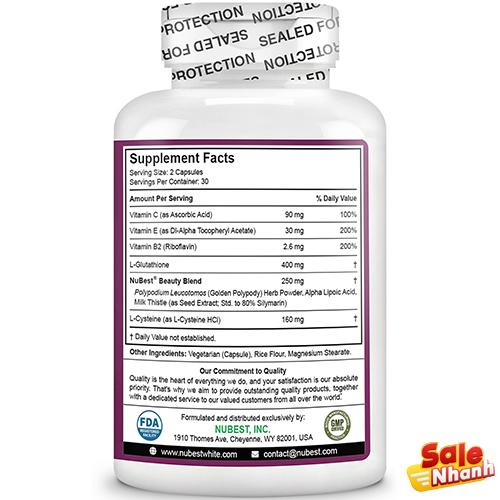 When should you not use NuBest White?
Although it is effective in taking care of bright, white skin, you should not use NuBest White if you fall into any of the following groups:
Individuals under the age of 18.
Those who are allergic to any component of NuBest White.
Individuals with liver or kidney disease, who have difficulty absorbing nutrients.
How long does NuBest White take to work?
The effectiveness of NuBest White varies depending on each person's skin condition and absorption ability. Typically, you can expect to notice changes in your skin after 3 to 6 months of use. However, this duration may vary depending on each individual's metabolism. To achieve positive results, it's important to be consistent with the recommended dosage and follow the treatment plan.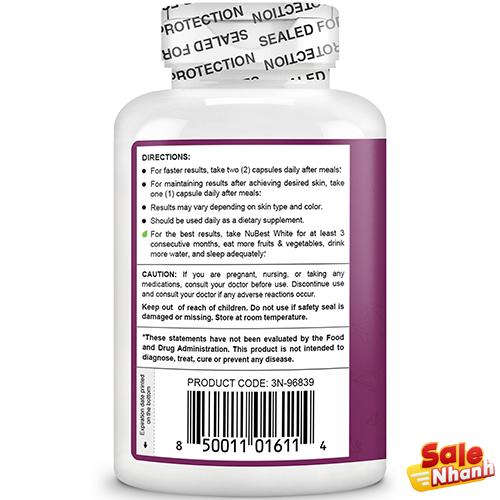 Are there any side effects from taking NuBest White?
Currently, no side effects have been reported from taking NuBest White. This is because most of the ingredients in this product are natural and have undergone testing to ensure safety. However, especially during the first few weeks of use, it's important to monitor any changes in your body to ensure that this product is suitable for you.
Things to keep in mind when using NuBest White:
Take the product regularly and follow the recommended dosage.
Maintain a healthy diet, get adequate rest, and exercise to optimize your metabolic function.
Keep your face clean, use high-quality skincare products, and use sun protection when outdoors to shield your skin from harmful UV rays.
How many capsules are in one box of NuBest White?
One box of NuBest White contains 60 capsules. The compact design of the box allows users to easily take it with them wherever they go. The number of capsules per box is calculated according to the recommended dosage, making it convenient for users to keep track of their daily intake.

Recommended dosage of NuBest White:
According to the manufacturer's instructions, for optimal whitening results, take 2 capsules of NuBest White per day after a meal. Once you've achieved the desired results, you can take 1 capsule per day to maintain your skin's healthy glow. With this dosage, one box of NuBest White can last between 1 and 2 months, depending on how many capsules you take per day.
Does natural dark skin use NuBest White effectively?
NuBest White helps to supplement important nutrients for the skin to improve its brightness. This is an internal skincare method that changes the skin's melanin, making it even and bright in the long term. Therefore, those with natural dark skin can use NuBest White to compensate for the lack of nutrients that lead to the current dark complexion. To achieve optimal results, it is recommended to regularly consume this product for a certain period of time.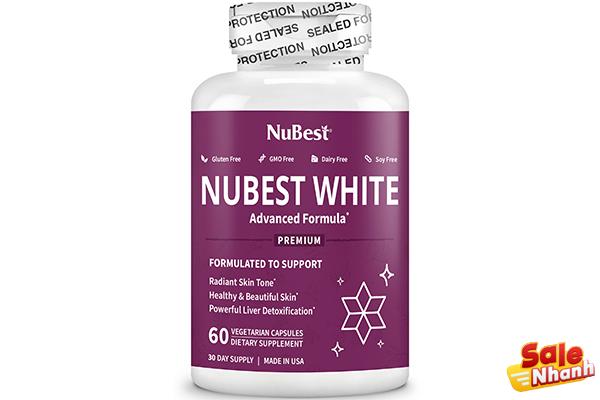 How long does it take for NuBest White to whiten the skin?
Each person's skin type is different, leading to varying abilities to recover and brighten the skin when using NuBest White. In addition, the current skin condition also determines the time it takes to see the whitening effect of NuBest White. Usually, after about 3 months, you will notice some changes in your skin. From around 5-6 months, the skin's brightening effect will be clearly visible if you use it regularly and correctly.
Is NuBest White a scam?
NuBest White has been certified by reputable organizations worldwide such as FDA, cGMP, HACCP. The product is also available on leading international and domestic e-commerce platforms, demonstrating the brand's level of credibility. The quality of the product has been evaluated as safe for users, with no reported side effects. You can check the quality certification papers of the product at the official distributor of NuBest White.
Can men use NuBest White?
Skincare needs are equal for both men and women. Nowadays, not only women but also men are concerned about the condition and health of their skin. NuBest White, with its brightening effect, is suitable for male users with dark, sallow, or dry skin who want to improve their skin condition by using it daily.
Advantages and disadvantages of NuBest White:
Advantages:
The product delivers the desired effect of brightening the skin and improving dry and pigmented skin conditions.
There are no reported side effects during the course of use.
The product has been certified safe and high quality, giving users peace of mind.
There is an official distributor in Vietnam, making it easy to purchase genuine products and receive advice and support during use.
Disadvantages:
The product is slightly expensive as it is an imported, genuine product from the US.
The use of skin brightening supplements is becoming a popular trend in skincare, as it saves time and effort in the skincare routine. Choosing a quality product like NuBest White can quickly restore skin health, providing bright and healthy skin while preventing skin aging.