The HP M454DW printer is a single-function color laser printer that is highly appreciated not only for its outstanding color printing capabilities, extremely sharp print quality, but also for its outstanding print speed of up to 27 ppm. A pretty great speed for the current color laser printers on the market.
Today, review Salenhanh will go with you to find out in detail about this single-function color printer, to see if the HP LaserJet Pro M454dw printer printer is really commensurate with the price of the product.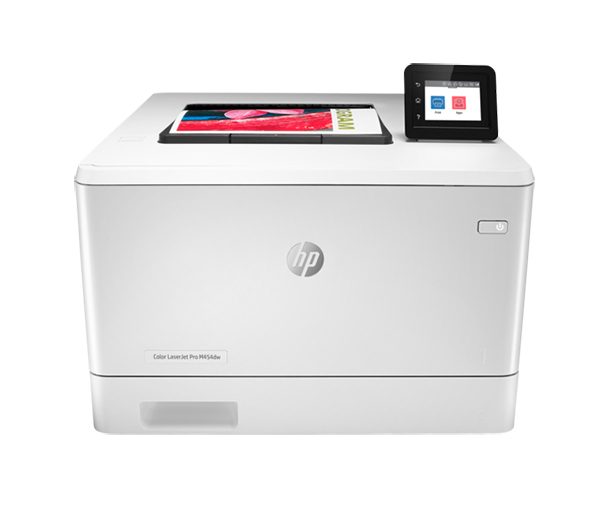 Detailed review of the HP LaserJet Pro M454dw single-function color laser printer series
HP M454DW chính Key Specifications
Single-function color laser printer series
Print speeds of up to 27 ppm with both black and white and color prints
Extremely high print quality thanks to HP ImageREt 3600 technology, PANTONE® calibrated
Print the first page in just 9.7 seconds
Monthly print capacity up to : 50,000 pages
Automatic paper feeder: 200 sheets
Use 4 high-quality HP LaserJet toner cartridges
Convenient automatic 2-sided printing
Connect to print wirelessly via Wifi and many other Mobile applications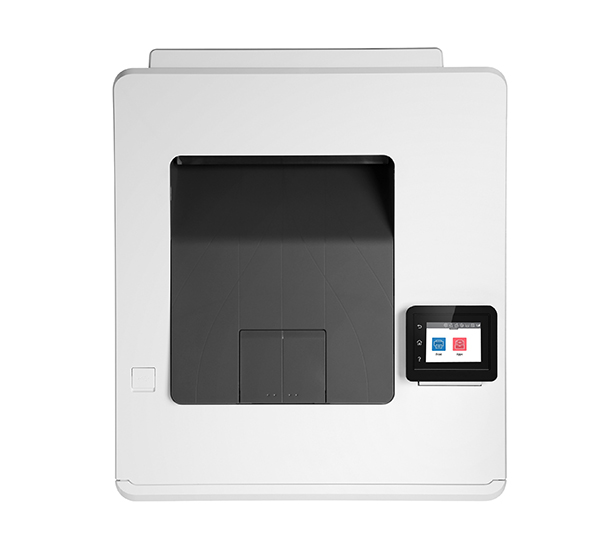 Evaluate the pros and cons of the HP M454dw printer product
Product design
Talking about the design of the HP LaserJet Pro M454dw printer, it refers to a line of printers that possesses a classic, solid design with a dominant white tone that brings elegance to the product. With a moderate design and not taking up too much space in the office, you can even leave them on your own desk without fear of taking up too much space.
With 2.7 inch modern LCD screen with adjustable viewing angle. HP LaserJet Pro M454dw makes it easy for users to use and manage print jobs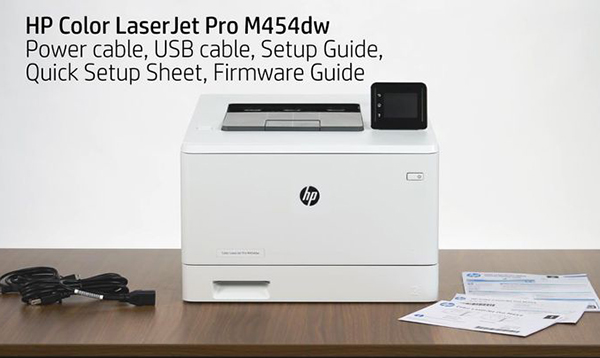 Exceptional print speed
As mentioned above, the LaserJet Pro M454dw is highly appreciated for its print speed of up to 27 pages per minute for both monochrome documents or color documents, which is quite amazing. With this device, every office will get a more comprehensive printing solution for corporate documents, albums, catalogs, promotions for customers….
Sharp print quality
Still have the great print quality of HP LaserJet Pro printers. HP M454DW has quickly surpassed hundreds of competitors in the same price segment in terms of print quality. Prints from the M454DW are extremely sharp, even with highly slanted fonts, often blurred for conventional printers thanks to the extremely high resolution combined with the excellent inks that come with the printer. this printer device.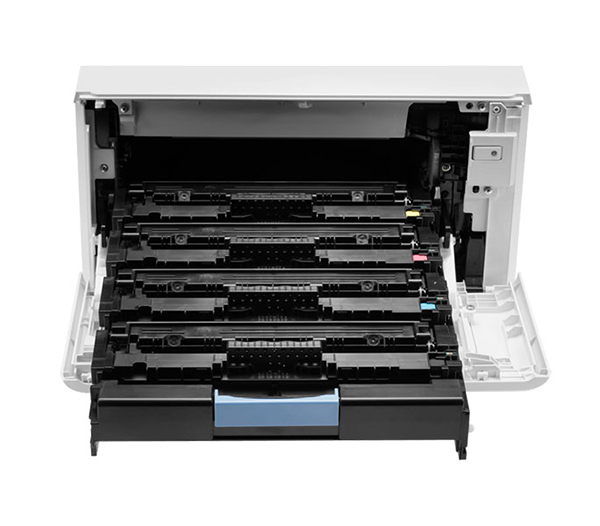 However, their minus point also comes from the price of ink. The cost of the black ink cartridge used for the Hp M454DW printer is relatively cheaper than other single-function printers on the market, but in terms of color inks, it is higher, making the average page cost of the line. This HP LaserJet Pro printer has a slight edge over conventional laser printers.
Convenient wireless printing
The HP M454DW printer series has the ability to connect and print via wifi, which is extremely convenient for use in today's small and medium offices. Not only that, this device can also perform other smart wireless printing operations via mobile devices using applications such as: Apple AirPrint™; Google Cloud Print™; HP ePrint; HP Smart App….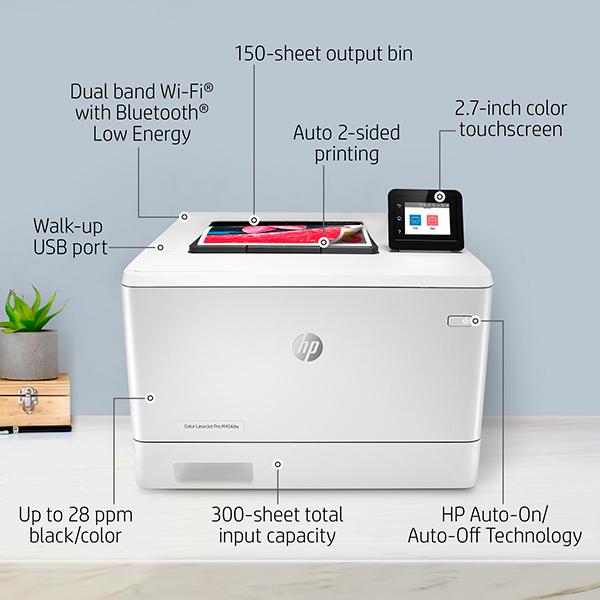 Extra large paper tray
As a printing device with a fairly fast speed, having a large paper tray is a very important factor. Surely you won't want to have to stand up often to load paper for your printer device, right? If so, then HP M454DW will be the perfect choice for you.
With automatic paper tray up to 200 sheets and manual paper feeder up to 50 sheets. HP LaserJet Pro M454DW saves your printing time. The first page printing time is also very good, less than 10 seconds for the machine to produce the first printed pages.
In addition, the device also helps save power consumption by automatically switching to Sleep mode when the device is inactive. Both help save power consumption and do not reduce the life of the printer. Too perfect, isn't it?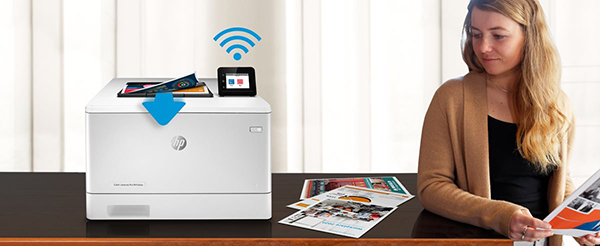 Own modern security features
A suite of embedded security features, such as instant threat notification and PIN / Pull Printing, help protect your color laser printer from intrusion and help keep your sensitive data safe. you from hacker attacks. To remind you of the sad news, documents on printers have been one of the targets targeted by high-tech criminals in the past few years. Therefore, improve the security of your printing equipment and important documents.
Modern, high-quality ink cartridges
Ink is a highly appreciated element of this printer. The print quality from the HP M454DW is not inferior to any product in the same segment or even more advanced products are not necessarily superior to him.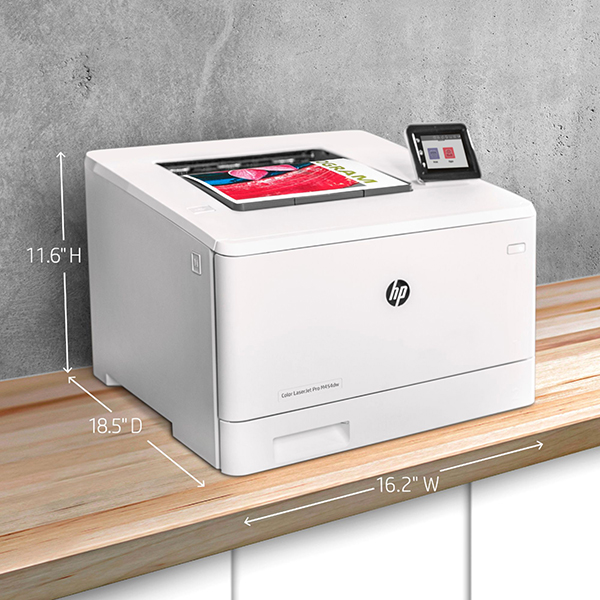 With exclusive ink technology from HP, you can rest assured and enjoy high-quality, sharp, and smudge-free prints. However, as mentioned above, ink costs are a bit high compared to other common printer products.
Video Unboxing HP LaserJet Pro M454DW Laser Printer