Since the early days of its launch and until today, the Epson L805 printer has always been the most favorite printer of the Epson printer brand thanks to its speed, print quality and both page cost and cost. product. Epson L805 is a professional printing device with the ability to print extremely sharp colors for high quality prints.
Although it does not possess as many office features as other multifunction printers, but when it comes to printing work, the Epson L805 is not bored with any documents, monochrome or color printing thanks to its fast speed. Print speed up to 37 pages per minute with extremely high page resolution, up to 5760×1440 dpi. Let's review this product with Salenhanh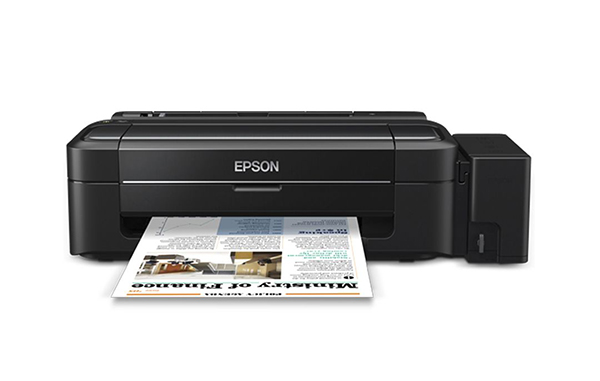 Detailed product review of Epson L805 . inkjet printer
Epson L805 . Specifications
Printer type: Single-function inkjet printer
Print speed: 37 ppm with black and white and color prints
Resolution up to 5760×1440 dpi for sharp prints
Maximum print capacity: 12000 pages/month
Automatic paper feeder holds 120 sheets
Weight: 6Kg
Product design
The body is made of high quality plastic, which is durable and very sturdy with high impact resistance. The ink tank is integrated on the body to help users easily check the amount of ink and save costs when refilling ink.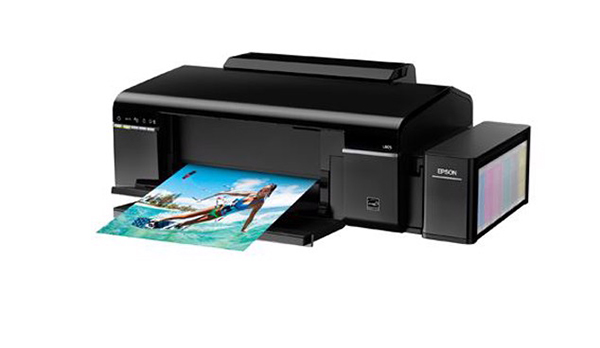 With a black tone covering the entire body, the Epson L805 gives the Epson L805 an eye-catching elegance, very suitable for individuals, families and small and medium sized offices.
Exceptional print quality and speed
Owning a fast print speed, at about 37ppm (5 dpi), quite excellent speed for an inkjet device in the same segment. In addition, you can also print on a variety of materials such as ordinary paper, cardstock and glossy paper….Epson l805 can also use different types of trays for different requirements. Such as Epson l805 CD tray for printing CD/DVD covers and Epson l805 ID card tray for business card printing.
With a possible resolution of 5760×1440 dpi, prints from the Epson L805 printer are incredibly sharp, stunning and true to life thanks to the 6-color ink cartridge. This is the reason why Epson L805 has always been loved and chosen by many people to print photos, magazines, drawings, designs until today even though the L805 has appeared on the market for a long time.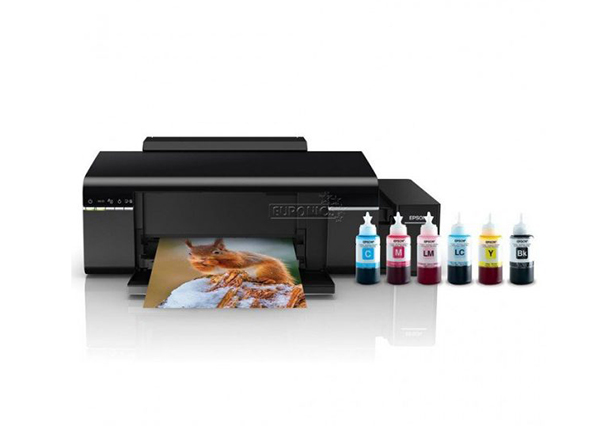 Great connectivity
The Epson L805 also lacks connectivity. It offers seamless OTG, USB and WiFi connectivity, making it very efficient to use in offices. People can also use the Epson iPrint App to connect to the printer using WiFi and use remote printing via mobile devices.
Toner cartridges and ink costs
Epson Ink printers are designed primarily with the aim of reducing printing costs. However, with a line of inkjet printers using 6 cartridges with high quality, the cost of printed pages is not the strong point of the Epson L805 inkjet printer product.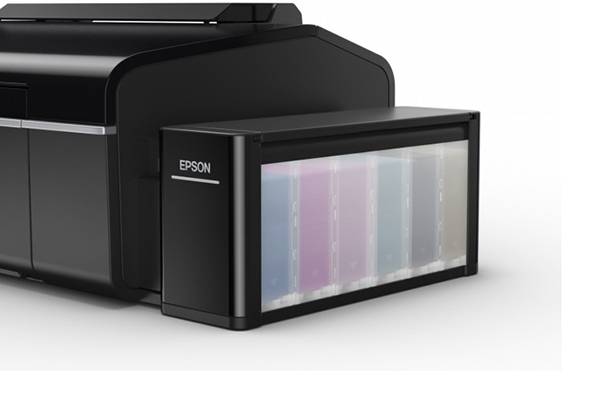 The Epson L805 ink price is relatively higher than other printers in this segment, even for other inkjet printers, although the L805 has a larger ink cartridge, helping to reduce your printing costs. Unlike conventional ink cartridge printers, Epson L805 has 6 types of inks, which are essential to produce highly accurate descriptive images. With this setup, the L805 can produce approximately 1800 4R images or up to 5000 regular prints with a single feed.
Conclusion on the pros and cons of Epson L805 . printer
Advantages of the product
Design is convenient, catch the eye: Design is also one of the big plus points of Epson L805 printer, the machine is quite solid and sturdy, giving users peace of mind, minimizing the risk of damage due to collisions. beat during use
High quality ink: The use of 6-color ink cartridges with high resolution helps Epson L805 produce excellent prints with high realism.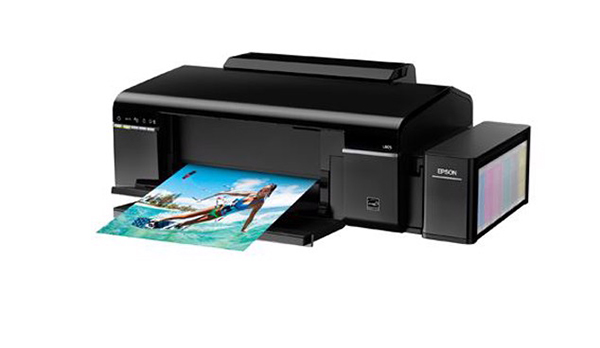 Disadvantages of Epson L805 . printer
Automatic Duplex Function: Although the Epson L805 is an excellent professional photo printer, some of its missing features are a bit of a letdown. Printers at this price point do not support the ADF (Automatic Document Feeder) function so users will not be supported with automatic duplex printing.
Salenhanh – Product review blog
Address: 115 Nguyen Van Qua, Tan Hung Thuan Ward, District 12, HCMC
Website:  https://salenhanh.com/en
Mail: Salenhanh.com@gmail.com
#salenhanh #Reviewsalenhanh