After four years since the release of The Boy, William Brent Bell returns to the story of Brahms, a living doll boy, through Brahms: The Boy II . In the sequel to both, he chose to build a new story with more horror in it. Unlike the previous series that aired in 2016 in which Lauren Cohan was the main character, Brahms: The Boy II stars Katie Holmes and Owain Yeoman, who play husband and wife and have a son. What terror did Brahms cause to this small family?
Brahms: The Boy II movie synopsis
Liza (Katie Holmes) and her husband, Sean (Owain Yeoman) decide to temporarily move to a house in the middle of the forest to escape the trauma she went through. The two of them also invite Jude (Christopher Convery), their son, who was also traumatized by the robbery at his home and has never spoken since the incident.
Near his new residence, there was a large uninhabited Heelshire family home. They are also curious about the house and intend to look around. However, by chance, Jude found a male doll named Brahms made of porcelain, buried in the middle of the forest and brought it home. Since then, Jude has always played with Brahms, even creating deadly rules to manipulate his family.
The horror never stops
Since the first five minutes of the film , Brahms: The Boy II has managed to terrify audiences by showing small horrors that are enough to make the heart flutter. Initially, Jude was described as a cheerful character and enjoyed teasing his mother, Liza. However, this joy has been forced to disappear since the robbery tragedy caused Liza to have nightmares and Jude, who stopped talking.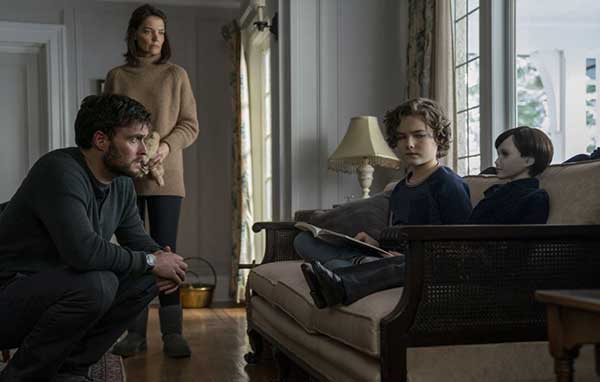 The horror increased after they moved away and began to take care of Brahms. The horror, initially insignificant, gradually turns into disaster and puts Liza's family in danger. The situation becomes more and more confusing thanks to the dramatic spice when Sean can't believe what his wife sees, that Brahms is a living doll.
Brahms helped Jude speak again
The deep hurt Jude had gone through made him reluctant to speak. Every day, he communicates with the people around him with a notebook he always carries anywhere. Oddly enough, since meeting Brahms, his parents regularly caught him chatting. Hearing her son talk back, of course, makes Liza and Sean unreasonably happy.
Unfortunately, Jude's progress doesn't come entirely from him. Without realizing it, Jude, who has been possessed by Brahms' shadow, has evil intentions to injure Liza and Sean, for not following the agreed upon deadly rules.
Salenhanh's opinion about the movie Ghost Boy 2
Like a horror movie, using puppets as the main subject to tell the story, I could have guessed how this story would end. Honestly, I haven't had a chance to watch The Boy and immediately jumped in to watch Brahms: The Boy II. However, after I read the synopsis and watched the trailer, it seems that I like the first movie better.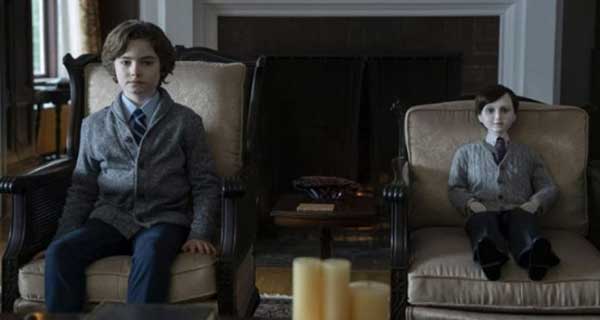 I feel that William Brent Bell's second film is based a lot more on jumpscare than a strong story. Although there's no denying that Katie Holmes' performance here is one of my favorites. Aside from the jumpscare which doesn't really surprise me, I love how Jude and Brahms look like twins, so they manage to get a creepy impression.
Choosing an old luxury house in the middle of the forest where Liza's family lives can also bring a dark and gloomy shade. Not to mention the old swing that Brahms used to sit on, and the sound of old wood opening the door made me alert, "What's wrong?" In my opinion, Brahms: The Boy II can be enjoyed for those of you who don't even like horror movies.
If you've seen The Boy before and are curious about Brahms' story after finding a new 'family', then Brahms: The Boy II can be used as an option to watch light horror this week. . Meanwhile, for those of you who haven't seen the first movie, I think you can still enjoy this movie, since the story isn't too related to the first one.
Salenhanh – Product review blog
Address: 115 Nguyen Van Qua, Tan Hung Thuan Ward, District 12, Ho Chi Minh City
Website: https://salenhanh.com/en
Mail: Salenhanh.com@gmail.com
#salenhanh #Reviewsalenhanh