Song Kang is one of the most loved Korean actors. After achieving success in Love Alarm 1 & 2 as well as Sweet Home, Song Kang increasingly received invitations to be the main character for many dramas in the land of Kim Chi with a large number of fans all over the world. world.
For the most part, The movies starring Song Kang, have a fairly broad theme. Starting from teen dramas and adult love stories with many life events. If you are also a Fan of this handsome actor, here are the Top Song Kang dramas you must watch that Salenhanh.com wants to send to you.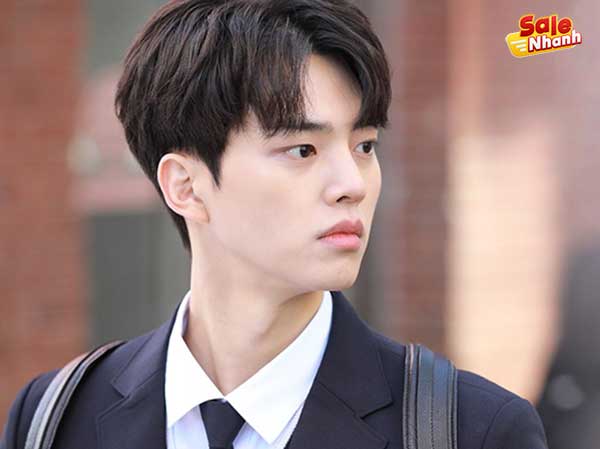 Movie Love Alarm 1
Tell the story of a matchmaking app called Love Alarm. This app will make an alarm on your mobile phone if someone likes you within a certain radius. And if both of them make an alarm, it means they both like it
Meanwhile, Kim Jojo (Kim So Hyun) is a high school girl who lives with her aunt but her life is suffering because she has to work hard to pay her parents' debt to her aunt. Meanwhile, Hwang Sun Oh (Song Kang) is the son of a rich and famous person. He is friendly with Lee Hye Young (Jung Ga Ram), the children of family members at his house.
Sun Oh and Hye Young's friendship begins to falter when they both like Jojo. They also tried to turn on Jojo's Love Alarm even though Jojo had a boyfriend at that time
Movie Love Alarm 2
Lovea Alarm 2 aired two years after Love Alarm 1. The story still tells the love triangle between Kim Jojo (Kim So Hyun) and Hwang Sun Oh (Song Kang) and Lee Hye Young (Jung Ga Ram). Sun Oh still hopes to get Jojo back, while Hye Young remains optimistic about winning Jojo's heart by continuing to try to approach him without coercion.
She keeps trying to convince Jojo that they can become a couple and love can grow between them. Jojo did not turn off this possibility and began to accept Hye Young's presence. However, on the other hand, Sun Oh is not ready to let Jojo go.
In this drama, Song Kang plays the main character named Lee Chae Rok, a 23-year-old man who begins to discover his passion and talent in the world of ballet. Cha Rok had never played ballet before, only focused on playing sports such as baseball, swimming and football, but never succeeded.
His intersection with the ballet world is actually not surprising since his mother is a ballet dancer. Unfortunately, her mother died of illness when she was young. After that, Chae Rok's father went bankrupt, causing his family to face economic difficulties. While focusing on ballet, Chae Rok found it very difficult to meet and help her father, even struggling to support herself. This made Chae Rok begin to lose his passion for ballet.
When facing difficult circumstances, Chae Rok meets Sim Deok Chool (Park In Hwan). A 70-year-old businessman retired as a ballet dancer, but decided to return to ballet despite the objections of his children and wife. Will the two of them return to pursuing their passion for ballet?
Movie Sweet House
This Netflix-produced Korean drama is about the conditions under which the world has become very terrible because it is full of monsters. These monsters are changed humans because they have desires and ambitions too great to become demons.
When they don't control that ambition, they will begin to become monsters with symptoms of nosebleeds, scurrying, loss of consciousness and hallucinations, then gradually the eyeballs turn black. Then, they turn into monsters that attack and threaten people's lives.
The story itself focuses on the story of Cha Hyun Su, a high school student who rarely leaves his room. He doesn't want to talk to his father, mother or younger brothers. One day, all of his family members, except him, died in a car accident.
Living alone, Hyun Su decided to move into a small apartment. That's when the phenomenon of people turning into evil monsters is happening all over the world. This causes Hyun Su and the other residents of his apartment to fight against these monsters to survive.
Phim The Liar and His Lover
In this film, Song Kang has not yet become the main character, the man is still just a supporting actor with not too much screen time. This film is his film debut as an actor. He plays the role of Baek Jin Woo, a high school boy who really loves music.
Jin Woo has a crush on Yoon So Rim (Joy), but his love is said to be one-sided, aka a sad guy. This is because he has to compete with Kang Han Kyeol, a young composer who stole So Rim's attention.
Movie The man who clears the table
Even here, Song Kang is still not the main character. In this drama, Song Kang plays Kim Joo Woo, a member of Jung Tae Yang (the main male character in this movie). The film, starring Song Kang, tells the story of Lee Roo Ri (played by Lee Roo Ri). Sooyoung), a woman on the run from her very strict father. He is increasingly stressed because he feels his life is falling apart, especially because his career is not going well. Roo Ri also decided to run abroad.
There he met Jung Tae Yang (Oh Joo Wan). Joo Wan is a very comfortable man about life, 180 degrees different from Roo Ri. They get to know each other and get closer, but both have different worlds.
Movie When The Devil Calls Your Name
About a famous musician named Han Rib (Jung Jyung Ho). He always succeeds in creating many hits or popular songs. But no one knew that all this could be done because he sold his soul to a demon.
In this film, Song Kang plays a young musician named Lucca Alexievich, who is very good at playing various musical instruments. After that, he became a familiar figure to Ha Chon.
Phim I Know But
This is Song Kang's new drama and is scheduled to air in June 2021, however there is no exact date yet. Here Song Kang plays a student named Park Jae Eon. In everyone's eyes, Jae Eon looks very happy and kind to everyone. However, it turns out that he is not very friendly with certain people and does not want to be in dating relationships.
But, one day Jae Eon is attracted to or likes Yoo Na Bi (Han So Hee) and his personality starts to change. Na Bi herself is a student at the same university as Jae Eon. In the past, Na Bi was betrayed by her boyfriend, so she broke up and left hurt. He also promised that he wouldn't want to think about love or dating problems anymore. But after meeting Jae Eon, Na Bi begins to take an interest in him.
Salenhanh – Product review blog
Address: 115 Nguyen Van Qua, Tan Hung Thuan Ward, District 12, Ho Chi Minh City
Website: https://salenhanh.com/en
Mail: Salenhanh.com@gmail.com
#salenhanh #Reviewsalenhanh