Want to decorate your Facebook status lines, Facebook self-introductions, messages, comments and want everything to come alive with special characters, interesting symbols? So don't hesitate with Salenhanh to review the best special characters, ASCII symbols, text symbols, ALT code symbols ….the best for you
Special characters: Popular Facebook symbols
♥ _ _
Special character: Star symbol
★ ☆ 
✦ ✧ ✩ ✪ ✫ ✭ ✮ ✯ ✰ ⁂ ⁎ ⁎ ✢ ✤ ✥ ✱ ✲ 
✵ ✶ ✷ ✸ ✺ ✼ ✽ ✾ ✾ ✿ ❀ ❁ ❈ ❊ ❋ ❆ ❆ ❅ ≛ ≛ ≛ ≛ ≛ 
≛ ≛ ≛ ≛ ≛ 
≛ ≛ ≛ ≛
Icons for the office
© ® 
_ 
_ 
_ 
_ 
_ 
_
Currency symbol
¢ $ € £ ¥ ₮ ৲ ৳ ฿ ៛ ₠ ₡ ₢ ₢ ₣ ₥ ₧ ₨ ₩ ₪ ₪ ₫ ₭ ₯ ₱ ₴ ₴ ¥ ¥ ¥ ¥ ¤ ¤ ƒ ƒ ƒ
Special characters: Frame icons, beautiful brackets
< > " " 「 」 『 』 【 ( ) { } ︹ ︺ ︻ ( ) { } ﹝ ﹞ < > ( ) < > { } 〖 〗 [ = « » < > < >
Flag icon
♥
Music icons
°
Degree, Weather & Unit Icons
° 
_ 
_ 
_
Special character: Arrow symbol
↚ ↛ ↜ ↝ ↞ ↟ ↠ ↢ ↣ ↤ ↥ ↦ ↧ ↨ 
↬ ↭ ↮ ↰ ↱ ↲ ↳ ↴ ↶ ↹ ↺ ↺ ↻ ↼ ↽ ↾ ⇀ ⇂ ⇄ ⇄ ⇅ ⇅ ⇈ ⇉ ⇊ ⇋ ⇋ ⇋ ⇋ ⇋ ⇋ ⇋ ⇌ ⇌ ⇌ ⇌ ⇌ ⇌ ⇌ ⇏ ⇕ ⇖ ⇗ ⇘ ⇙ ⇚ ⇜ ⇝ ⇞ ⇟ ⇠ ⇡ ⇢ ⇤ ⇥ ⇦ ⇨ ⇩ ⇪ ⌅ ⌆ ⌤ ☈ ☊ ☊ 
☋ ☋ ☌ ☍ ➙ ➛ ➝ ➝ ➞ ➞ ➟ 
➤ ➤ ➤ ➤ ➤ ➤ ➤ ➤ ➤ ➤ ➤ ➤ ➤ ➤ ➤ ➤ ➤ ➤ ➤ ➤ ➩ ➪ ➫ ➬ ➭ ➮ ➯ ➲ ➳ ➴ ➵ ➶ ➷ ➸ ➺ ➻ ➼ ➾ 
↵ ↵ ↓ ↓ ← → ↑ ⌦ ⌫ ⌧ ⇰ ⇫ ⇬ ⇭ ⇮ ⇱ ⇴ ⇵ ⇵ ⇷ ⇸ ⇺ ⇑ ⇓ ⇓ ⇓ ⇽ ⇽ ⇽ ⇽ ⇽ ⇽ ⇽ ⇽ ⇽ ⇽ ⇽ ⇽ ⇽ ⇽ ⇽ ⇽ ⇽ ⇽ ⇿ ⬳ ⟿ ⤉ ⤈ ⇻ ⇼ ⤀ ⬵ ⤁ ⬹ ⤔ ⬺ ⤕ ⤅ ⤖ ⬷ ⤐ ⤐ ⬽⤘⤝ ⤞ ⤟ ⤡ ⤣ ⤤ ⤥ ⤥ ⤦ ⤪ ⤨ ⤭ ⤰ ⤰ ⤰ ⤱ ⤱ ⤬ ⬐ ⬎ ⬑ ⬑ ⬑ ⬑ ⬑ ⬑ ⬑ ⬑ ⬑ ⬑ ⬑ ⬑ ⬑ ⬑ ⬑ ⬏ ⬏ ⬏ ⬏ ⤶ ⤷ ⥂ ⥃ ⥄ ⭀ ⥱ ⥸ ⭂ ⭈ ⭊ ⥵ ⭁ ⭇ ⭋ ⭌ ⭌ ⥴ ⥆ ⥅ ⥹ ⥻ ⥈ ⥇ ⬲ ⟴ ⟴ ⥷ ⥷ ⬿ ⥋ ⥍ ⥎ ⥎ ⥏ ⥐ ⥒ ⥓ ⥔ ⥔ ⥔ ⥔ ⥔ ⥔ ⥔ ⥔ ⥔ ⥔ ⥔ ⥔ ⥔ ⥔ ⥔ ⥔ ⥔ ⥕ ⥖ ⥗ ⥘ ⥙ ⥚ ⥛ ⥝ ⥞ ⥟ ⥠ ⥡ ⥢ ⥤ ⥣ ⥦ ⥨ ⥧ ⥮ ⥯ ⥪ ⥬ ⥫ ⤌ ⤎ ⤎ ⤏ ⬸ ⬸ ⤑ ⟹ ⤂ ⤄ ⤄ ⤆ ⤆ ⤇ ⤋ ⭅ ⟰ ⟰ ⟰ ⟰ ⟰ ⇔ ⇶ ⟵ ⟶ ⟷ ⬄ ⬀ ⬂ ⬃ 
⬈ ⬉ ⬊ ⬋ ⬌ ⟻ ⟼ ⤒ ⤓ ⤙ ⤚ ⤛ ⥼ ⥽ ⥿ ⤽ ⤽ ⤾ ⤾ ⤿ ⤸ ⤹ ⥀ ⟲ ⟳ ⟳ ⟳ ⟳ ⟳ ⟳ ⟳ ⟳ ⟳ ⟳ ⟳
Special characters: Horoscope & Zodiac Symbols
☤ ☥ ☧ ☨ ☩ ☫ ☬ ☽ 
☾ ✙ ✚ ✛ ✜ 
✞ † ⊹ ⊹ ‡ Statistics about ♁ ♆ ❖ ✠ 卐
〷 〷
Heart icon
♥ 5 ️ 
_ _
Selection icon, tick
✓ 
_ 
_
Special characters: Doll symbols, gender
☻ ☿ 〠 ヅ ツ ㋡ 유 ü ü ت ت シ ㋛ ㋛ 웃 ꑇ ꐠ ꐡ ꐕ ꌇ ꌈ ꉕ ꈋ ꆛ ꃼ 〲
〴 〴 ϡ ٿ ⍢ ⍥ ⍩ ὃ ὕ ὕ ὕ ὕ ὕ ӫ ⚣ ⚤ ⚤ ⚤ ⚤ ⚥ ⚥ ⚥ ⚥ ⚥ ⚥ ⚥ ⚥ ⚥ 
⚥
Math symbols
pi ∞ delta / ∖ * alpha ∟ ∠ | ∤ ∥ ∦ ∧ ∨ ∩ ∴ ∵ ∵ ∵ ∵ ∸ ∹ ∻∺ ∻∺ ∽ ∽ ∿ ≁ ≂ ≃ ≄ ≅ ≆ ≇ ≉ ≋ ≌ ≍ ≍ ≎ ≏ ≐ ≓ ≖ ≖ ≗ ≗ ≘ ≚ ≜ ≜ ≝ ≝ ≝ ≝ ≝ ≝ ≝ ≝ ≝ ≝ ≝ ≝ ≝ ≝ ≝ ≞ ≞ ≞ ≞ ≟ ≠ ≡ ≢ ≣ ≤ ≥ ≦ ≧ ≨ ≩ ≩ ≩ ≬ ≭ ≮ ≰ ≱ ≲ ≳ ≴ ≶ ≸≹≷ ≺ ≻ ≼ ≾ ≿ ⊀ ⊁ ⊂ ⊃ ⊅ ⊇ ⊉ ⊉ ⊉ ⊊ ⊋ ⊍ ⊎ ⊐ ⊐ ⊐ ⊐ ⊐ ⊐ ⊐ ⊐ ⊐ ⊐ ⊐ ⊐ ⊐ ⊐ ⊐ ⊐ ⊐ ⊐ ⊐ ⊑ ⊒ ⊓ ⊔ ⊕ ⊖ ⊗ ⊙ ⊚ ⊛ ⊜ ⊝ ⊞ ⊟ ⊡ ⊢ ⊣ ⊥ ⊦ ⊧ ⊨ ⊩ ⊪ ⊭ ⊮ ⊮ ⊯ ⊰ ⊱ ⊲ ⊴ ⊶ ⊸ ⊸ ⊹ ⊹ ⊼ ⊽ ⊾ ⊿ ⊿ ⊿ ⊿ ⊿ ⊿ ⊿ ⋀ ⋀ ⋀ ⋀ ⋀ ⋀ ⋀ ⋃ ⋄ ⋅ ⋆ ⋇ ⋈ ⋉ ⋋ ⋌ ⋍ ⋎ ⋏ ⋐ ⋑ ⋓ ⋔ ⋕ ⋗ ⋘ ⋙ ⋚ ⋛ ⋜ ⋟ ⋠ ⋡ ⋡ ⋢ ⋣ ⋤ ⋧ ⋩ ⋪ ⋪ ⋫ ⋫ ⋮ ⋯ ⋰ ⁺⁻⁼⁽ ⁺⁻⁼⁽ ⁺⁻⁼⁽ ⁺⁻⁼⁽ ⁺⁻⁼⁽ ⁺⁻⁼⁽ ⁺⁻⁼⁽ ⁺⁻⁼⁽ ⁺⁻⁼⁽ ⁺⁻⁼⁽ ⁺⁻⁼⁽ ⁺⁻⁼⁽ ⁺⁻⁼⁽ ⁺⁻⁼⁽ ⁺⁻⁼⁽ ⁺⁻⁼⁽ ⁺⁻⁼⁽ ⁺⁻⁼⁽ 
+ – + – / = ± ×
Special characters: Number symbol
Ⅰ ⅱ ⅲ ⅳ ⅴ ⅵ ⅶ ⅸ ⅹ ⅺ ⅻ ⅼ ⅽ ⅾ ⅰ ⅱ ⅲ ⅴ ⅵ ⅶ ⅷ ⅸ ⅹ ⅼ ⅽ ⅽ ⅾ ⅿ ↀ ↁ ➀ ➂ ➄ ➄ ➅ ➅ ➈ ➉ ➊ ➋ ➋ ➋ ➋ ➋ ➋ ➋ ➌ ➌ ➌ ➌ ➌ ➌ ➌ ➏ ➐ ➑ ➒ ➓ ⓵ ⓶ ⓸ ⓹ ⓺ ⓻ ⓼ ⓽ ⓾ ❶ ❷ ❸ ❺ ❺ ❻ ❽ ❾ ❿ ⁰ ² ² ④ ⑤ ⑥ ⑦ ⑧ ⑨ ⑩ ⑫ ⑬ ⑭ ⑮ ⑯ ⑰ ⑱ ⑳ ⑴ ⑵ ⑷ ⑹⑺⑸ ⑻ ⑼ ⑽ ⑾ ⒁ ⒂ ⒂ ⒃ ⒄ ⒅ ⒆ ⒈ ⒊ ⒌ ⒌ ⒍ ⒍ ⒐ ⒑ ⒒ ⒓ ⒓ ⒓ ⒓ ⒓ ⒓ ⒓ ⒔ ⒔ ⒔ ⒔ ⒔ ⒔ ⒔ 0 1 2 3 4 6785 9
Fraction symbol
%
Comparison icon
≤ ≥ ≦ ≧ ≨ ≩ ≩ ⊱ ⋛ ⋚ ≂ ≃ ≄ ≅ ≆ ≈ ≉ ≊ ≋ ≌ ≍ ≏ ≐ ≑ ≒ ≔ ≕ ≖ ≗ ≘ ≙ ≚ ≝ ≟ ≠ ≠ ≡ ≡ ≣ ≣ ≣ ≣ ≣ ≣ ≣ ≣ ≣ ≣ ≣ ≣ ≣ ≣
Special characters: Technical symbols
⌀ ⌂ ^ ⌄ ⌅ ⌆ ⌇ ⌈ ⌉ ⌋ ⌌ ⌍ ⌎ ⌏ ⌏ ⌑ ⌓ ⌓ ⌔ ⌖ ⌘ ⌙ ⌙ ⌙
Square and rectangular icons
❏ ❐ ❑ ▀ ▀ ▂ ▃ ▅ ▆ ▇ ▉ █ █ █ ▌ ▐ ▎ ▏ ▕ ▒ ▓ ▬ ▬ ▢ ▤ ▤ ▥ ▦ ▧ ▨ ▭ 
▭ ▭ ▯ ☰ ☲ ☱ ☵ ☳ ☷ ▰ ▰ ▰ ▰ ▱ ▱ ▱ ▱ ▱ ▱ ▱ ▱ ▱ ▱ ▱ ▱ ▱ ▱ ▱ ▱ ▱ ▱ ▱ ▱ | ❙ ❚ 〓 ◊ ◈ ◇ ⎔ ☖ ☖
Special character: Triangle symbol
► 
delta 
_
Line icon
│ ┃ ╽ ╿ ╏ ║ ╎ ︱ ┊ _ ┋ ┆ ╵ 〡 〢 ╻ ╷ 〣 ☰ ☱ ☲ ☴ ☴ ☵ ☷ ✕ ═ ═ ═ ─ ╍ ╍ ┅ ╴ ╶ ╶ ╶ ╸ ╺ ╾ ﹍ ﹍ ﹍ ﹊ ﹊ ﹊ ﹊ ﹊ ﹊ ﹊ ﹊ ﹊ ﹊ ﹊ ﹊ ﹊ ﹊ ﹎ ﹎ ﹎ ⑆ ⑇ ⑈ ⑉ ⑊ ⑄ ⑀ ﹏ ﹏ ╳﹋ ╱ ╱ ╱) (〵 〴 〳 〆 'ᐟ – ⁃ ⎯ 〄 〄
Corner icon
﹄﹃ ﹂﹁ ┕ ┓ └ ┖ ┒ ┗ ┑ ┍ ┙ ┙ ┏ ┚ ┌ ┘ ┘ 「「 」』 』˥ ┝ ┟ ┟ ┠ ┡ ┡ ┢ ┤ ┧ ┩ ┩ ┪ ┪ ┫ ┭ ┮ ┯ ┰ ┰ ┰ ┰ ┱ ┱ ┱ ┱ ┱ ┱ ┱ ┱ ┴ ┵ ┶ ┷ ┸ ┹ ┺ ┼ ┽ ┿┾ ╀ ╁ ╂ ╃ ╅ ╆ ╇ ╉ ╊ ╋ ╒ ╕ ╖ ╗ ╘ ╛ ╛ ╙ ╜ ╝ ╟ ╠ ╠ ╠ ╣ ╨ ╤ ╦ ╩ ╩ ╩ ╩ ╩ ╩ ╩ ╩ ╩ ╩ ╩ ╪ ╪ ╪ ╪ ╪ ╬ 〒 ⊢ ⊣ ⊤ ⊥ ╮ ╯ ╰ ⊦ ⊧ ⊨ ⊩ ⊪ ⊬ ⊮ ⊯ ⊯ ⊺ 〧〨〦 ˦ ˨ ⑁ ⑃ ∟ ∟ ∟
Round special character
◉ ○ ◍ ◍ ◎ ● ◐ ◑ ◓ ◔ ◕ ◖ ◗ ❂ 
⊗ ◘ ◙ ◚ ◛ ◜ ◝ ◞ ◟ ◡ 〇 〶 ⬤ 
⬤ ◦ ∅ ∘ ⊘ ⊛ ⊜ ⊝ ⊝ ⦿ ⦿ ⦿ ⦿ ⦿ ⦿ ⦿ ⦿ ⦿ ⦿ ⦿ ⦿ ⦿ ⦿ ⦿ ⦿ ⦿ ⦿ ⦿ ⦿ ⦿
Special characters: Phonetic symbols
ɑ: æ e ə : ɪ i: ɒ ɔ: ʊ u: aɪ aʊ eɪ oʊ eə ɪə bdfghjklmnnprs ʃ tʃ θ vwz ʒ dʒ
Special characters: Latin letters
± è hhinr
Ⓝ ⓞ ⓟ ⓠ ⓡ ⓢ ⓣ ⓤ ⓦ ⓧ ⓨ ⓨ ⓩ ⓐ ⓑ ⓓ ⓔ ⓕ ⓗ ⓘ ⓘ ⓙ ⓛ ⓜ ⓞ ⓠ ⓠ ⓡ ⓢ ⓢ ⓣ ⓥ ⓧ ⓨ ⓩ ⓩ ⓩ ⓩ ⓩ ⓩ A BCDEFGHIJKLMNOPQRSTUV WXYZ A BCDEFGHHIJKRMNOPPNOPPNOPPNOPPNOPPNOPPNOPPNOPPNOPPNOPPNOPPNOPPNOPPNOSTUV WYzæ å å å ç ç ç î î î î ï ø ø ß ß ß ü ÿ ᴀ ᴅ ᴇ ғ ʜ ʜ ᴊ ᴏ ᴘ ǫ ʀ ʀ ʀ ʀ ʀ ᴜ ᴜ ᴜ ᴜ ᴜ ᴜ ᴜ ᴜ ᴜ ᴜ ᴜ ᴜ ᴜ ᴜ ᴠ ᴡ x ʏ ᴢ 𝓐 𝓑 𝓓 𝓔 𝓕 𝓖 𝓗 𝓘 𝓙 𝓚 𝓜 𝓝 𝓞 𝓟 𝓠 𝓢 𝓣 𝓤 𝓥 𝓧 𝓩 𝓩 𝓪 𝓫 𝓫 𝓬 𝓯 𝓱 𝓳 𝓳 𝓳 𝓴 𝓷 𝓸 𝓺𝓻𝓼𝓽𝓹 𝓺𝓻𝓼𝓽𝓹 𝓾 𝓾 𝓾 𝓾 𝓾 𝓾 𝓾 𝓾 𝓾 𝓾 𝓾 𝓾 𝓾 𝓾 𝓾 𝓾 𝓾 𝔁 𝔂 𝔃 𝒜 𝐵 𝒞 𝒟 𝐹 𝒢 𝐻 𝐼 𝒥 𝒦 𝐿 𝒩 𝒪 𝒫 𝑅 𝒮 𝒯 𝒰 𝒱 𝒲 𝒵 𝒶 𝒶 𝒷 𝒸 𝒹 𝑒 𝑔 𝒾 𝓀 𝓀 𝓁 𝓁 𝓃 𝓅 𝓆 𝓇 𝓇 𝓇 𝓇 𝓇 𝓇 𝓈 𝓈 𝓈 𝓈 𝓈 𝓈 𝓈 𝓋 𝓌 𝓍 𝓎 𝓏 𝐀 𝐁 𝐃 𝐄 𝐅 𝐆 𝐇 𝐈 𝐉 𝐋 𝐌 𝐍 𝐏 𝐐 𝐑 𝐒 𝐓 𝐔 𝐗 𝐘 𝐘 𝐙 𝐚 𝐛 𝐜 𝐞 𝐠 𝐢 𝐢 𝐣 𝐣 𝐥 𝐧 𝐨 𝐩 𝐩 𝐩 𝐩 𝐩 𝐩 𝐪 𝐪 𝐪 𝐪 𝐪 𝐪 𝐪 𝐭 𝐮 𝐯 𝐰 𝐱 𝐲 𝐳 𝔹 ℂ 𝔻 𝔼 𝔽 𝔾 ℍ 𝕁 𝕂 𝕃 ℕ 𝕆 ℙ ℚ ℝ 𝕊 𝕍 𝕎 𝕎 𝕏 𝕐 ℤ 𝕒 𝕔 𝕖 𝕘 𝕘 𝕙 𝕙 𝕛 𝕝 𝕞 𝕟 𝕟 𝕟 𝕟 𝕟 𝕟 𝕠 𝕠 𝕠 𝕠 𝕠 𝕠 𝕠 𝕣 𝕤 𝕥 𝕦 𝕧 𝕨 𝕩 𝕫 ᴭ ᴮ ᴯ ᴰ ᴱ ᴲ ᴴ ᴵ ᴶ ᴸ ᴹ ᶢᴺ ᴻ ᴼ ᴽ ᵀ ᵁ ᵁ ᵂ ᵃ ᵄ ᵆ ᵈ ᵊ ᵌ ᵌ ᵍ ᵍ ʰ ᵎ ʲ ᵏ ᵏ ᵏ ᵏ ᵏ ᵏ ᵐ ᵐ ᵐ ᵐ ᵐ ᵐ ᵐ ᵓ ᵔ ᵕ ᵖ ʳ ʴ ʵ ᵘ ᵙ ᵚ ᵚ ᵜ ᵝ ᵞ ᵟ ᶛ ᶛ ᶜ ᶝ ᶟ ᶠ ᶡ ᶡᶣᶤᶥᶦᶧᶨᶩᶪ ᶫ ᗩ ℊ ℎ ℓ ℘ ℄ ℇ ℈ ℏ ℔ ℞ ℟ ℥ ℥ ohm ℧ ℩ ℩ å ℵ ℶ ♄ ☡ ♇ ♇ ♇ ❡ ❡ ❡ ❡
𝕬 𝕭 𝕮 𝕯 𝕰 𝕱 𝕲 𝕴 𝕵 𝕶 𝕷 𝕸 𝕹 𝕺 𝕼 𝕽 𝕾 𝖀 𝖁 𝖂 𝖃 𝖄 𝖅 𝖈 𝖉 𝖉 𝖊 𝖋 𝖌 𝖍 𝖏 𝖑 𝖓 𝖓 𝖔 𝖔 𝖖 𝖘 𝖙 𝖚 𝖚 𝖚 𝖚 𝖚 𝖚 𝖛 𝖛 𝖛 𝖛 𝖛 𝖛 𝖛 𝖞 𝖟 𝔄 𝔅 ℭ 𝔇 𝔈 𝔊 ℌ ℑ 𝔍 𝔎 𝔏 𝔐 𝔒 𝔓 𝔔 𝔖 𝔗 𝔘 𝔙 𝔚 𝔛 𝔞 𝔟 𝔟 𝔠 𝔡 𝔢 𝔣 𝔥 𝔧 𝔩 𝔩 𝔪 𝔪 𝔬 𝔮 𝔯 𝔰 𝔰 𝔰 𝔰 𝔰 𝔰 𝔱 𝔱 𝔱 𝔱 𝔱 𝔱 𝔱 𝔴 𝔵 𝔶 𝔷 𝘈 𝘉 𝘊 𝘌 𝘍 𝘎 𝘏 𝘐 𝘑 𝘒 𝘔 𝘕 𝘖 𝘘 𝘙 𝘚 𝘛 𝘜 𝘝 𝘠 𝘡 𝘡 𝘢 𝘣 𝘤 𝘥 𝘧 𝘩 𝘫 𝘫 𝘬 𝘬 𝘮 𝘰 𝘱 𝘲 𝘲 𝘲 𝘲 𝘲 𝘲 𝘳 𝘳 𝘳 𝘳 𝘳 𝘳 𝘳 𝘶 𝘷 𝘸 𝘹 𝘺 𝘻 𝘼 𝘾 𝘿 𝙀 𝙁 𝙂 𝙃 𝙄 𝙆 𝙇 𝙈 𝙊 𝙋 𝙌 𝙍 𝙎 𝙏 𝙒 𝙓 𝙓 𝙔 𝙕 𝙖 𝙗 𝙙 𝙛 𝙝 𝙝 𝙞 𝙞 𝙠 𝙢 𝙣 𝙤 𝙤 𝙤 𝙤 𝙤 𝙤 𝙥 𝙥 𝙥 𝙥 𝙥 𝙥 𝙥 𝙨 𝙩 𝙪 𝙫 𝙬 𝙮 𝙯
Special characters: Chinese symbols
㊊ ㊋ ㊌ ㊍ ㊎ ㊏ ㊑ ㊒ ㊓ ㊔ ㊕ ㊖ ㊘ ㊚ ㊜ ㊝ ㊞ ㊟ ㊠ ㊡ ㊢ 
㊤ 
㊥ ㊧ ㊩ ㊩ ㊪ ㊫ ㊬ ㊭ ㊰ ㊰ ㊰ ㊰ ㊰
Special Characters: Japanese Symbols
ぁ あ ぃ い ぅ う ぇ ぉ お か が き ぎ く け げ こ さ ざ し じ す ず そ ぞ ぞ た だ ち ぢ つ て と と ど ど ぬ ね の は は は は は は は ば ば ば ば ば ば ばび ぴ ふ ぶ ぷ へ べ ほ ぼ ぽ ま み む め ゃ や ゅ ょ よ ら り る れ わ ゐ ゐ ゑ を ん ゔ ゖ ゛ ゝ ゝ ゞ ゞ ァ ア ィ イ イ イ イ イ イ イ ゥ ゥ ゥ ゥ ゥ ゥ ゥエ ォ オ カ ガ キ ギ グ ケ ゲ コ ゴ サ ザ ジ ス ズ ゼ ソ ゾ タ ダ チ ツ ヅ ヅ テ デ ト ド ニ ネ ハ ハ バ バ ビ ピ フ ブ ブ ブ ブ ブ ブ ブ プ プ プ プ プ プ プペ ホ ボ ポ マ ミ ム モ ャ ヤ ュ ユ ョ ヨ リ ル レ ヮ ワ ヰ ヱ ヲ ン ヶ ヷ ヷ ヸ ヹ ヺ ー ヾ ヿ ㍐ ㍐ ㍿ ㍿ ㍿ ㍿ ㍿ ㍿ ㍿ ㍿ ㍿ ㍿ ㍿ ㍿ ㍿ ㍿ ㍿
Special Characters: Korean Symbols
ㄱ ㄲ ㄳ ㄴ ㄵ ㄶ ㄷ ㄹ ㄺ ㄻ ㄼ ㄽ ㄾ ㄿ ㅁ ㅂ ㅃ ㅅ ㅆ ㅆ ㅇ ㅋ ㅋ ㅋ ㅍ ㅎ ㅏ ㅏ ㅐ ㅑ ㅒ ㅕ ㅘ ㅘ ㅙ ㅙ ㅚ ㅜ ㅞ ㅟ ㅟ ㅟ ㅟ ㅟ ㅠ ㅠ ㅠ ㅠ ㅠ ㅠ ㅠ ㅠ ㅠ ㅠ ㅠ ㅥ ㅦ ㅧ ㅨ ㅩ ㅪ ㅫ ㅭ ㅮ ㅯ ㅱ ㅱ ㅲ ㅳ ㅵ ㅶ ㅷ ㅸ ㅹ ㅺ ㅻ ㅽ ㅾ ㆁ ㆂ ㆂ ㆃ ㆃ ㆄ ㆆ ㆉ ㆊ ㆊ ㆊ ㆊ ㆊ ㆊ ㆊ ㆊ ㆊ ㆊ ㆊ ㆊ ㆊ ㆊ ㆊ ㆊ ㆊ ㆊ
Special cute kute smiley face character
✿◕ ‿ ◕✿ (◡‿◡✿) (✿◠‿◠) (͡ ๏ ̮͡ ๏) = ^ . ^ = (• ‿ •) (^ L ^) ♥ ♥ ◙‿◙ ^ ('‿') ^ ^ ‿ ^ 乂 ◜◬◝ (▰˘◡˘▰) & lt; (^^,) & gt; ».« _ _ಥ
Gun-shaped special characters
— '̿'\̵͇̿̿\
_/﹋\_
(҂`_´)
<,︻╦╤─ ҉ – –
_/﹋\_
Special date of birth
| | |
| --- | --- |
| Was born 2000 | or |
| Born in 2001 | or |
| Born in 2002 | or |
| Born in 2003 | or |
| Born in 2004 | or |
| Born in 2005 | or |
| Born in 2006 | or |
| Born in 2007 | or |
| Born in 2008 | or |
| Born in 2009 | or |
| Born in 2010 | or |
| Born in 2011 | or |
| Born in 2012 | or |
| Born in 2013 | or |
| Born in 2014 | or |
| Born in 2015 | or |
| Born in 2016 | or |
| Born in 2017 | or |
Born in 2000: ²⁰⁰⁰ or ²ᵏ.
Born in 2001: ²⁰⁰¹ or ²ᵏ¹.
Born in 2002: ²⁰⁰² or ²ᵏ².
Born in 2003: ²⁰⁰³ or ²ᵏ³.
Born in 2004: ²⁰⁰⁴ or ²ᵏ⁴.
Born in 2005: ²⁰⁰⁵ or ²ᵏ⁵.
Born in 2006: ²⁰⁰⁶ or ²ᵏ⁶.
Born in 2007: ²⁰⁰⁷ or ²ᵏ⁷.
Born in 2008: ²⁰⁰⁸ or ²ᵏ⁸.
Born in 2009: ²⁰⁰⁹ or ²ᵏ⁹.
Born in 2010: ²⁰¹⁰ or ²ᵏ¹⁰.
Born in 2011: ²⁰¹¹ or ²ᵏ¹¹.
Born in 2012: ²⁰¹² or ²ᵏ¹².
Born in 2013: ²⁰¹³ or ²ᵏ¹³.
Born in 2014: ²⁰¹⁴ or ²ᵏ¹⁴.
Born in 2015: ²⁰¹⁵ or ²ᵏ¹⁵.
Born in 2016: ²⁰¹⁶ or ²ᵏ¹⁶.
Born in 2017: ²⁰¹⁷ or ²ᵏ¹⁷.
Born in 2018: ²⁰¹⁸ or ²ᵏ¹⁸.
What are special characters and icons on Facebook?
Chat symbols (also known as "emoticons" or "emoticons") have been around for a very long time and are part of every daily story in the digital world, from texting, facebook, zalo or any kind of messaging app. They are used very often to bring joy, to express emotions more easily and to make dialogue less stressful and boring.
On Facebook, symbols and special characters become even more important. With an article that doesn't have any image icons, only text, users will feel bored and do not want to read or even feel disgusted with the poster: "There are thousands of interesting news out there. , eye catching but you write an article on facebook , no vivid images that want me to read it ? It must be a dream!!!" And Icon is one of the important things to make every test less boring.

As everyone knows, Facebook provides you with some default Icons, but you can expand it further through the images we have sent to you right above the article.
How to register special characters with keyboard and Alt code?
Another way to make your posts and messages more interesting is to use Alt codes. Where the Alt key is relevant, hold the Alt key on your keyboard, type the numbers that follow, then release the Alt key. For others, just type a string of symbols, numbers, and letters. The plain text should be replaced with the corresponding emoji when you tap the space bar.
Fast Emoji Keyboard Code
♥ [Alt] + [3]

♡ [Alt] + [9825]

[Alt] + [10,084]

❥ [Alt] + [10085]

[Alt] + [10083]

❦ [Alt] + [010 086]

❧ [Alt] + [010 087]

U + 1F491

U + 1F493

U + 1F494

U + 1F495

U + 1F496

U + 1F497

U + 1F498

U + 1F499

U + 1F49a

U + 1F49b

U + 1F49c

U + 1F49d

U + 1F49e

U + 1F49f

ღ [Alt] + [04326]

ও [Alt] + [02451]
How to use these special characters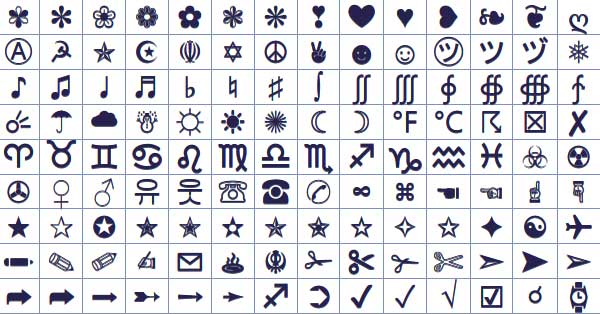 The symbols given in the tables below, are regular characters, which you can copy and paste as if they were letters of text. But if the encoding used to save your HTML/CSS files is not UTF-8, they may not display. This is why we have provided an HTML escape code that will always work. Here's what you need to do to use the following icons:
Find an icon that you like. We have provided small and large previews.

Copy code.

Paste it in your HTML like regular text. In your CSS you can use it as the value of the content property. In JS, PHP and other programming languages, you can use it as string text.

You can customize the icons by setting the font size, color, and text shadow, just like regular text.
Instructions for copying and pasting special characters
A short note on how to copy and paste Unicode text: Some websites prevent special Unicode characters from being displayed (by removing all strange characters) when you "delete" your post before saving it. it to the server. This is uncommon, but worth knowing. In this case, this is not a problem for the translator, it just means that the site does not allow special characters. Another thing you may find when copying and pasting a text font from this font is that it appears as a square when you paste the characters. This means that the font used by the web page you pasted does not support special Unicode characters. But now things are getting easier, you just need to Copy the characters Salenhanh listed. here and use them.
And one last note: If you copy special characters and paste them into messaging apps or text/SMS messages, the recipient may not see the characters when you see them. . They can see blocks or maybe they can't see anything. While this is rare, some devices are not compatible with the Unicode symbol set like yours.
Thank you for using my font generator! I've also made an emoji translator, a spoiler translator, and a parallax text generator that you might want to check out!
You may notice that some Social Network users may change the font. How do they do this?
The trick is quite simple. Unicode specifies a large number of characters (greater than 100,000). So the characters on the keyboard are really just a tiny fraction of the characters that can be accommodated by most computers and devices. These 100+ characters include the same letters as your keyboard, but with bold o more handwriting or 𝒸𝓊𝓇𝓈𝒾𝓋𝑒-er or other spacing or. There are many resources you can use on social networks; This is just the beginning of what Unicode has brought us.
Just write your normal text in the first box. The generator turns you into various resources that you can copy and paste and execute into your social networks or profiles and almost anywhere on the Internet.